If you're looking for an affordable medium sized SUV, you really need to test drive the Haval H6 Lux.
So perhaps you're thinking that I'm some sort of car expert?
Well, after 43 years in the auto industry as a salesman, manager and owner of dealerships, I think I am. The Car Guy and associated companies Car Business and Genuine Spares are the sites to find all sorts of information about the motor industry. Including but not limited to the best way to buy a new car, selling your existing car, car finance, car insurance, accessories, spare parts, repairs and just about anything else.
And if you can't find what you're looking for on these sites, send an email to [email protected]. I'll try to provide an answer for you.
Now to the car the subject of this test drive and review. And don't just look at the Haval H6 online. This is a car that needs to be looked at, inspected and driven for you to make a logical decision. Kick the tyres. You'll be very surprised at the quality if you first get over that it's made in China
I've driven a lot of new cars during 2021. And plenty of SUV's in that. Ranging from Ford, Mitsubishi, Nissan, Kia, Hyundai, Volkswagen, Toyota, Mazda, Suzuki and more besides. And I know that some will think that I might have lost my mind a bit, but if you're on a budget, aren't brand conscious, but are still looking at value for money, you should really consider buying a Haval H6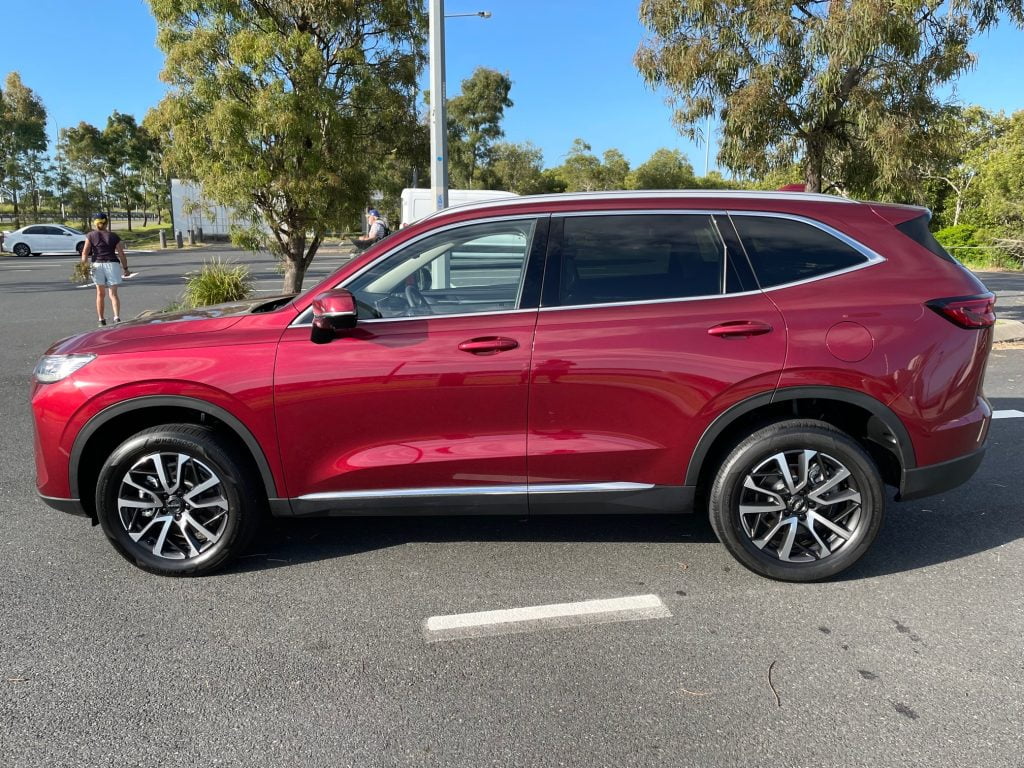 Competitors
As mentioned above, at least in the mass market segment of the SUV catergory, there are more choices than ever before. Mazda, Ford, Suzuki,Mitsubishi, Nissan, Kia, Hyundai, Volkswagen, Toyota – all have excellent choices in their SUV range. The quality of cars in this century has never been better and no matter which country they're from, technology, safety and design are fantastic
Price
GWM Haval price the Haval Lux in 2WD from $35,990 drive away. The base model Premium starts at $32,990 drive away. If you want something other than white, you'll pay $495 for metallic paint. And in anyone's language that is very affordable and thousands cheaper than the equivalent models from other manufacturers. (Effective 1/1/2022)
Interior
For a start, the Haval H6 Lux has an industry setting modern cabin. The Chinese have been very good at copying things, and the Haval is no different. Dual digital screens are pretty damn good. The cabin is spacious providing an uncramped feel even when it's carrying a full oad of people. Manfacturers are moving away from the traditonal T-Bar shifter in favour of rotary dials. And that's something you'll need to get used to.
Storage – cup holders, door storage, centre console and glove box space abound – so much that you could even lose your gear until you do the search for it
The touch screen system is comprehensive but for a first time user can be a bit complicated. There's no in built navigation system so you'll need to rely on Apple Car Play to get that. But, IMHO, using Google Maps is a lot better than any manufacturer supplied nav and a bonus is that its always up to date. You'll still need to use a wire to connect, but that was no real inconvienience, other than the connection is on the passenger side.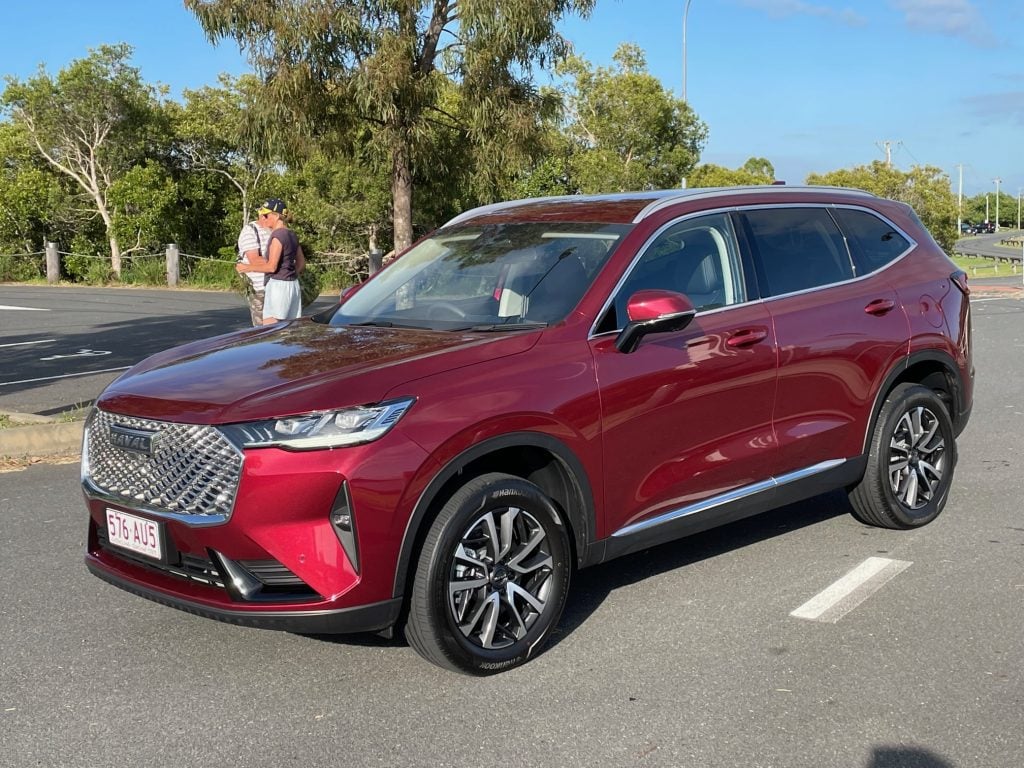 The only thing that annoyed me a little bit is that the electric park brake and auto hold didn't have illumination like most other brands. Perhaps that's a consequence of the shortage of semiconductors presently but I'd expect that to be upgraded soon.
The artifical leather seats have a quality feel (am I sure that it's not leather?), are comfortable, and the driver gets power adjustment including a lumbar support adjustment. (Refer GWM Cannon story re the trim)
Havel H6 is a bit longer and wider than most competitors, but is much taller. That provides the roominess that other brands lack. It's a very comfortable car for four people and adequate for five. The LUX version doesn't have a powered tailgate, which I missed with the loading and unloading of my golf clubs, but they fiitted well without having to lower the rear seats. However when you do, the luggage area is massive with over 1450 litres of space.
If you're carrying a pram or doing the DIY thing, you're certainly not going to ask for more space
On The Road
I was very impressed by the on-road ride for the Haval H6. It's not worse than other competitors and arguably is one of the better medium SUV's on the market. There's plenty of get up and go with its turbo 2.0 litre engine and in fact one of my mates who drove it for a short while commented on how much power it has. You can certainly get the front wheels to chirp if you use too much pedal and that's not a bad thing.
It's a soft rider – and probably the most comfortable SUV I've driven. The suspension absorbs most bumps in the road around the suburbs – you won't notice the uneven road surfaces either.
Haval H6 Active & Passive Safety Features
ACTIVE AND PASSIVE SAFETY
Dual SRS Airbags
Front Side Airbags
Centre Airbag
Curtain Airbags
Front Seatbelts with Pre-Tensioner (Two sides)
Seatbelts with Pre-Tensioner (Rear Seats)
Child Safety Lock
ESP (Electronic Stability Programme)
TCS (Traction Control System)
SCM (Secondary Collision Mitigation)
CBC (Cornering Brake Control)
RMI (Roll Movement Intervention)
BA (Brake Assist)
HDC (Hill Descent Control)
HHC (Hill-Start Assist Control)
BOS (Brake Override System)
TPMS (Tyre Pressure Management System)
DVR USB Port
Front Parking Assist
Rear Parking Assist
MEB (Maneuver Emergency Brake)
360 Degree Monitoring System
Full Auto Parking (Ultra Model Only)
ACC (Adaptive Cruise Control) with Stop and Go
Intelligent Cornering Control
Intelligent Dodge (Ultra Model Only)
ELK (Emergency Lane Keep)
RCTA (Rear Crossing Traffic Alert – Ultra Model)
RCTB (Rear Crossing Traffic Braking – Ultra Model)
FCW (Forward Collision Warning)
LDW (Lane Departure Warning)
LKA (Lane Keeping Assist)
LCK (Lane Centre Keeping)
AEB (Automatic Emergency Braking) Pedestrian, Bicycle &
Crossroads
TSR (Traffic Sign Recognition)
Blind Spot Detection + Lane Change Assist
RCW (Rear Collision Warning)
DOW (Door Open Warning)
TJA (Traffic Jam Assist)
ICA (Intelligent Cruise Assistance)
Driver Drowsiness Detection

MY VERDICT
Sales of Chinese-built cars have increased dramatically over the past couple of years and it's not just because they're cheap. The shortage of semiconductors through the manufacturing world has caused buyers to look at what's available now rather than waiting up to 12 months for a car. And they've liked what they've seen
And the new-generation models have quickly caught up at least with the Korean manufacturers and some of the Thai built Japanese brands.
If you're in the market for an affordable, safe and well-equipped family SUV with a strong seven-year warranty, the Haval H6 mid-size SUV is a worthy of a test drive. if you're a bit patient, Haval will release a hybrid version of the H6 in 2022.
At A Glance     
No more is safety an issue for Chinese cars. The new 2021 Haval H6 is a great example of the significant improvement. GWM CAnnon was awarded a 5 star ANCAP safety score in October 2021 and I'm sure that when tested Haval H6 will get the same. Seven airbags, including one of the earliest to intrioduce a centre airbag between the two front seats, makes Haval a family safe vehicle. 
Check out the list of passive and active saftey above and you'll be impressed – I was. The Haval comes equipped with 14 radars and five camera's working as the Mobile Eye Q4 autonomous driving processor. Impressive. 
Engine/Transmission   The 2.0 Litre Turbo Petrol 4 cylinder genrates 150kW of power and provides 320Nm or torque. Far from underpowered in anyones language
Fuel Economy     7.4 litres per 100klm combined for the 2WD and 8.3 litres per 100klm for the AWD         
Warranty/Service 
All Haval models are backed by a seven-year/unlimited-kilometre warranty with roadside assistance for five years/100,000km. Service intervals are every 12 months or 15,000km, except the first year which has a 10,000km ceiling. A capped-price servicing scheme is also in place, costing $1560 across the first five years/70,000km.
Towing               2000kg with electric brakes fitted and 750Kg without
Insurance           RACQ Online quote my $770.34 for the Haval H6 Lux using my information, with a $750 excess. Of course your own details will likely change the estimates provide, but make sure that you shop around   
Which Dealer?
If I'm looking for a dealer to speak to about a new car, I only choose dealers who have a minimum four star rating with Google. I'd search for Haval Dealers (and then my own area – Brisbane, Gold Coast, Sunshine Coast etc). From there you'll see a list offered. Choose as many as you'd like to discuss your needs with but my firmest advice is to only speak to dealers who have a minimum 4 star Google rating.
| | | |
| --- | --- | --- |
| Northside | Kedron GWM/Haval | 4.6 Stars |
| Southside | Springwood GWM/Haval | 4.3 Stars |
| Eastside | Bartons Capalaba GWM/Haval | 4.9 Stars |
| Westside | Llewellyn Hyundai | 4.7 Stars |
| Gold Coast | Tweed Coast GWM/Haval | 4.7 Stars |
| Sunshine Coast | Caloundra GWN/HAval | 4.5 Stars |

However, if you'd like an independent offer for your new Haval H6 or any other Haval in the range, then reach out to me at Car Business. As an independent new car broker, I'll get you an offer that you'll be very satisfied with. And if I can't save you on the price you've been quoted somewhere else, I won't charge you any fee

-Advertisement-
Hello. I'm Bob Aldons, the owner and editor of The Car Guy. The Car Guy is an independently owned car review website. I'm currently reviewing cars for Mazda, Nissan, Kia, Suzuki, Mitsubishi, Renault, Haval, Hyundai, and Genesis.
Through Mercedes AMG Petronas Motorsport I'll also be writing about the 2022 Formula 1 season.
I'm not paid by any car company for my opinion and my companies don't receive advertising revenue to say nice things about them. I call it as I see it.
However, I also own a new car broker company – Car Business. Being able to review new cars gives me an opportunity to provide accurate information on these brands. If you're in the market for Any New Car Cheaper, contact me at Car Business and see how I go about saving you some serious money.
Perhaps you think that you can do the job of buying a new car yourself? If you're after any advice at all, give me a call and ask me any question that you need to be answered.
If you're an Aussie Veteran or serving in the military, I take particular pride in taking care of you. For every car that I source and deliver, I donate part of my fee to Mates4Mates.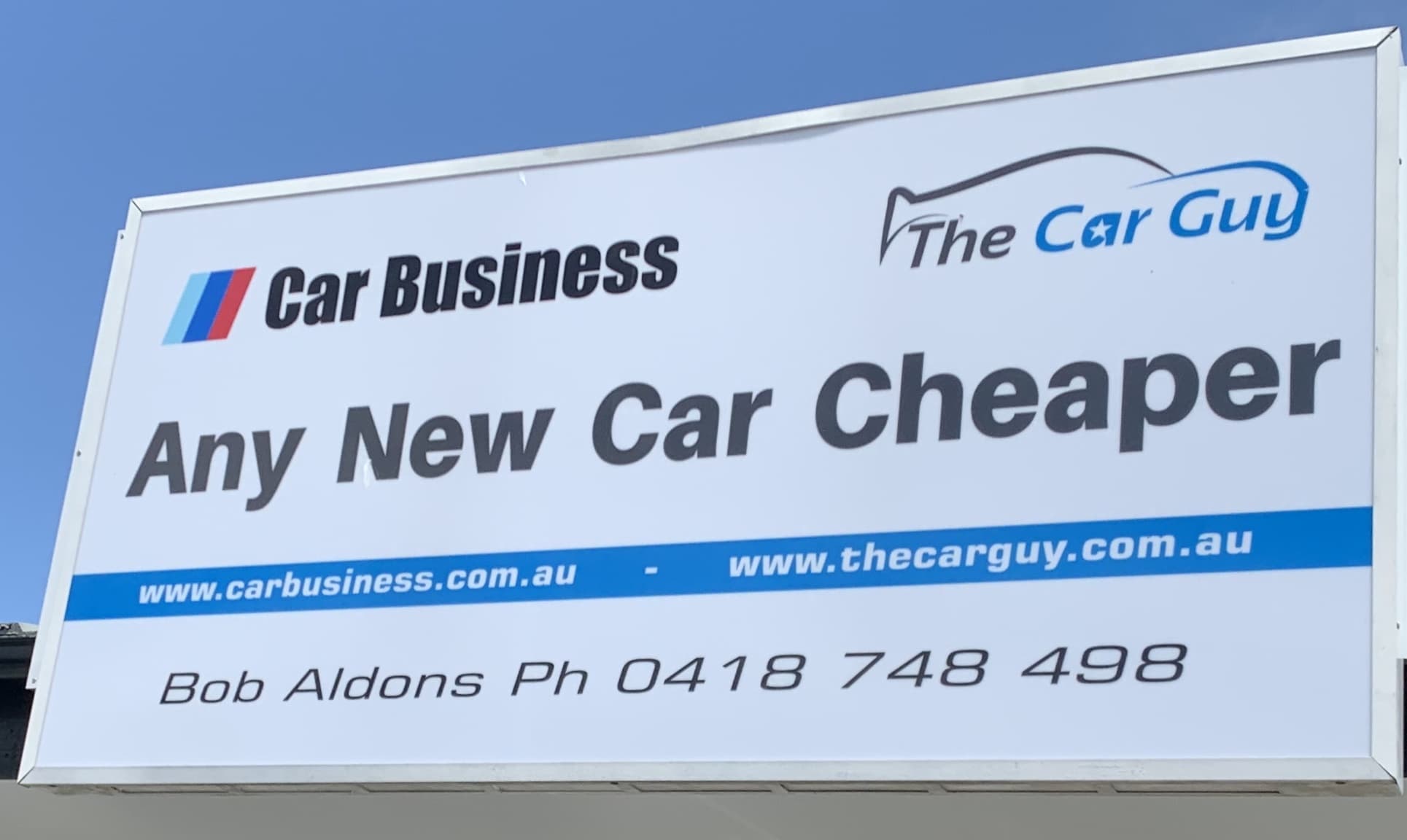 Recent Car Reviews – Hyundai i30 N