Hi, Bob Aldons, The Car Guy and owner of Car Business, Brisbane Car Broker commenting on a story about ANCAP and its CEO James Goodwin
This story, from Automedia Group, was published this week about James Goodwin, the CEO of ANCAP – Australasian New Car Assessment Program. I rely on ANCAP to provide safety statistics on the cars that I road test and review, but since January 2018, it's become more and more difficult to provide meaningful data to you, my readers.
You see, ANCAP introduced new criteria of assessment and included passive safety features such as Autonomous Emergency Braking, Lane Departure Warnings and the like into their assessments. But the problem is that they left the old assessments as they were.
A Five star rated car from 2012, still retains it's five stars even though it can't claim to be as safe as a vehicle tested in 2018 and awarded 5 stars.
Take this MAzda6 for example. The car was tested in 2012 – 6 years ago but still carries the ANCAP 5-Star rating 6 years later. Now, whilst I'm sure that the current MAzda6 would achieve 5 stars with the significantly upgraded tech that it has, ANCAP haven't tested the latest model. I'm guessing that ANCAP wants the manufacturer to 'donate' a couple of cars for them to carry out an assessment.
From a manufacturers viewpoint, their cars are designed and manufactured to world standards and arguably they decide whether they need a car assessed again when they know that it meets European, American, Japanese and Australian crash-worthiness standards.
Far be it for me to tell James Goodwin how to do his job, but perhaps the experts at ANCAP should re-rate older model vehicles that haven't been crash tested and publish the appropriate numbers. After all, they still retain the data from the old crash test.
Australasian New Car Assessment Program's boss has promised luxury brands he will "smash your cars".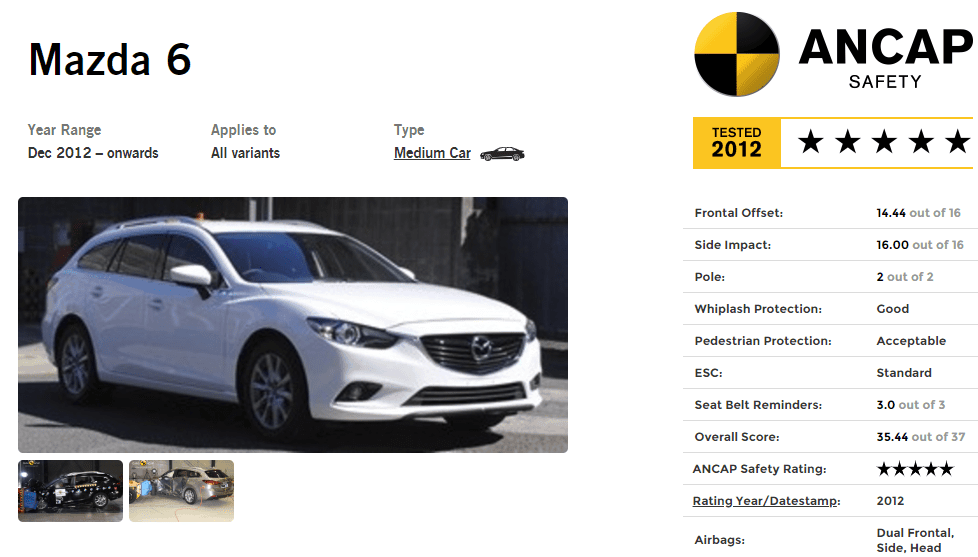 "The independent vehicle safety authority chief executive James Goodwin has branded the behaviour of Tesla, Porsche and others as "disappointing" in holding out on allowing their cars to be crash tested by ANCAP or Euro NCAP.
Goodwin told motoring.com.au he has a number of luxury brands on his hit-list.
While about 95% of the growing new-vehicle fleet in Australia has been tested by ANCAP, there are still a few that won't allow it, and Goodwin argues it's a moral imperative for a car-maker to respect customers and crash test its cars.
"We're talking about a range of brands," he says.
"They're not necessarily the cheaper brands; where's Tesla on this? Where's Porsche on this?"
Goodwin singles out a "handful" of car brands in Australia that choose not to supply vehicles and data for crash testing. He believes it's disingenuous to avoid ANCAP or Euro NCAP testing.
He says there are still car brands that "don't necessarily support the ANCAP program by even conducting testing, let alone using an ANCAP logo".
"I've got an email in front of me from a major luxury brand saying that they're not in favour of promoting [ANCAP] star ratings and so are not going to assist us with information," he told motoring.com.au.
"That's an appalling attitude. It's not your choice. If you don't want to help us by supplying vehicles, well, what's the option now?
"It's disappointing but it's worse than that. It's a lack of respect for their customers and a lack of respect for the community," Goodwin says.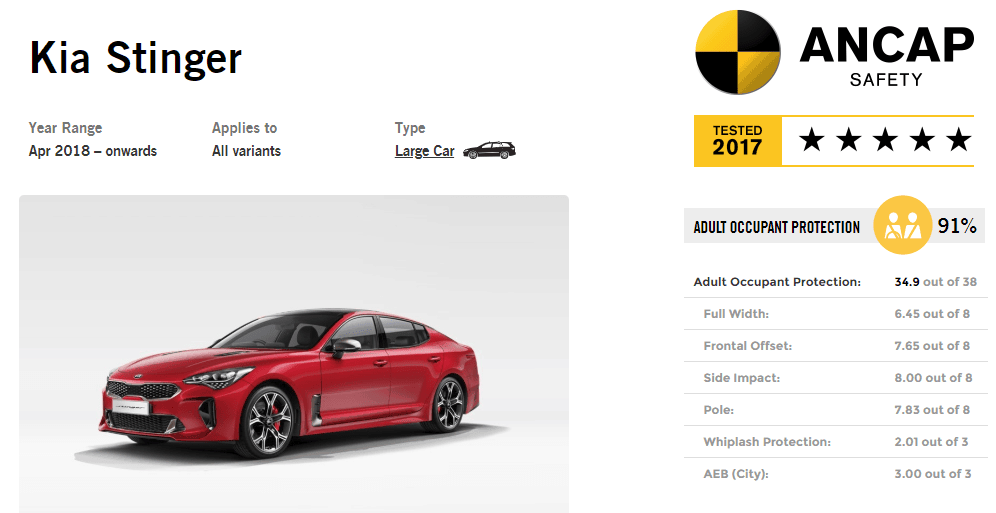 "Sending me a note like that means that I will find the money and I will smash your cars."
Tesla gained a five-star NCAP safety rating for its Model S in 2014, but no other vehicles – including the Tesla Model X family SUV – have been tested by ANCAP or Euro NCAP.
Porsche had only two models tested according to the Euro NCAP database, the Cayenne SUV in 2017 (five stars) and Macan SUV in 2014 (five stars).
ANCAP signalled its intention to test more sports cars in the wake of the three-star result for the Ford Mustang.
Both Porsche and Tesla were contacted for comment but had yet to respond, motoring.com.au says.
Meanwhile, ANCAP is also urging the Australian Competition and Consumer Commission (ACCC) to issue mandatory guidelines to the automotive industry to clarify how crash test results can be promoted.
It's concerned new-vehicle buyers may be misled by brands and dealers that promote maximum five-star safety ratings without specifying whether they are quoting current or outdated results, motoring.com.au says.
A windshield sticker would show a vehicle's safety star rating. ANCAP expects brands to specify what year a vehicle's rating is achieved because protocols have got progressively tougher in recent years."
It appears that the average consumer purchasing a luxury car such as a Porsche, Tesla, Ferrari or Aston Martin, frankly don't really care what ANCAP has to say about the crashworthiness of their vehicle. They arguably know and realize that the vehicle they are considering has substantial r&d done for their car and depend on the manufacturer to build it to a high standard.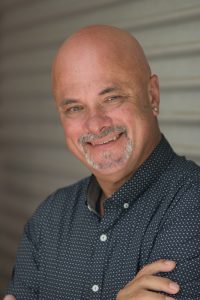 I'm Bob Aldons the owner and founder of The Car Guy, and Car Business. I review cars, report on car industry matters, car tech, motorsport but particularly Formula 1 and the automotive world at large. I've spent over forty years immersed in the automotive industry from salesman to the owner of a 7 brand multi-franchise dealership. I know cars.
I also appear frequently on National Nine News as their Brisbane based car expert. Here's the latest story on Takata Airbags
Find One
If you're hunting around for a great price on your next new car, you should call the auto expert, Bob Aldons from Car Business. My company, a car Broker, Car Buyers Agent or Car Buyers Advocate based on the north side of Brisbane, will return your inquiry within 24 hours and make the process of buying a new car easy and stress-free.
Are you tired of salesperson tricks? I protect you from the pressure exerted by car dealer's salespeople. There isn't any obligation – just a pretty significant saving.
You're where? Seriously, my services are available for you in any Australian state and territory: from Darwin to Hobart, Cairns to Perth.  Car Broker Brisbane, Sydney, Melbourne, Adelaide, Perth, Hobart, and Darwin – I'm available when you need me to be.
Whether you're a one-car buyer, a small fleet or a large national fleet, Car Business will go to work and get that price down. Lower new car prices are my goal. So you'll get the best prices from me rather than hoping you can help yourself.
If I can't get you the best new car price, better than you can get yourself from a new car dealer, I won't charge you any fee. No Saving, No Fee. – that's what you should expect from a car buying expert. 

Car Business WILL save you money on your next new car purchase – guaranteed

The Australian Road Safety Foundation is a not-for-profit organization whose charter is to reduce serious accidents on our roads through training and education. Car Business donates to the ARSF for every car we sell. If you'd like to support this worthwhile foundation, donate to the cause, become a member today or just buy your next new car from Car Business
What's Happened to These New Car Brands?