2020 Toyota Corolla sedan revealed: More features, more driver-focused
It's no secret that most car makers first reveal their new models anywhere but here in Australia. We're considered to be one of the more irrelevant car markets in the world. Recently the first pictures of the Jeep Wrangler Gladiator were released and now Auto scribes in the USA have had the opportunity to see and drive the new Toyota Corolla and Toyota RAV4 prior to their unveiling at the Los Angeles Motor Show.
Here at The Car Guy, I'm always keeping an eye out for the latest and sometimes greatest vehicles. The 2020 Toyota Corolla is no exception. Considered to be one of the best selling vehicles of all time, seems that this iteration of the Corolla will find its place into the garages of the small car buyer, particularly in the USA, but also down under.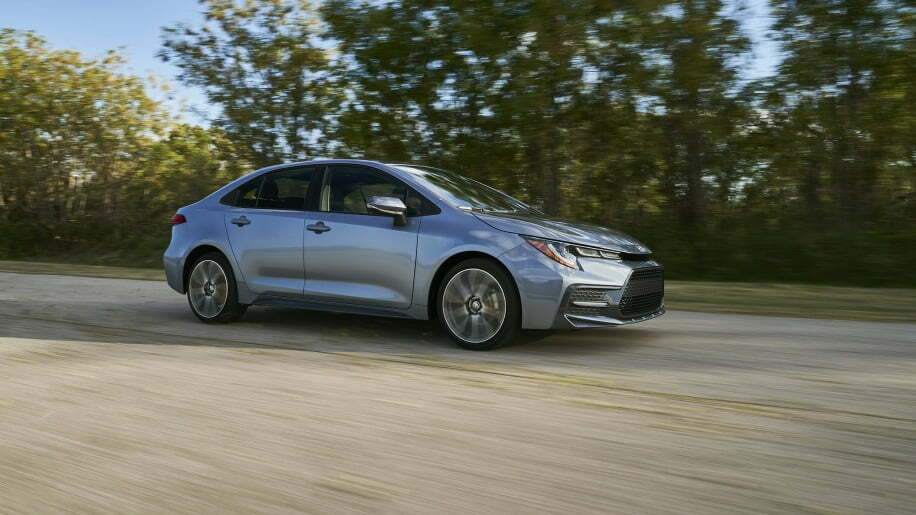 "More than just a trunk separates it from its hatchback sibling" – Autoblog
CARMEL-BY-THE-SEA, Calif. — "Get ready to see a ton of the car you see here. This is the completely redesigned 2020 Toyota Corolla sedan, the 12th generation of the bestselling car of all time, and one of the bestselling cars in the United States. It was unveiled tonight at the first-drive event for the also-all-new Toyota RAV4 (look for our first-drive review next week) ahead of its wider reveal two weeks from now at the Los Angeles Auto Show.
Not surprisingly, many of the details are common with the 2019 Toyota Corolla Hatchback introduced last year that impressed so much during our first drive and its subsequent stint at Autoblog HQ. It shares the same TNGA platform (along with every other front-wheel-drive Toyota introduced since the most recent Prius), as well as its general interior design, many equipment updates and new 2.0-litre four-cylinder engine. Toyota also announced that there will be a Corolla Hybrid for the first time, but only said further details would be revealed when the vehicle officially debuts in LA.
There are key differences, though, as there's more than just trunk design separating the 2020 Corolla sedan and its hatchback sibling. The Corolla has a 106.3-inch wheelbase, which is 2.4 inches longer than the hatchback. This should theoretically remedy a rather smallish back seat, though Toyota did not release full interior specs. However, considering the outgoing Corolla sedan had the same wheelbase and had one of the most generously sized back seats, we would expect space to be about the same.
Space up front, or at least comfort, should be better. Like the hatchback, the driver seat is mounted nearly an inch lower and can travel 1.6 inches further back. Besides space, it creates a more hunkered down, a dare-we-say sportier driving position without (apparently) a reduction in visibility due to a comparably lower hood and dash. You sat on the Corolla before, but judging by these specs and the Corolla Hatchback, you'll sit in the new one."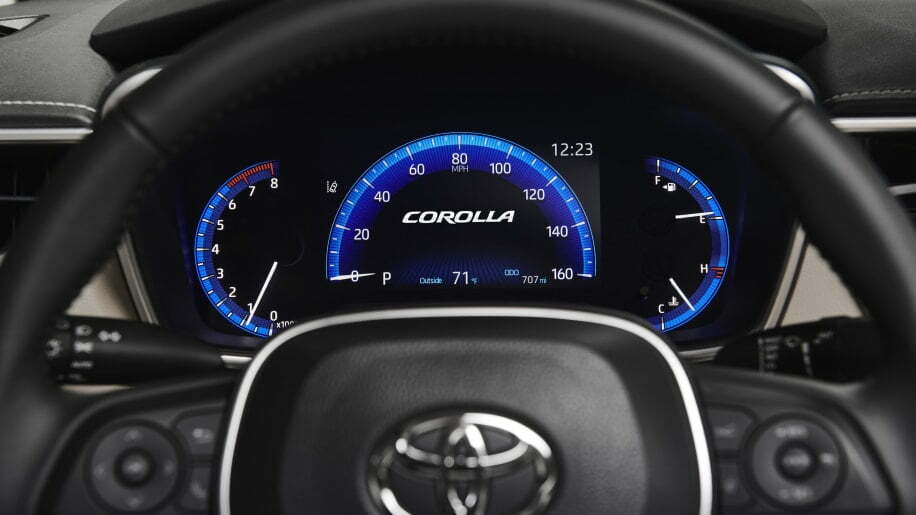 The seats you sit in, however, will depend on trim level. The sportier SE and XSE trim levels feature more aggressively bolstered sports seats versus those in the LE and XLE. These are just some of the myriad changes between the SE and LE grades. Others include design differences (the images you see above that Toyota released are of an XSE) with the sportier trims getting an extra LED "J" lighting element around the standard bi-LED headlamps, along with smoked taillights, a body-coloured chin spoiler and aero stabilizing fins up front.
The design itself also differs considerably from the hatchback, and from first glance, we can't say for the better. The lower grille is bigger and more Avalon-like, while the larger taillight units and trunk-mounted license plate eliminate the hatch's pert, athletic appearance. Only the headlight units seem common between the two cars.
There are commonalities under the hood, but it depends on the trim level. The SE and XSE share the Hatchback's new 2.0-litre four-cylinder engine (169 horsepower, 151 pound-feet of torque), but the L, LE and XLE get a revised version of the outgoing car's 1.8-litre four-cylinder that delivered some of the slowest acceleration times in the segment. Revised specs were not provided, only a promise that it offered "more horsepower and better fuel efficiency." We can't imagine either will be significantly enhanced. If there was ever an indication that the SE's are for those who like to drive, and the L's are for those who don't, this is it.
All, however, get the same transmission choices that so impressed during the Corolla Hatchback first drive –  a six-speed manual transmission with rev-match downshifting, or a continuously variable transmission with a literal first gear that improves fuel efficiency and drivability. Fuel economy estimates have not been announced.
All trims also feature the same basic suspension, which is new for 2019. There are MacPherson struts up front, while the old car's torsion beam has been tossed in favour of a multi-link rear presumably shared (or at least similar) to the one in the Corolla hatchback. This, in combination with a stiffer structure, steering improvements and a general shift in tuning philosophy, should result in a much better, more engaging Toyota Corolla. That's not a backhanded compliment, either, as virtually every Toyota we've recently driven has demonstrated genuine handling precision and driver involvement.
In terms of equipment, the sedan is offered in L, LE, XLE, SE and XSE trim levels (the hatchback offers only the SE and XSE). Toyota Safety Sense accident avoidance tech is standard on every trim level, as is Apple CarPlay and Amazon Alexa connectivity, Wi-Fi, a six-speaker sound system and a touchscreen that's upgraded to 8 inches on all trims but the base Corolla L (they also get an extra USB port). Given its high-mounted location, that screen actually looks much bigger than that when behind the wheel. The interior itself, much like the identically designed one in the hatchback, looks much better than the outgoing car's and features improved materials throughout.
Toyota didn't announce an on-sale date, but given the model year, some time in the middle of 2019 is the safe bet. If you're wondering if you should wait for this new Corolla rather than stick with the current one, there are so many compelling improvements that the easy answer is "yes." However, if our word isn't good enough, the Corolla Hatchback currently sitting on dealer lots is similar enough to provide a sufficient analogue for what's to come.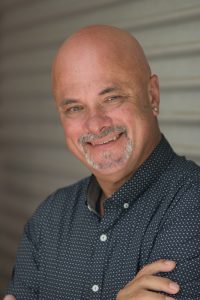 Hi,  Bob Aldons here, the owner and founder of The Car Guy, and Car Business, reviewing cars, reporting on car industry matters, car tech, Formula 1 and the world at large. If it's automotive related, I've got an opinion.
I've spent the last forty years immersed in the automotive industry from salesman to the owner of a 7 brand multi-franchise dealership and now as a Car Broker and commentator on the industry. I know cars.
Find One
If you're hunting around for a great price on your next new car, you should call the auto expert, Bob Aldons from Car Business. My company, a Car Broker, Car Buyers Agent or Car Buyers Advocate based on the north side of Brisbane, will return your inquiry within 24 hours and make the process of buying a new car easy and stress-free.
Are you tired of salesperson tricks? I protect you from the pressure exerted by car dealer's salespeople. There isn't any obligation – just a pretty significant saving.
You're where? Seriously, my services are available for you in any Australian state and territory: from Darwin to Hobart, Cairns to Perth.  Car Broker Brisbane, Sydney, Melbourne, Adelaide, Perth, Hobart, and Darwin – I'm available when you need me to be, but I specialize in south-east Queensland, my home base.
Whether you're a small fleet or a large national fleet, Car Business will go to work and get that price down. Lower new car prices are my goal. So you'll get the best prices from me rather than hoping you can help yourself.
If I can't get you the best new car price, better than you can get yourself from a car dealer, I won't charge you any fee. No Saving, No Fee. – that's what you should expect from a car buying expert. 

Car Business WILL save you money on your next new car purchase – guaranteed

The Australian Road Safety Foundation is a not-for-profit organization whose charter is to reduce serious accidents on our roads through training and education. Car Business donates to the ARSF for every car we sell. If you'd like to support this worthwhile foundation, donate to the cause, become a member today or just buy your next new car from Car Business