I'm not yet privileged enough to drive a lot of new models but I still need to provide my readers with information on upcoming models. And I'm not alone with the Tesla Model 3 access.
Wheels magazine, the iconic Australian publication was the only media outlet given access to the Tesla Model 3 when Tesla sent three US versions (LHD) to Australia.
Model 3 is due for an Australian launch sometime in 2019, July is the best guess. And don't believe for a moment that if you order one today that you'll pick it up in 2019. With 100,000 of these 'affordable' Tesla's ordered worldwide on the first day on sale, and over 300,000 with deposits paid and still to be delivered, you might be lucky enough to get one in 2020.
Thanks to Wheels Mag for this outstanding article and review on the Tesla Model 3
2018 Tesla Model 3 first drive: Australian exclusive
By Ryan Lewis, 
11 Dec 2018
Reviews
Tesla's attempt to conquest C-Class, 3 Series and A4 buyers lands on local soil for early evaluation
IT'S IMPOSSIBLE to have a conversation about the future of cars without talking about Tesla. The American brand's disruptive, come-from-nothing emergence as an influential player in the global automotive sphere lit a fire under the industry at large to which many car makers are still scrambling to respond.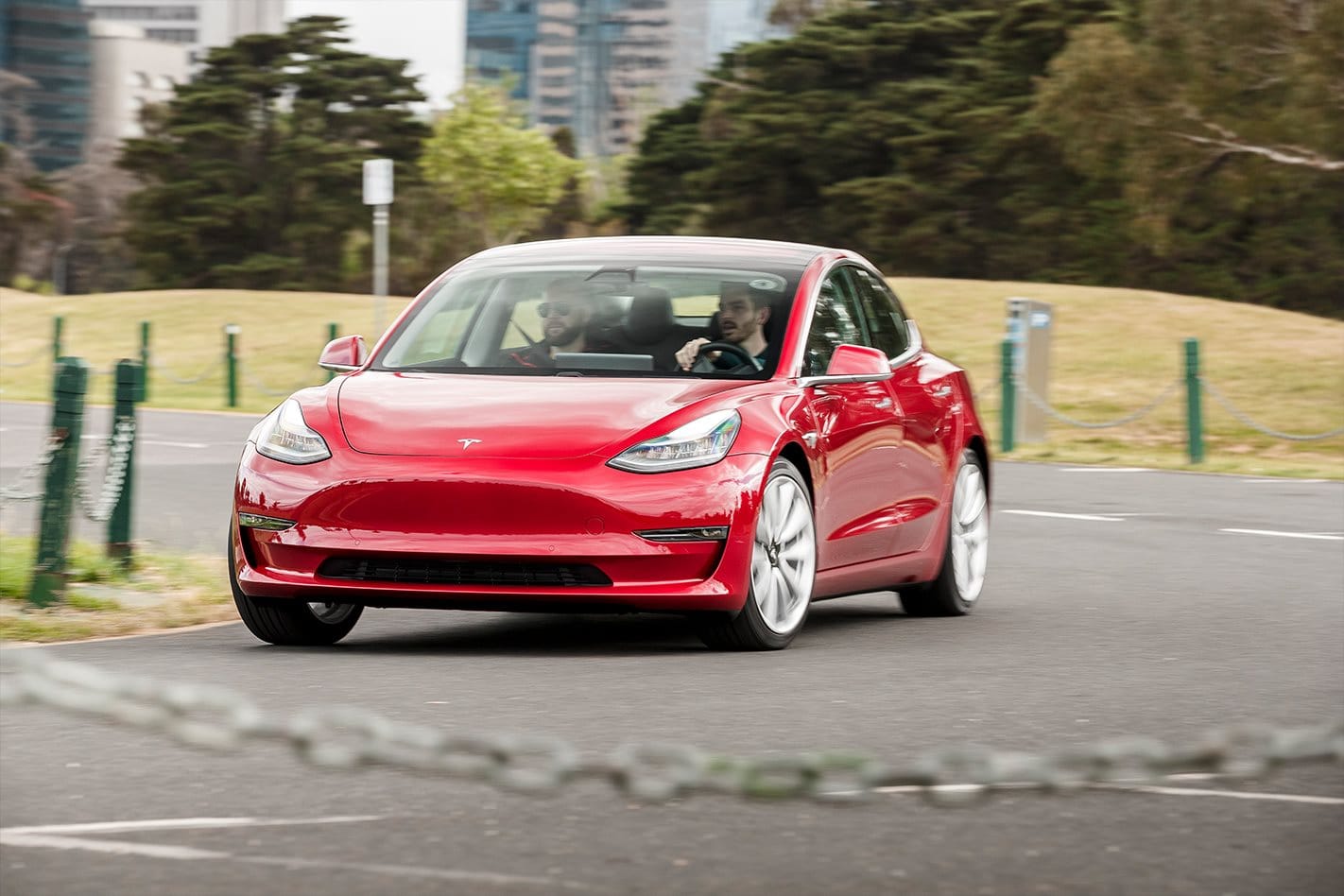 Australia is still scaling the foothills of EV adoption in the mainstream, and the prospect of ownership in this country is arguably at its most compelling when considering the service offered by Tesla's expansive charging network. Its relatively resolved version of future mobility is already on offer here, if you're a particularly well-heeled early adopter, that is. The most affordable Model S variant costs $112,050 (at time of writing, more on that later), while the Model X SUV is even pricier.
Read next: 2018 Tesla Model 3: 7 things you need to know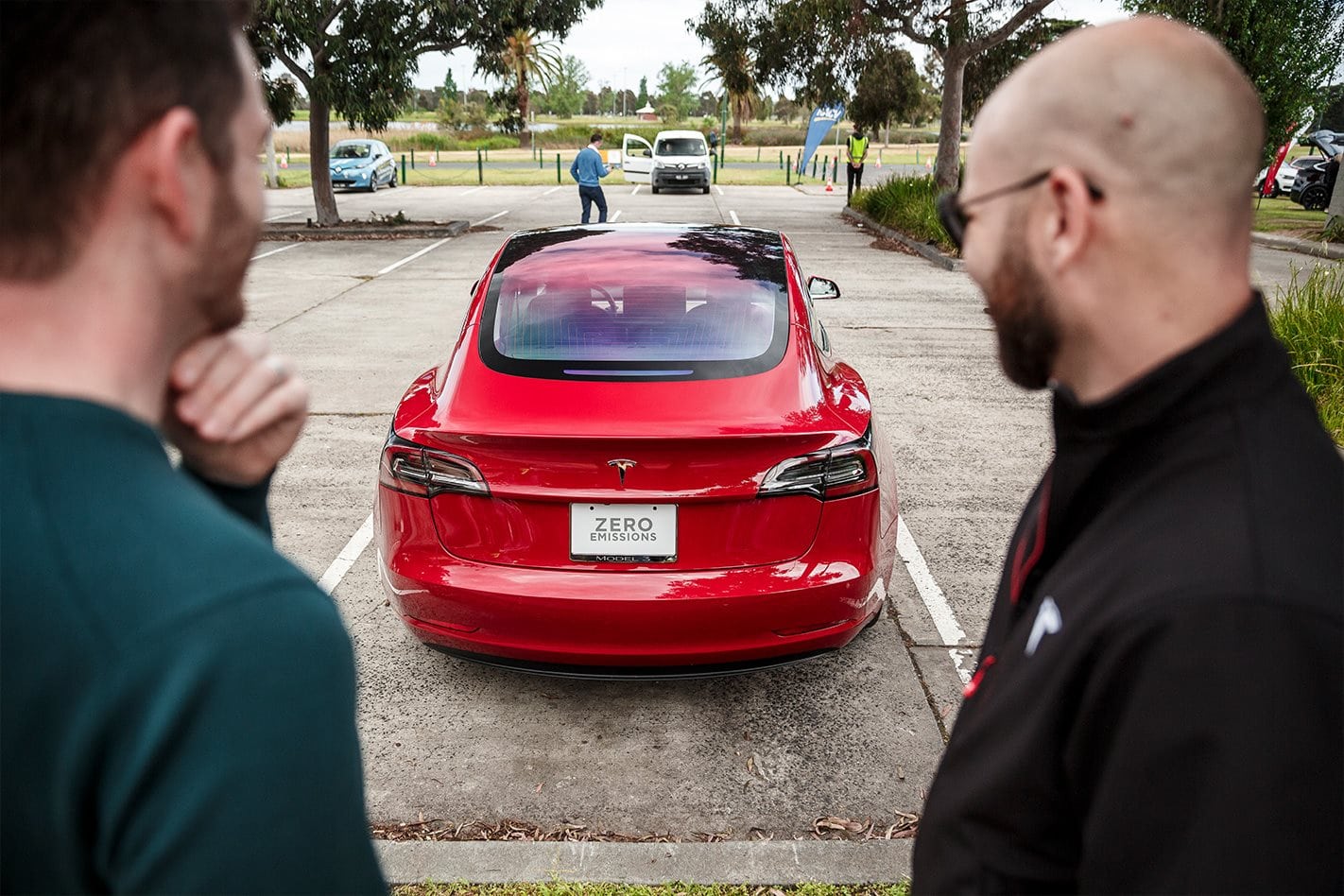 Right-hand-drive production isn't slated to begin until the middle of 2019, but Tesla has covertly slipped three US-market vehicles into Australia for promotional and evaluation purposes, and Wheels was the only local media outlet invited to drive one. An industry event in Melbourne provided the opportunity, where Tesla was canvassing for potential fleet customers alongside every other manufacturer with an electrified vehicle in the market.
Dozens of EVs, PHEVs and even FCVs were on hand, but all eyes were on the Tesla. It's been almost three years since Elon Musk wheeled the production-ready Model 3 before the world, but constant delays have made it seem like a myth out here. More than 100,000 people placed deposits on the day of its unveiling, including a large number of Australians who continue to wait to take delivery. Even though certain spec details are still secret, for now, local enthusiasm remains strong.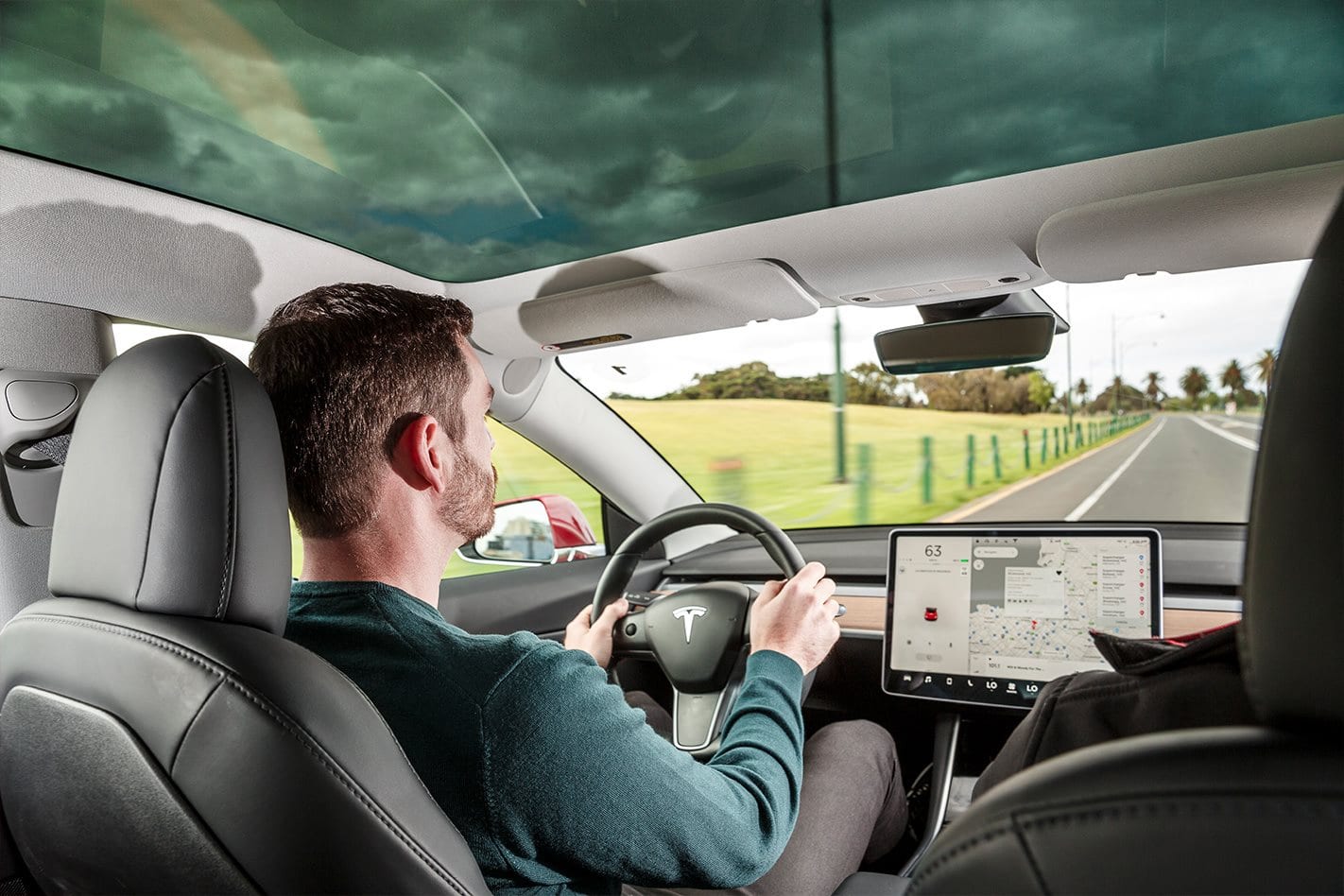 The link between Model S and Model 3 is easy to follow when looking at the two in profile. The latter is essentially a simplified, scaled-down version of the former, and the two share near identical glasshouses even though the Model 3 is almost 30cm shorter at 4694mm. Wheelbases are much closer, separated by a mere 85mm, meaning compact overhangs for the Model 3 with a similarly accommodating interior.
Read next: 2018 Tesla Model 3 Australian preview
Electric vehicle architecture is expensive, so cost cutting has taken place elsewhere. The Model 3's boot lid is now manual, though combined cargo space is reasonable at 425 litres including a 'frunk' big enough for a carry-on suitcase.  Smarter execution sees the 60/40 rear seats lay flat when folded, with no stepped floor like the Model S. There's more storage underneath without a spare tyre taking space. Get a flat and roadside assistance has to come and swap it, then call you when the old one is repaired.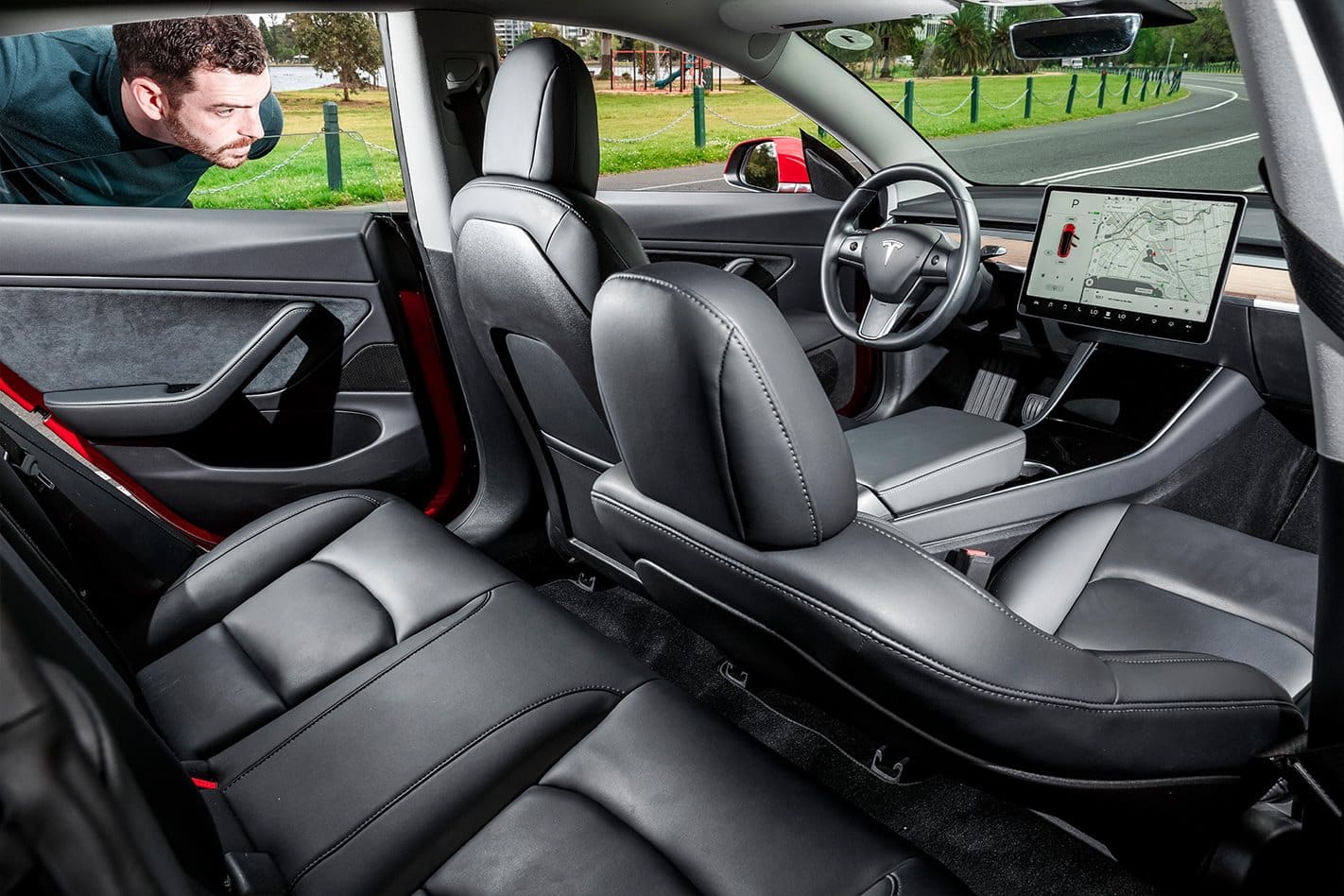 One massive air vent runs the width of the dashboard, the direction of its output controllable within the climate control menu. Passengers can focus airflow exactly by touching and dragging, or the stream of air can be split to flow around an occupants face. Hypermilers note, cabin heating uses four times the energy of cooling.
The Model 3 also gains a full glass roof, including a huge rear panel that stretches from above the front seats over the top of rear occupants to the boot lid much like the Model X's fishbowl windscreen in reverse. Tesla says it's the largest in a production car of any kind and serves two purposes: keeping the roofline low for aesthetics while maintaining headroom.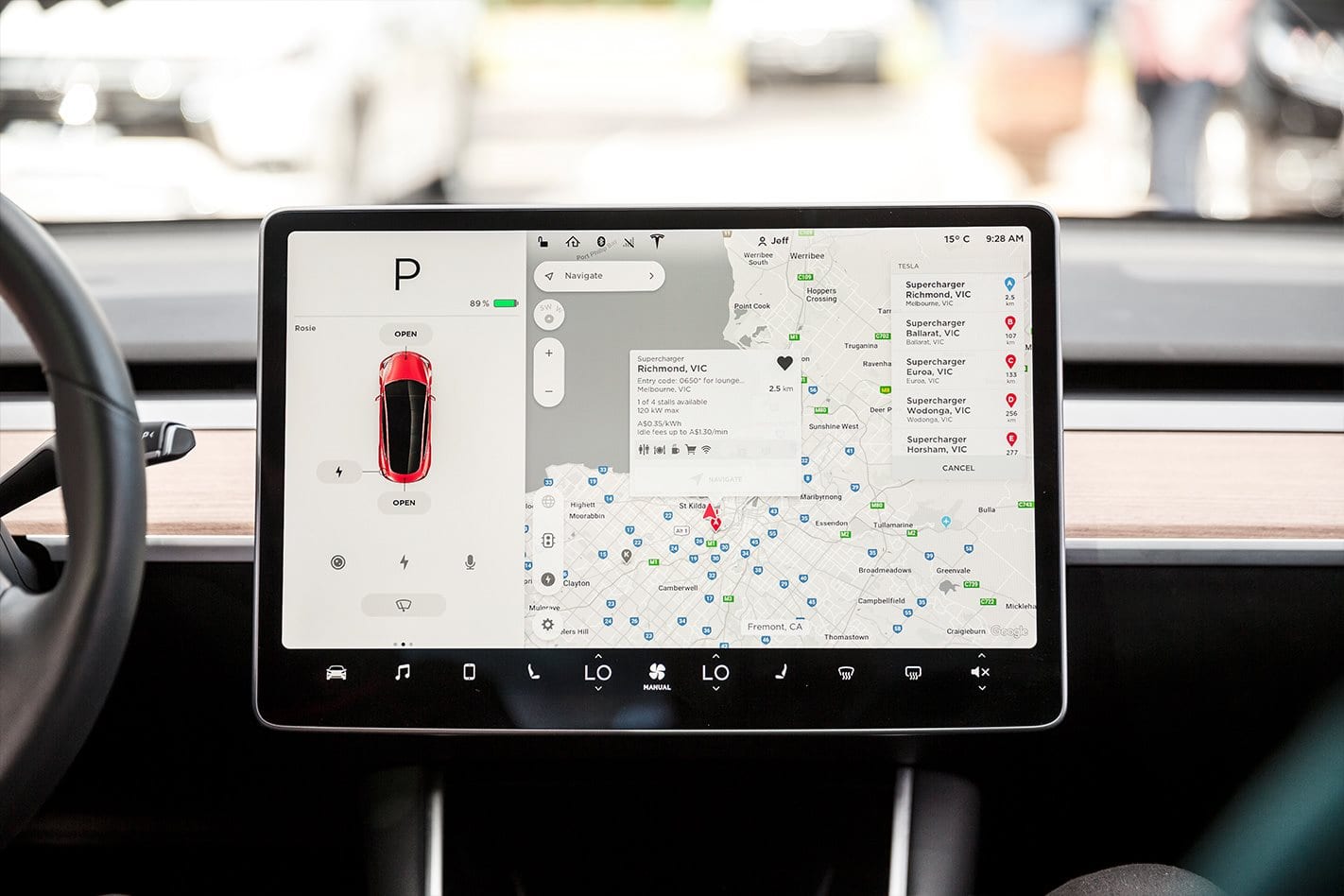 Inside, the uncluttered Model 3 looks like it was modelled off a Norwegian kitchen. All of its functionality is controlled from a single 15-inch touchscreen placed centrally in the slick, albeit extremely minimalist environment. Two multi-directional scroll-wheels mounted on the steering wheel – the only physical buttons in the cabin – have no labels on them, because their jobs may change with future iterations of the car's software. One left-hand stalk controls indicators and wipers, while one on the right selects drive or reverse. And that's it. The drive select stalk also activates cruise control and Autopilot with a double-click.
Opinion: Elon Musk might really be from the future
The rest is left to the massive touchscreen, which is somewhat overwhelming given the volume of information represented. Even the glovebox is opened via an on-screen menu. Tesla is now up to Version 9 of its software, which includes more functionality and interface revisions based on customer feedback. Third-party applications are also neatly integrated; say "play Pearl Jam", and an appropriate playlist will stream via Spotify.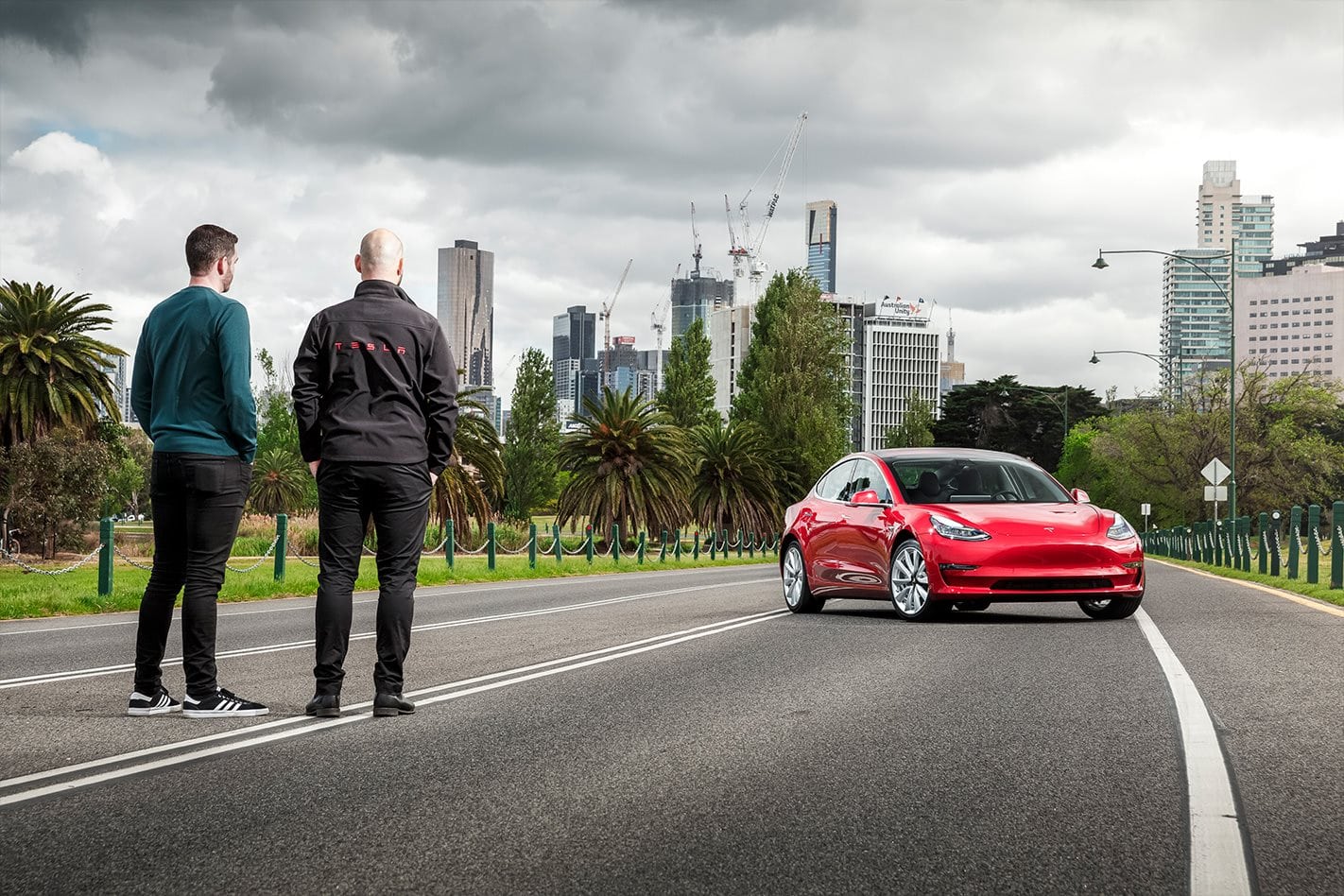 Tesla's sat-nav software maps journeys based on how much energy is available and where charging stations are. The system can identify the number of empty charging bays before you drive there, as well as display the cost of the charge in advance and Google ratings for cafes nearby.
Tesla has placed a lot of emphasis on relaxation inside the Model 3. The soft seats have heaters as standard (though using them is kryptonite for an EV's range), and noise suppression is impressive. "One of the things that's premium in cars of this size is interior space," says a local Tesla spokesman, before explaining that more room was created by moving the front seats and bulkhead forward, as there's no combustion engine in the way.
Read next: Tesla announces specs of dual-motor Model 3
How close the driver sits to the front axle is immediately apparent when you get into the car and turn a corner. It's an unusual sensation. The shorter wheelbase assists with agility, though the perception of that is heightened by the driving position. Car setup is heavily customisable. There are Comfort, Standard and Sport drive modes, Low and High settings for its regenerative braking force, Chill and Standard modes for take-off speed, and two levels of steering assistance called Comfort and Normal.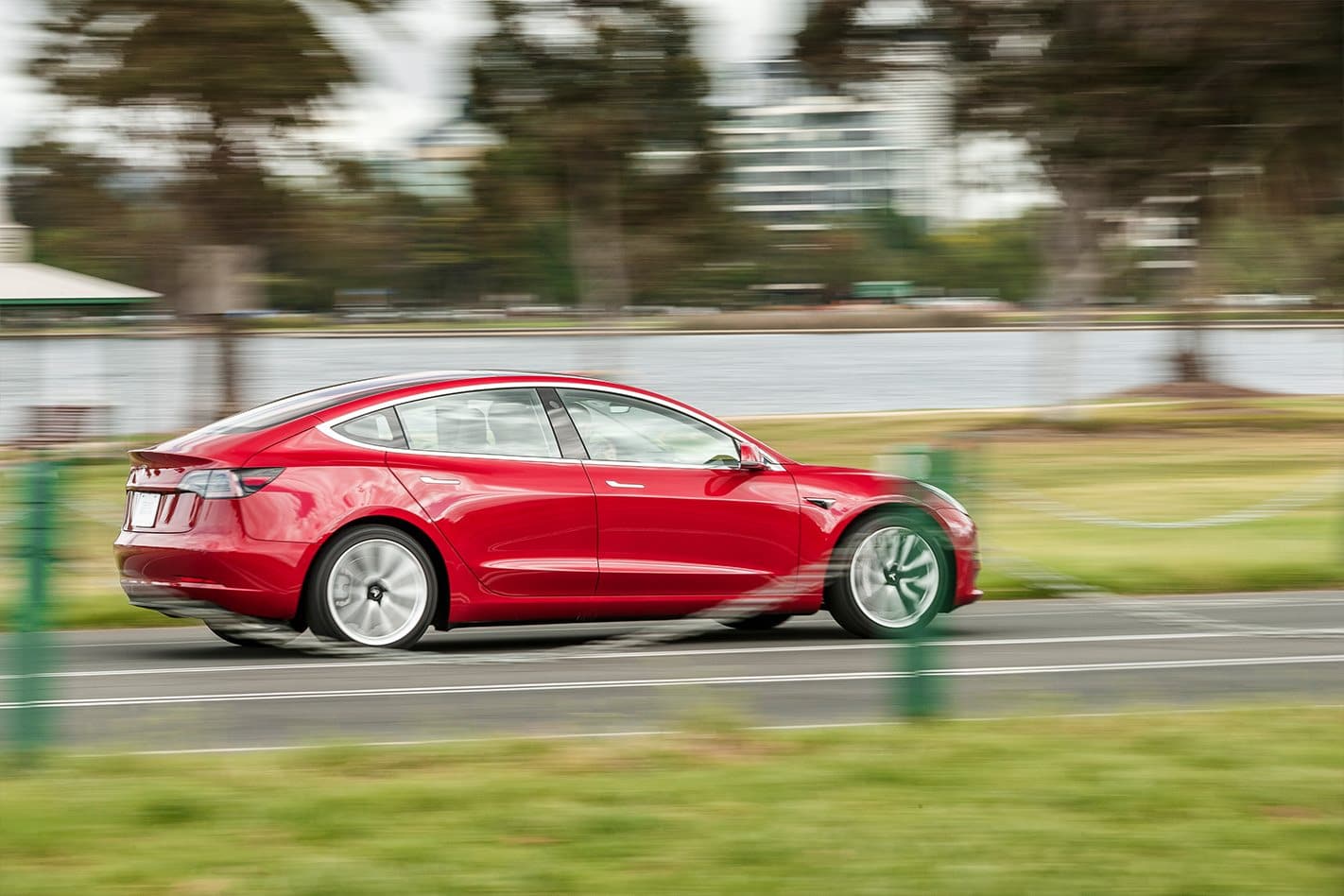 Comfort steering is only really useful for tight manoeuvres within car parks, while the Chill take-off mode works when creeping forward in stop-start traffic by smoothing out inputs and saving a bit of range. High regeneration turns the Model 3 into a single-pedal car while feeding the most energy back into the battery.
For now, its suspension is passive dampers with coil springs, though an air set-up is in the company's future. The Model 3's on-road behaviour is geared towards comfort rather than dynamics. It's quite soft and spongy, with significant body roll through corners even though much of its weight resides in floor-mounted battery packs.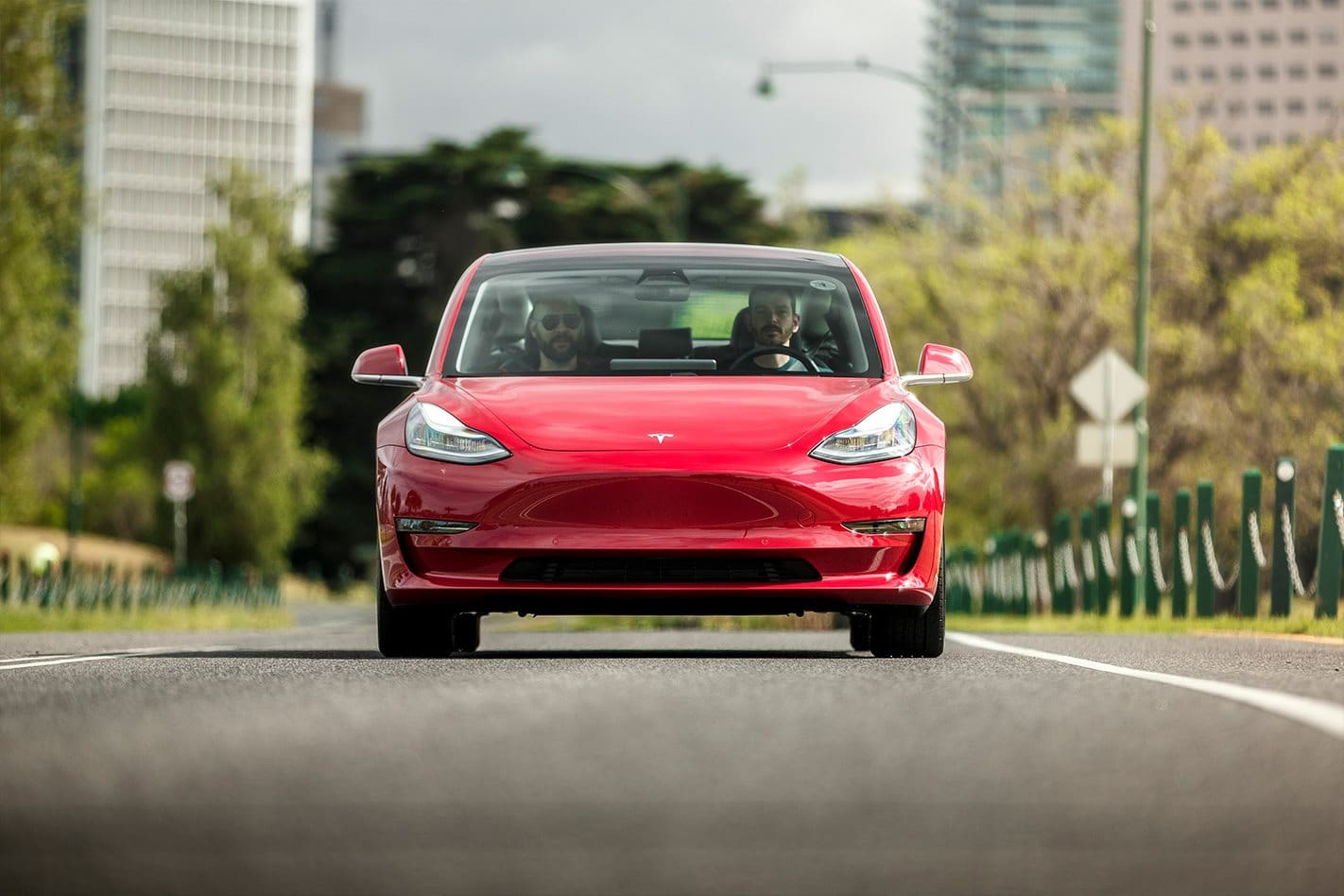 MOTOR review: Model X P100D
Anybody who has experienced a dual-motor Model S or X will find the rear-wheel-drive Model 3's modest launch performance much less heart-stopping in ferocity, though more than adequate at 5.6sec to 100km/h for this car's intended function. Exact outputs in kW and Nm are somewhat cryptic to decode but should be made clear when the car arrives for real. Sportier Long Range and Performance variants with dual motors and 500km range are available, though the two cheaper versions with less battery capacity are the ones most people with deposits down are waiting on. The most affordable of which (called Standard) will have a 50kWh battery with 350km range, and is promised to come in at the US$35,000 mark brand founder Elon Musk promoted way back at the beginning.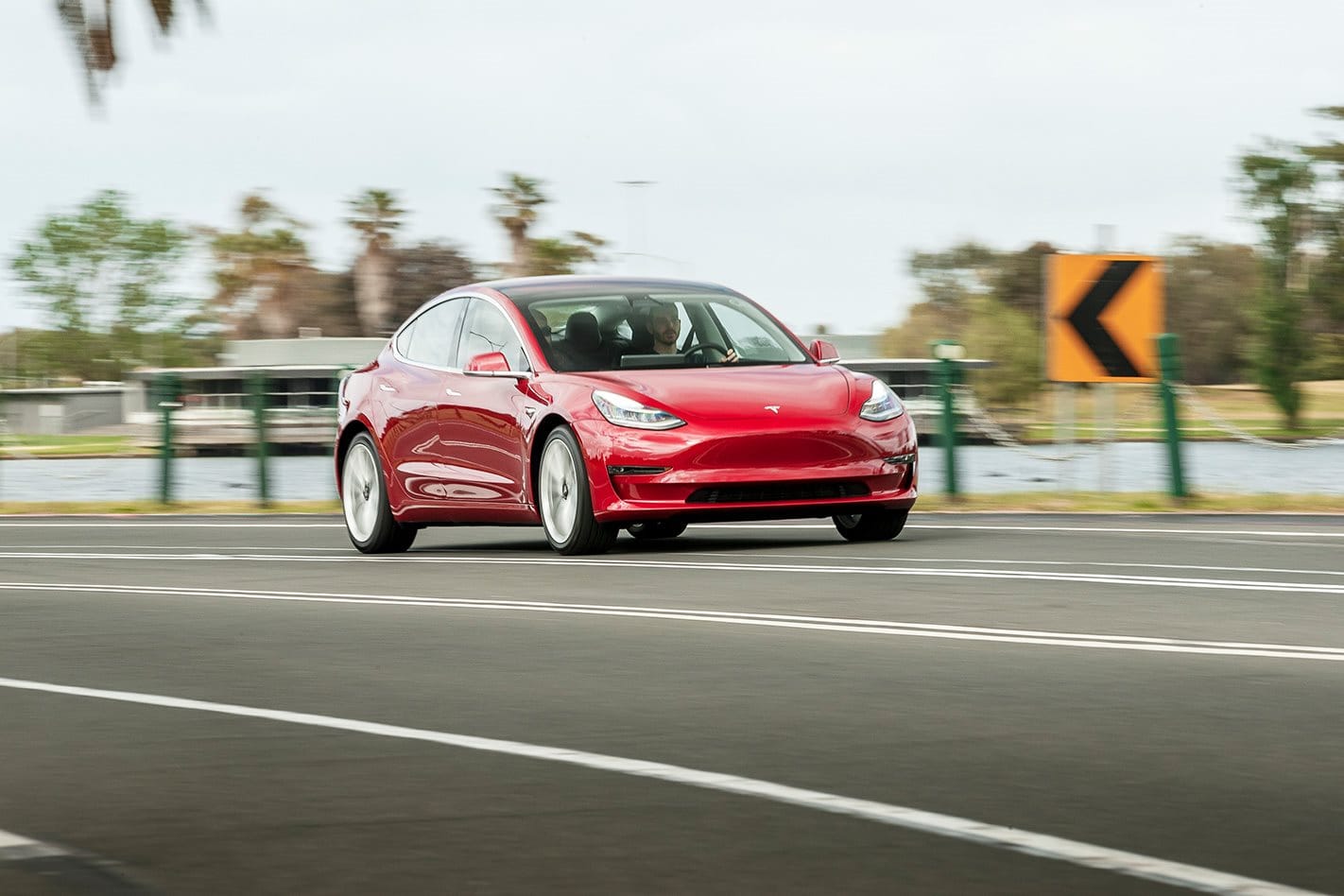 For now, the line-up includes Model 3 Mid Range RWD at US$46,000 with a 62kWh pack, followed by Long Range and Performance AWD variants with 75kWh packs at US$53,000 and US$64,000 respectively, the latter with a 3.5sec sprint to 100km/h. Tesla aims to maintain price parity around the world, meaning a US$46,000 Mid Range Model 3 with 420km range should cost the same in Australia, plus local taxes, on-roads and delivery. That puts it at under $70K after currency exchange, and the Standard Model 3 at under $60K, if/when it comes to pass.
Mainstream premium manufacturers are only now dipping their toes into the EV waters with big, expensive vehicles that will ideally set them up to build more affordable EVs in the near future. That's a process Tesla has already been through with Model S and X before moving onto Model 3, though it has not been without difficulty or delay. Australia has been identified as one of the first markets to get right-hand-drive Model 3s when production starts, though whether that is around mid-2019 remains to be seen.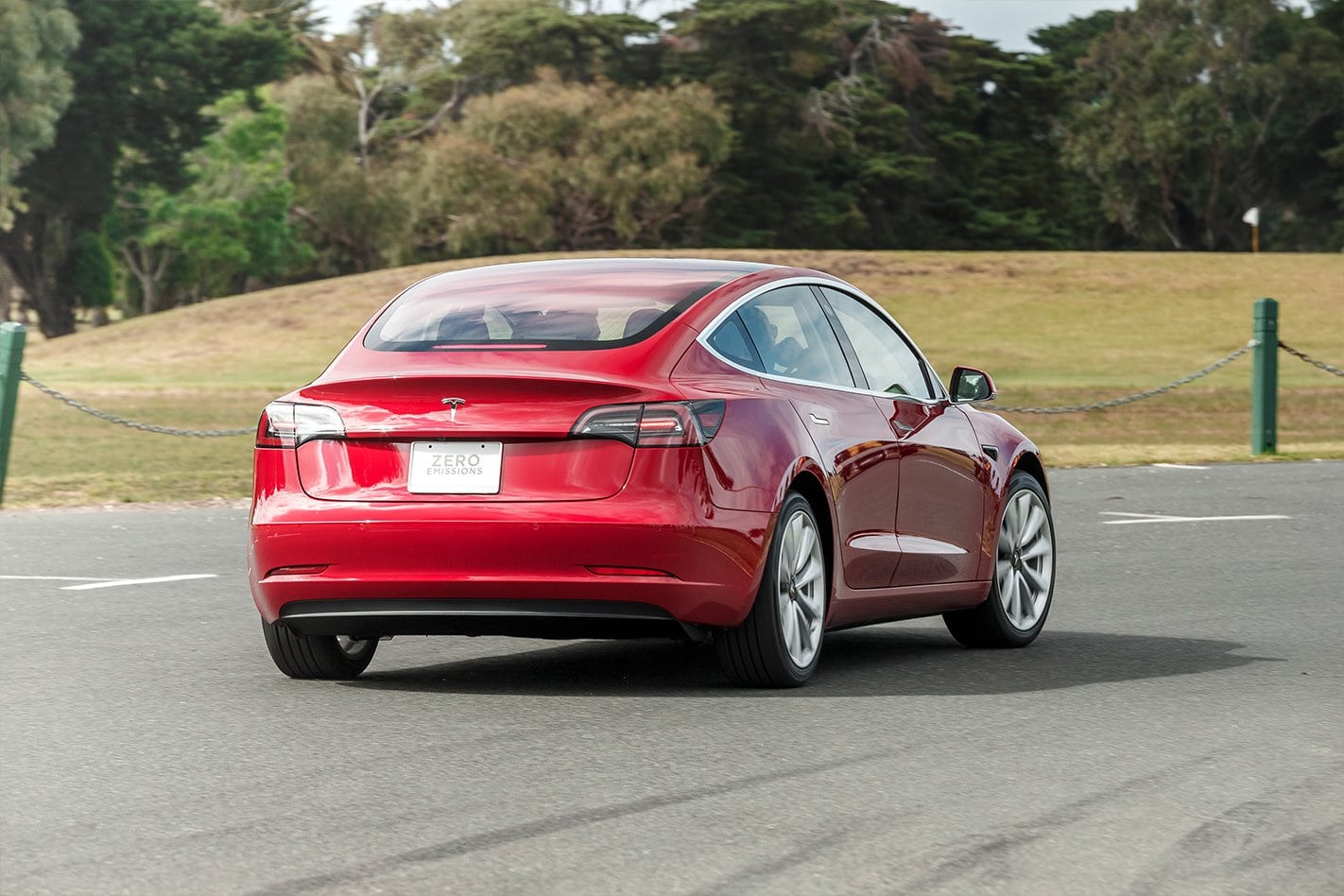 Time is not on Tesla's side. The potential is there for Model 3 to springboard off the extensive groundwork it has already done and seal the brand's long-term success, but it needs to arrive sooner rather than later. Those who signed up to Elon's vision are ready to part with their cash now, but the rest of the industry is quickly chasing down the brand's head start. The question is: how long can Tesla outrun them?
THE TESLA ROADSTER SOUNDS INCREDIBLE, BUT IS IT THAT GOOD  WHOOPS! TESLA ON AUTOPILOT CRASHED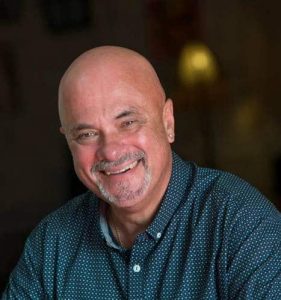 Bob Aldons here, the owner and founder of The Car Guy, and Car Business, reviewing cars, reporting on car industry matters, car tech, Formula 1, buying #anynewcarcheaper and the world at large.
I've spent the last forty-one years immersed in the automotive industry from salesman to the owner of a 7 brand multi-franchise dealership. I know cars.
Find One
If you're hunting around for a great price on your next new car, you should call me, the auto expert, from Car Business.
My company, a Brisbane Car Broker, Car Buyers Agent or Car Buyers Advocate based on the north side of Brisbane, will return your inquiry within 24 hours and make the process of buying a new car easy and stress-free.
Are you tired of salesperson tricks? I protect you from the pressure exerted by car dealer's salespeople. There isn't any obligation – just a pretty significant saving.
You're where? Seriously, my services are available for you in any Australian state and territory: from Darwin to Hobart, Cairns to Perth.  Car Broker Brisbane, Sydney, Melbourne, Adelaide, Perth, Hobart, and Darwin – I'm available when you need me to be.
Whether you're a retail customer, a small company or a large national fleet, I'll go to work and get that price down. Lower new car prices are my goal. So you'll get the best prices from me rather than hoping you can help yourself.
If I can't get you the best new car price, better than you can get yourself from a car dealer, I won't charge you any fee. No Saving, No Fee. – that's what you should expect from a car buying expert.

Car Business WILL save you money on your next new car purchase – guaranteed

Australian Road Safety FoundationThe Australian Road Safety Foundation is a not-for-profit organization whose charter is to reduce serious accidents on our roads through training and education.
Car Business donates to the ARSF for every car we sell. If you'd like to support this worthwhile foundation, donate to the cause, become a member today or just buy your next new car from Car Business.
Conclusion
A lot of customers come to me to have frequently asked questions answered. The car business is a minefield of unresolved questions and there are different answers for different brands. Questions such as:-
Can you help me with information on a Subaru Forester?
How much cheaper can I buy a Toyota Corolla from you rather than dealing with a dealer?
Can you help me to get a better finance rate?
What's the most reliable car brand?
How can I save money on car insurance?
My car is out of warranty and the dealer says I have to pay to have it fixed. Can you help me to sort out the problem?
Which is the best SUV available?
If you'd like to discuss anything to do with purchase, trade-in, private sale, service, warranty issues or just have a conversation about the motor industry in Australia, please give me a call on 0418 748 498