I went to pick up a Kia Cerato GT thinking I was getting a sedan version to review but ended up in the hatch. My mistake, but I did love my time with the Kia Cerato GT hatch
I've reviewed the Kia Cerato Sport model previously so nonetheless, I was keen to check out the GT version of the hatchback.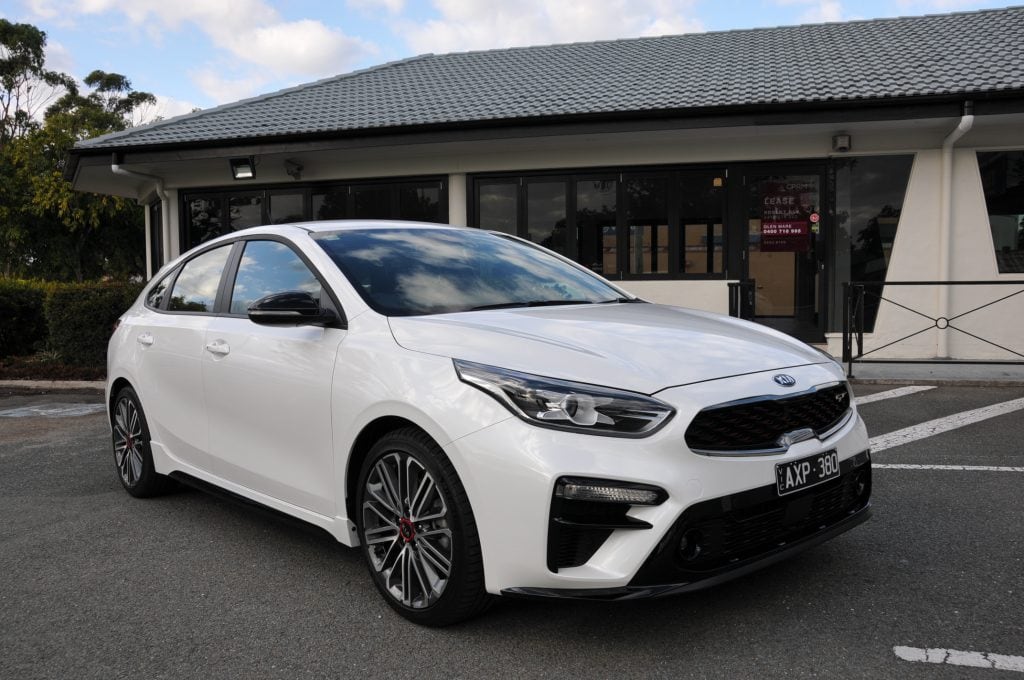 First thing that makes so much of a difference is the engine. The Kia Cerato typically comes with a 2.0 litre engine but in the GT version, you've got a smaller engine (1.6 litres) but with the advantage of turbo-charging.
Power rises from a modest 112kw in the normal models to 150kw in the GT.
What is it?
The Kia Cerato GT is a medium sized hatchback. In an age where a lot of buyers are moving to an SUV, Kia persists in providing a great range of passenger vehicles – Picanto, Rio, Cerato, and Stinger. Good for them.
Competition?
Many car builders are moving away from pure passenger vehicles. Mitsubishi and Nissan no longer offer (or won't soon) 5-door passenger cars, leaving the following:
Ford Focus, Holden Astra, Honda Civic, Hyundai i30 and Elantra, Mazda3, Subaru Impreza, Toyota Corolla and Volkswagen Golf as the mainstream sellers along with Peugeot 308, Renault Megane, MG6, and Skoda Rapid as the rest.
How Much?
This Kia Cerato GT Hatch prices out at $36,690 (Retail drive away price) but has an attractive offer of $31,990 currently at least in Queensland. I couldn't find the expiry date of the offer on the Kia website, but I'd presume that it will run until June 30th.
At The Front
The 'Schreyer' Grill dominates the front of the Kia Cerato GT. Peter Schreyer, formerly the head designer at Audi has done a great job with design and style with all Kia models and especially so in the Cerato.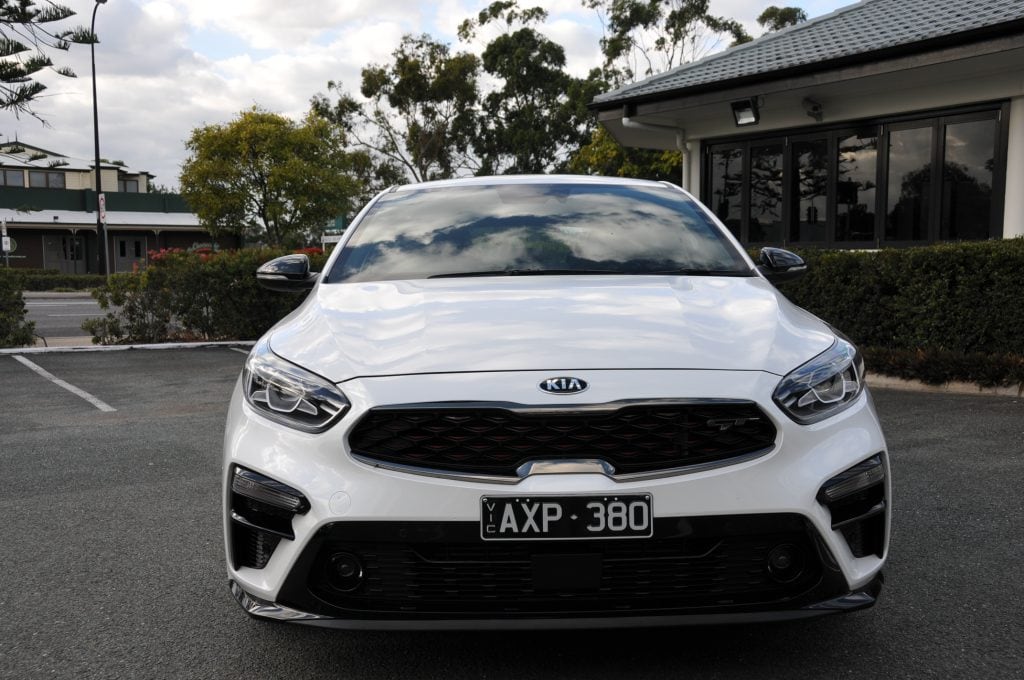 The grille (upper, lower and side) are black with touches of red in the upper to complement the GT badge.
Lights for the Kia Cerato GT are LED for the headlights, daytime running lights and rear combination lamps. It's fitted with dusk sensing headlights and rain sensing wipers – the standard that all car manufacturers should adopt.
Under the Bonnet
As I said previously, the Kia Cerato GT, in both sedan and hatchback versions, sports the 150kw 1.6 litre turbo engine, with a 7-speed dual clutch transmission and delivers 265Nm of torque.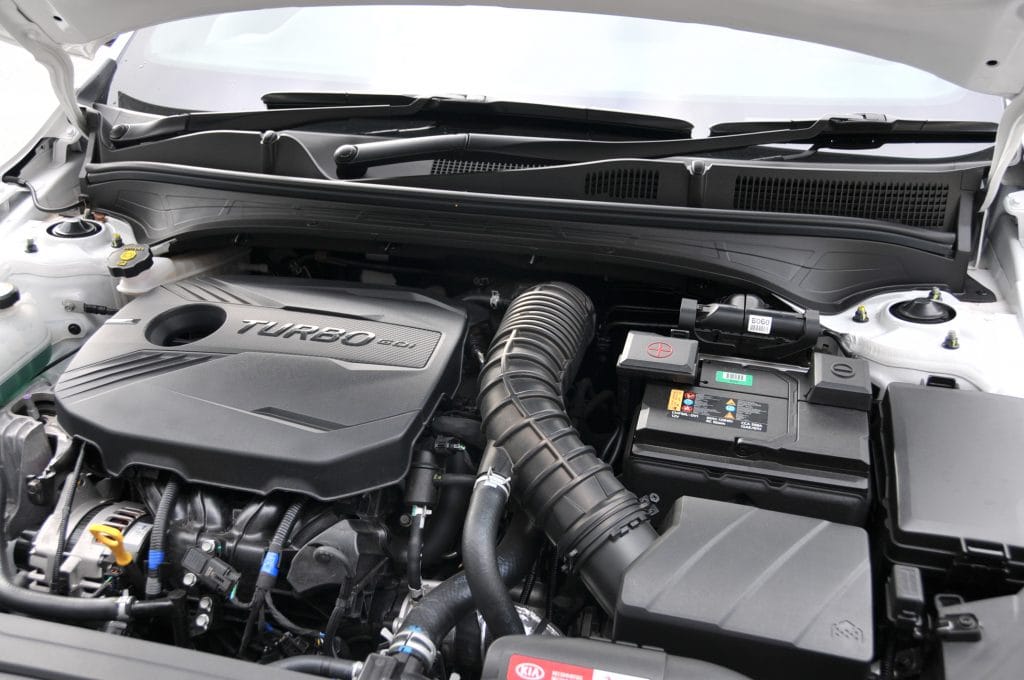 What does that relate to in real world driving? It would give the popular Toyota 86 a real red hot go in the traffic light drags, punching off the line quicker than the Toyota.
The suspension set up in the GT can be a little bit stiff around the suburbs, but it's not uncomfortable when you select comfort. In sports mode, the dampers stiffen up a bit and provide a better handling package.
Suspension is McPherson Strut up front with Multi Link rear suspension
One of the more important aspects of the Kia Cerato GT is that it doesn't need premium fuel. Typically most turbo engines specify 95 Ron fuel, but the whole of life expense in the Cerato GT is lower thanks to this. Other 'sporty' vehicles including the VW Golf GT are more 'costly to run' let alone service
Fuel tank capacity is 50 litres
Down The Side
In my reviews, I want to let you know the important safety features in the cars that I test. The Kia Cerato GT is chock full of both passive and active safety features which may not be present in the lesser lights in the model range.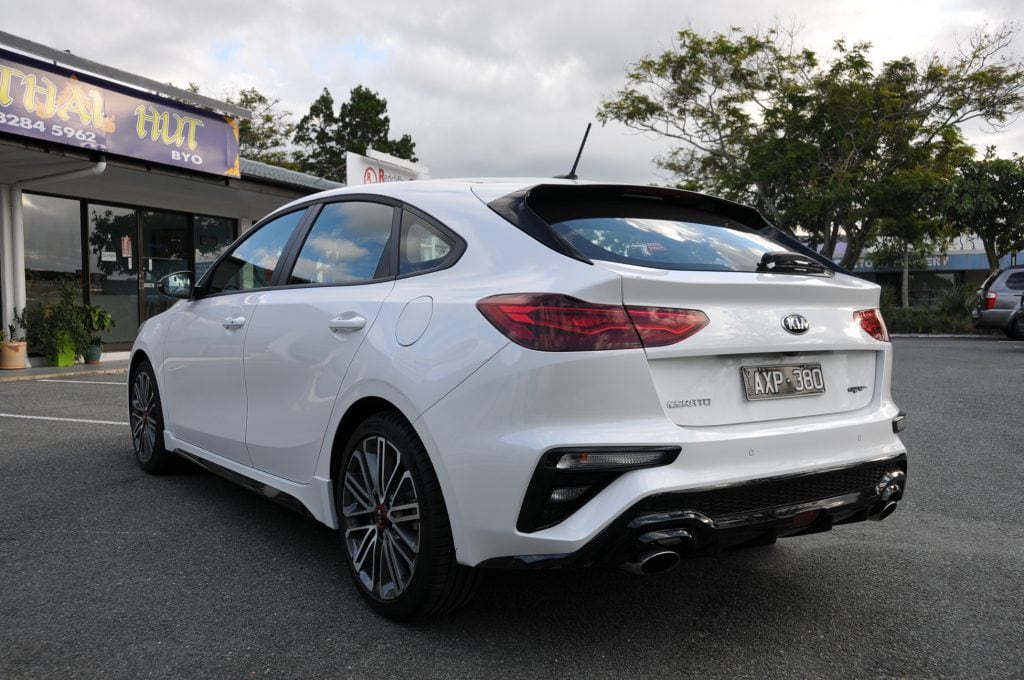 Active Safety
| | |
| --- | --- |
| Anti-Lock Brakes with Electronic Brake Force Distribution, Electronic Stability Control and Vehicle Stability Management Hill Start Assist Blind Spot Detection Rear Cross Traffic Alert Lane Keep Assist Blind Spot Detection Rear Cross Traffic Alert Driver Attention Alert Autonomous Emergency Braking with Forward Collison Warning & Pedestrian and Cyclist Avoidance | |
| Passive Safety Front and Side SRS Air Bags Curtain SRS Air Bags Front seatbelt pre-tensioners with load limiters Side door impact beams (front & rear) | |
| If you'd like to investigate all the specifications, visit the Kia Website | |
RACQ Insurance – Kia Cerato GT Hatch
I use RACQ Insurance to give you a guide as to what you'll pay for your annual comprehensive car insurance. Conditions precedent for this cover are:
A male driver over 60 years of age, having held a license for over 10 years
Bronze member of RACQ with 2 other insurance policies.
Has purchased the car for private use & paid cash for the car.
The car is parked in a garage overnight.
The driver resides in postcode 4017
The car is fitted with an engine immobilizer
No at fault claim in the last three years, with no license suspensions
Rating 1 currently, having held that rating 1 for ten years or more
No driver under 25 will use the vehicle.
The premium quoted online by RACQ Insurance for Private Use is $454.16 with a $750 excess. Variations from the information above may result in different outcomes. Check online with RACQ Insurance for your own particular quote.
The Cabin
The Kia Cerato range is quietly competent as it comes to the passenger cell. Sure, it might not be equal to or better than some of the plusher European examples, but no-one can say that it's cheap and nasty.
And you get everything that you'd expect to find in a small-medium passenger top of the line car. The Cerato GT's interior is on-par or better than it's key rivals (think Volkswagen Golf GT or Hyundai i30 N-Line)
My Car Advice colleagues suggest "The interior design isn't in any way daring. The dash shares almost all of its design flourishes with cheaper Cerato models. It's contemporary without being cutting edge. You get the expected soft-touch surfaces (that you'll probably only touch the first week you own it before forgetting about them) on the dash and front doors."
"There's red stitching on the seats and steering wheel, and a unique sports profile for the front seats without the overt aggression and over-the-top bolstering of genuinely sporty hot hatches for an entirely livable compromise". But it does match or better the Hyundai or Volkswagen previously mentioned
Does Kia look after the driver?
Let's start with those front seats, which are far more deeply bolstered that those in the lesser Cerato models, meaning much better lateral support through corners, and greater comfort and support overall. Cabin room is generous for me (180cm) with great shoulder, head and leg room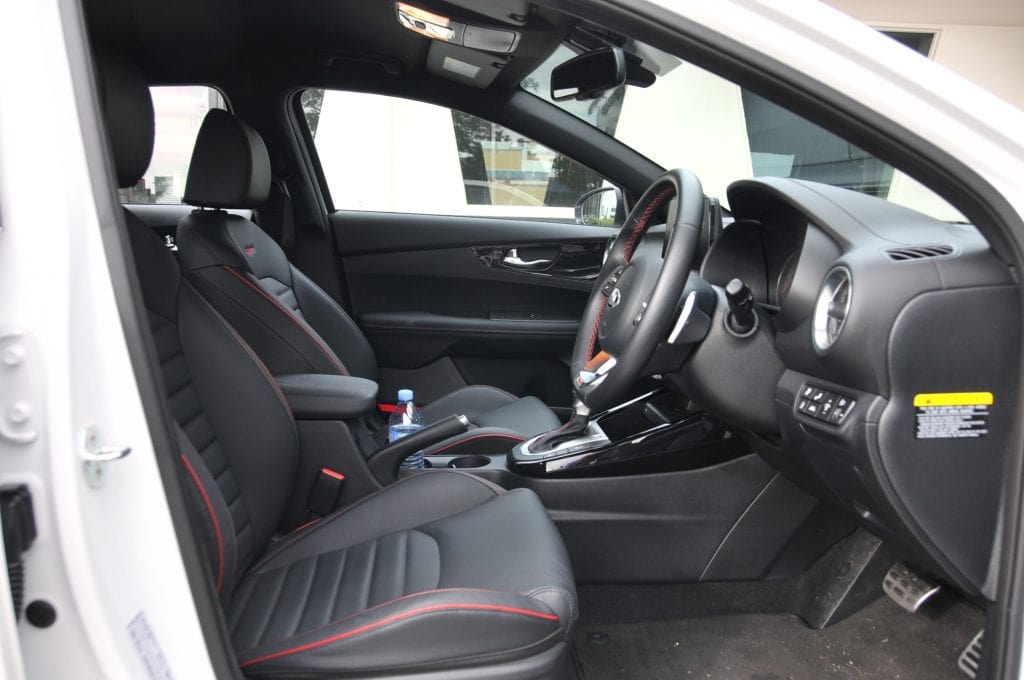 Back Seat Room and Comfort?
No complaints about the rear seat either; its base is long enough to support adult legs, and there are ample shoulder and headroom for two (or 3 at a pinch).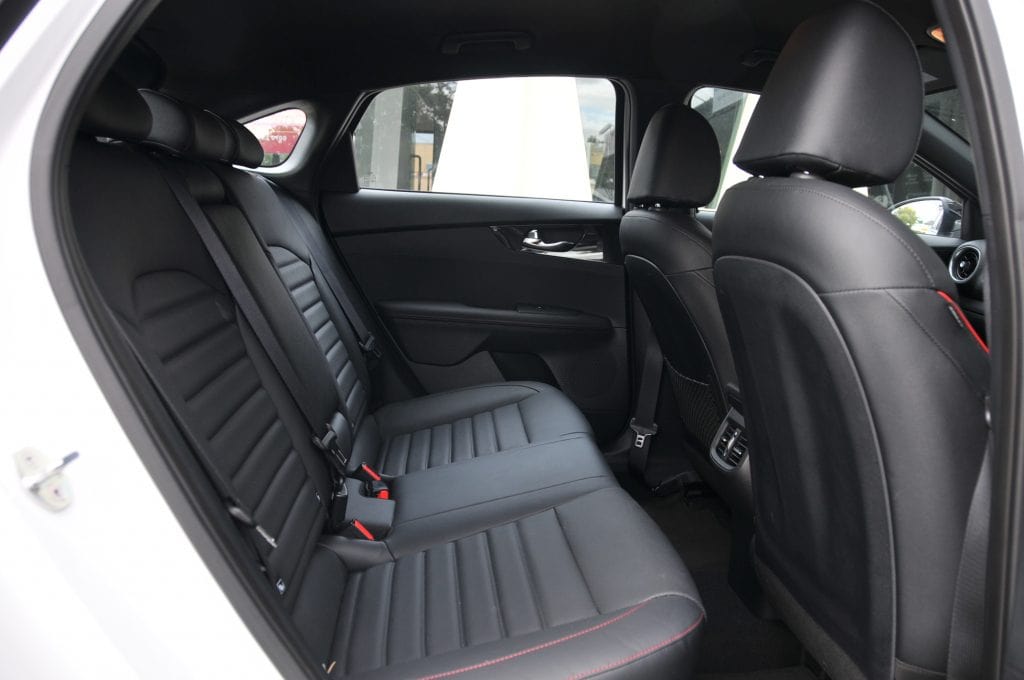 As for ride comfort, around the suburbs on lesser quality roads, it's a bit bumpy. Get it out on A-Grade roads and that's where the Cerato GT excels. Accept this trade-off for the reduced body roll in corners that comes with the sports suspension.
What's the boot space like?
Luggage space is excellent with 428 litres with the seats in place. This expands to 741 litres with the rear seats down.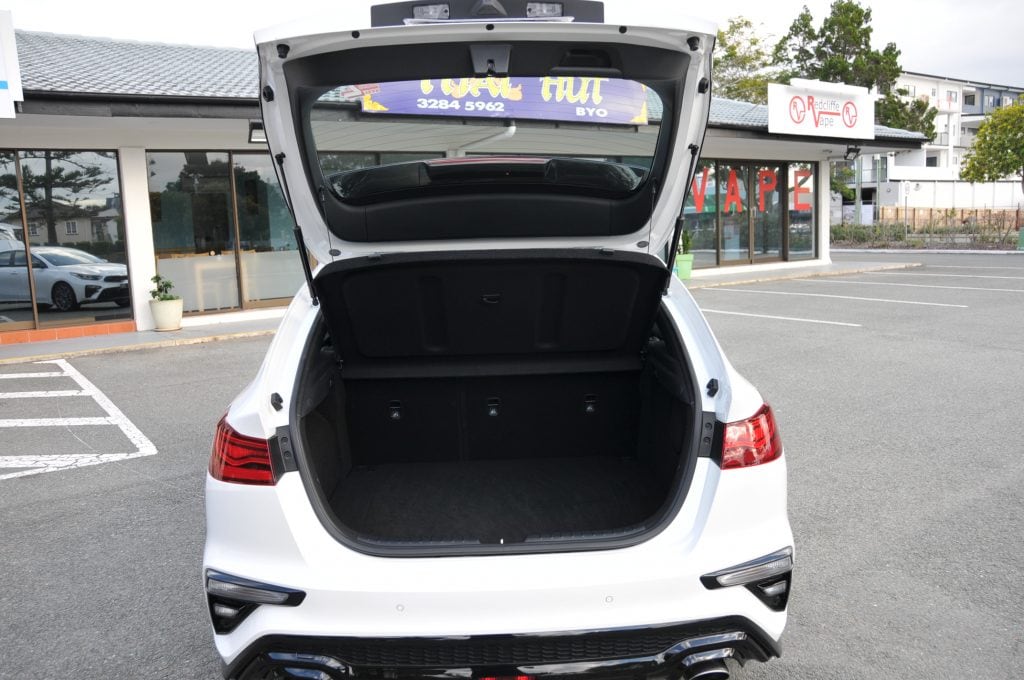 Of course, the rear seats are configured in a 60/40 split so you can still carry luggage and an extra passenger or two.
What's the infotainment like?
The infotainment system in the GT is fantastic. It's got an 8″ touch screen with Apple Car Play, Android Auto as well as an FM/AM/DAB radio, USB ports, and MP3 functionality.
Navigation is standard as is the JBL premium stereo system with 8 speakers. The Navigation system has traffic information too. A nifty feature of the sound system is that it increases in volume as you go faster. Neat!
Bluetooth, Steering Wheel mounted audio controls are all included as you'd expect.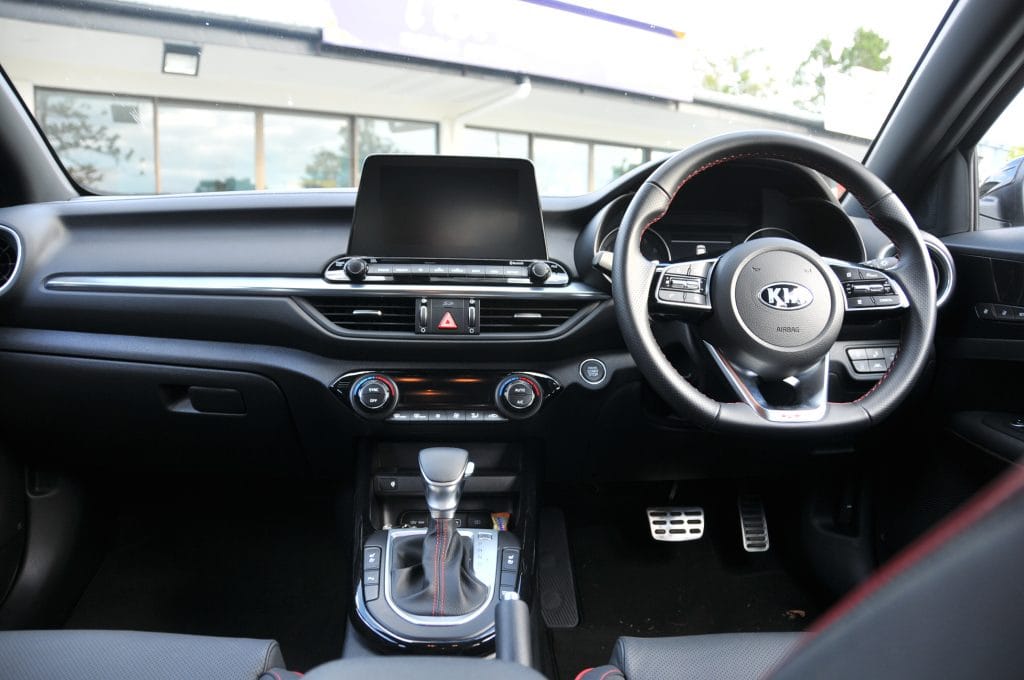 What's the performance like?
"The most significant difference, initially at least, is that the way the new engine raises the GT's responsiveness compared to the rest of the range. Rather than running the dated, noisey atmo 2.0-litre petrol four used across the rest of the range, the Cerato GT is fitted with the a 1.6-litre, direct-injected turbo-petrol four that is used in the Hyundai i30 N-Line (formerly known as i30 SR.) It produces 150kW and 265Nm, and makes a world of difference to how the Cerato drives. Instead of a fairly hollow and languid midrange delivered by the 2.0 atmo, the 1.6 turbo digs in early and feels eager and strong. At higher revs it's not exactly hushed, but is way less intrusive and strained sounding compared to the 2.0-litre." – caradvice
What's the ride and handling like?
"Further driver satisfaction comes from the revised chassis tune and improved wheel and tyre package. Regarding the former, Kia's local suspension tuning division arrived at a set-up that is significantly firmer than that run by non-GT-spec Ceratos, featuring stiffer springs, upgraded dampers, and thicker anti-roll bars. The software for the steering power assistance has also been recalibrated to deliver more weighty, driver-centric feel through the wheel. Appreciably more grip is delivered by larger 18-inch wheels (up from 17s on the Sport+ model one model rung below) running 225/40 R18 Michelin Pilot Sport 4 tyres.
The trade-off is that ride as mentioned – it's unapologetically firm, and can feel a bit reactive and restless at suburban speeds. However in more flowing, open driving conditions, chances are you will appreciate the better body control and absence of the occasional wallow that can afflict the softer, lesser models below the GT." – caradvice
What About Towing?
Not really. Without electric brakes fitted, you can tow around 600kg – a small trailer or tinnie. With electric brake assisting, that ups the capacity to 1100kg, so not much more.
You're not really buying a small car like the Kia Cerato GT to tow are you?. That's the job of your second car. This one is more about highway and fun than it is about getting jobs done.
Ownership Costs – Service and Warranty.
Kia offers a 7-year warranty, 7 years roadside assistance and a 7 year capped price service program. Has been the best in the industry for many years and whilst some manufacturers up the standard to 7 years during special sales periods, Kia holds the line as the best warranty program in Australia
For 7-years capped price service (annually or 10,000klm) you'll be investing $3295. That equates to $470 per annum.
And there's no good reason not to service with your Kia dealer. My experience with Kia has been excellent. Their dealer group are excellent in terms of customer service and if you ask, they'll provide you with a courtesy car.
As to Fuel Economy, Kia suggests that you'll achieve 6.8 Litres/100klm for a combined suburban and highway use, 8.9 Litres/100klm around your area and a very good 5.5 litres/100klm on the highway.
This really depends on your driving style – hit the accelerator hard, and those numbers will increase substantially. But you won't drive a GT economically all the time will you?
What about safety?
Thankfully the Kia Cerato was tested in 2019. Must be one of the few brands so far this year. Kia Cerato GT gets a full 5-star rating as one of the safest cars on our Australian roads.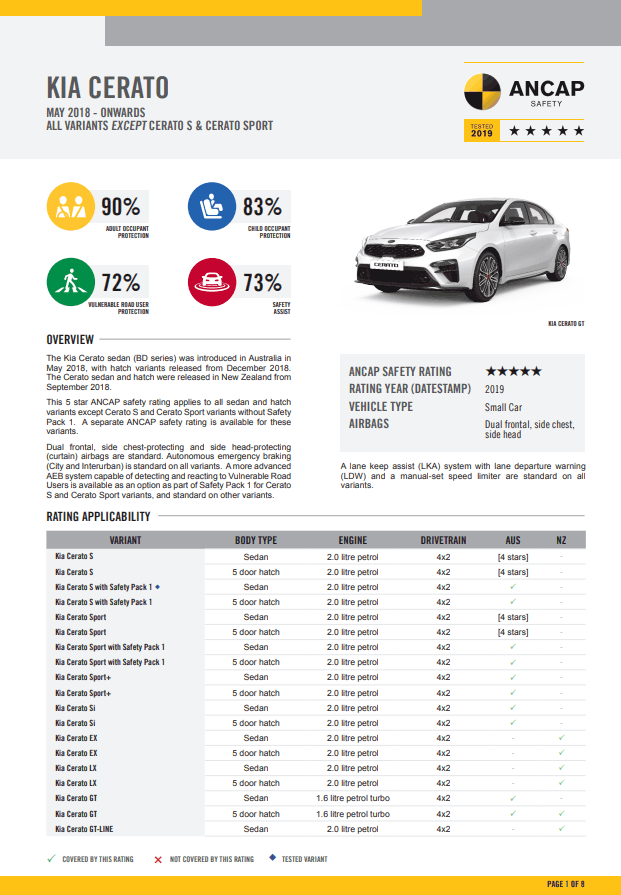 Kia Cerato GT scores very well for Adult Occupant Protection (90%) Child Occupant Protection (83%) and ok for Vulnerable Road User Protection (Cyclists and Pedestrians – 72%) and lastly 73% for Safety Assistance Systems.
Kia Cerato GT Hatch – Where to Buy?
Kia Motors Australia kindly supplied this vehicle for my review. No financial incentives are paid to me by any manufacturer.
I write what I believe are the important aspects of the vehicle – good or not so much.
If you're in the market to buy a Cerato or any other Kia vehicle for that matter, pick your dealer carefully. When I want to check out the 'worthiness' of a dealer, I Google 'Kia Dealers [location]" where location is the one that you live in or around and the brand is that particular one you're interested in.
I only list dealers who have achieved a minimum of 10 reviews with Google and then only those with four stars or higher.
From a South East Queensland perspective here are the dealers I'd visit:
Northside Toowong Kia 4.5 Stars from 148 Reviews
Southside Motorama Kia 4.8 Stars from 215 Reviews
Eastside Keema Kia Bayside 4.6 Stars from 27 Reviews
Westside Ipswich Kia 4.2 Stars from 27 Reviews
Gold Coast Von Bibra Kia 4.7 Stars from 40 Reviews
Sunshine Coast No Dealer Meets My Criteria
(Google Stars and review numbers effective 8th May 2019)
The Good
Good Styling is great inside and out
Best in class handling
The infotainment system in first class
Industry leading 7-year warranty
Price ($31,990) is sensational
Not So Good
A little bit firm ride on poor roads
Torque steer (if you know what that is) can be annoying
Summary
From a drivers perspective, the Kia Cerato GT is much more than a warm hatch. Consider it in a comparison with the Golf GT and you'll understand where it fits in to the market.
It handles really well, but designed to be below its sister car the Hyundai i30 N. Much better than the Hyundai i30 N-Line but at $31,990 drive away, it's better value for money.
You can fit 4 people comfortably, 5 at a stretch and still have one of the biggest boots in its class.
Most of the car review journalists have given it about 8 – 8.5 out of 10. In the class it competes in, I'm a stronger advocate than that. And no, I don't think any car deserves a 10 (only Bo Derek gets that) but it's a solid 9.5
Kia have built a great reputation over the last few years and frankly it's a brand that I consider to be a leading light in Australia. Good build quality, safe and the best warranty/service plan – let me know if you disagree.
Kia Cerato GT Hatch (and sedan) – I could see one of these in my garage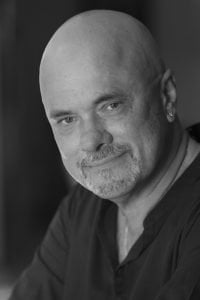 I'm Bob Aldons, the owner and founder of The Car Guy, and Car Business, reviewing cars, reporting on Car Industry Matters, Car Technology, Formula 1, The Motoring World at large and helping you to buy #anynewcarcheaper
I've spent the last forty-one years immersed in the automotive industry from salesman to the owner of a 7 brand multi-franchise dealership and since 2015, as a new car broker.
I know cars.
Find One
If you're hunting around for the best price on your next new car, you should call me, the car expert, from Car Business.
My company, a Brisbane Car Broker, Car Buyers Agent or Car Buyers Advocate, will return your inquiry within 24 hours and make the process of buying a new car easy and stress-free.
Are you tired of salesperson tricks? I protect you from the pressure exerted by car dealer's salespeople. There isn't any obligation – just a pretty significant saving in terms of time, stress and financial reward.
You're where? Seriously, my services are available for you in any Australian state and territory: from Darwin to Hobart, Cairns to Perth. Car Broker Brisbane, Sydney, Melbourne, Adelaide, Perth, Hobart, and Darwin – I'm available when you need me to be.
Whether you're a retail customer, a small company or a large national fleet, I'll work with you to get that new car price down. Lower new car prices are my goal. So you'll get the best prices from me rather than hoping you can do it by yourself.
If I can't get you the best new car price, better than you can get yourself from a new car dealer, I won't charge you anymore than my minimal retainer. That's what you should expect from a car buying expert.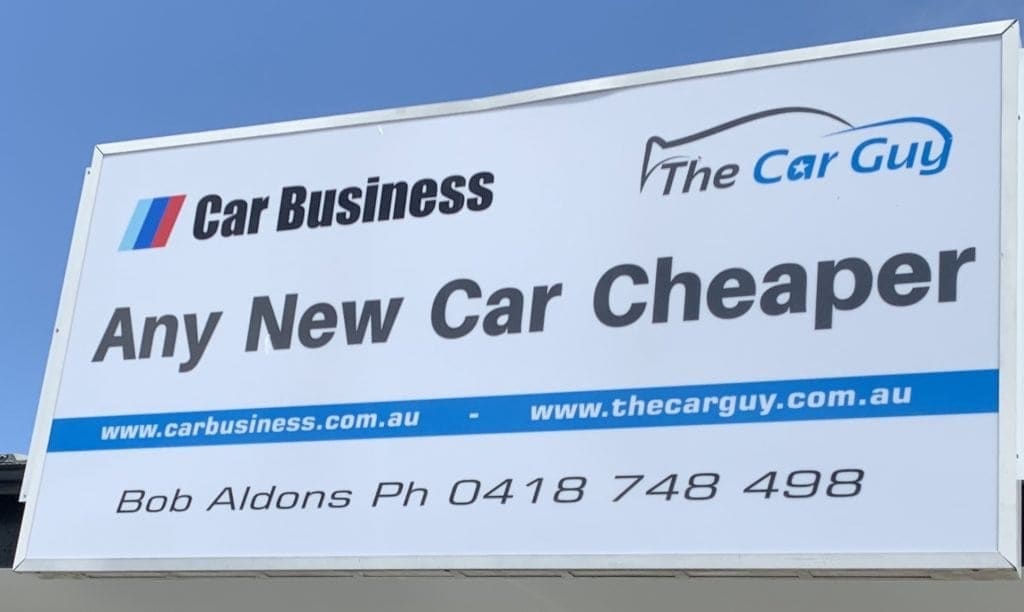 Car Business will help you to purchase your next new car – Cheaper
Car Business WILL save you money on your next new car purchase –guaranteed

Australian Road Safety Foundation. The Australian Road Safety Foundation is a not-for-profit organization whose charter is to reduce serious accidents on our roads through training and education.
Car Business donates to the ARSF for every car we sell. If you'd like to support this worthwhile foundation, donate to the cause, become a member today or buy your next new car from Car Business.
People Also Ask/Frequently Asked Questions
Car Buyers always seem to need answers on a vast number of topics about their cars.
There are a few questions that I'm asked regularly, so to save you a phone call, check out my "People Also Ask" questions and answers below.
If your question isn't listed, I'm happy for you to call me on 0418 748 498 or send an email to [email protected]
My advice is free.
Q: Why Should I deal with a Car Broker rather than just going to a dealer?
A: It's the goal and the job of a car salesperson to make as much money for their dealership as they possibly can. And that applies to the car, finance (finance and insurance), and aftermarket sales (tint, paint, interior, rust).
It's the role of a car broker or car buyer's agent to buy the same car at the lowest possible price. Your broker will get prices from at least five dealers or more, get independent finance and insurance quotes and then only recommend the car protection you need rather than the products the dealer wants to sell you. Dealers, on average, make around $3800 on a car sale. An astute broker will get that margin down to around $1800, saving you about $2000 on your vehicle purchase
Q: Should I take Finance and Insurance through a car dealer?
A: Generally no. An average car dealer relies on the car buyer to be exhausted after the trauma and stress of actually buying a car. They depend on their finance manager to make an average profit of $1100 for EVERY car buyer coming into their dealership. The income per finance contract rests around $3000 per customer. In recent times, the ACCC (Australian Consumer and Competition Commission) has looked closely at the way that finance companies and their dealers sell to consumers. Recently, voluntarily, finance companies have reduced the flex rate (the maximum rate allowed to be charged over the base rate for particular consumers) to 4%, down from 8%.
There is still a need to be wary of some of the non-standard lenders. For those in our community who have fallen on hard times have bad credit or are on Centrelink benefits, some lenders are still allowed to charge exorbitant interest rates, upwards of 25%.
Q: It's a fact that dealers, forced by their manufacturers charge very high prices for genuine spare parts. Recently I needed to purchase a set of head bolts for a 2008 Alfa Romeo Sedan. Price quoted by my local dealer was $294. I picked them up from the UK for $115 including freight to Australia. I expect to receive them at the same time as the local dealer would take to get them from Melbourne.
A: It's not the dealer's fault on this occasion. Typically a dealer makes around 20% profit on genuine spare parts sales. It's the manufacturer/Importer who is charged prices higher than dealers in overseas markets can buy at. Shop around. To determine whether you can buy the part you need, you'll first need the part number. Get your VIN, ring the local dealer and ask for the part number. They may oblige and if they do, just search on the net through Google. You'll be amazed. There'll even be local suppliers who can provide a genuine part for you at around overseas prices. For Jeep, Chrysler, Dodge, Fiat, Alfa Romeo, Isuzu Ute and Volkswagen, visit my site www.genuinespares.com.au
Q: If you have a larger vehicle, with a lot of glass area, the chances are that you'll want or need window tinting. At the point of sale, dealers will want to charge you up to $795 to tint the windows of your car. Again, you'll want to avoid the stress and pressure of negotiating anymore and sign where you're asked.
A: Window tinting can be obtained for under $400 through Car Business. My company has arrangements with local tint shops to do the job for $375. Don't be overcharged. $375 is the price to pay for high-quality guaranteed tint for the average vehicle
Q: How do I pick the right car for my needs?
A: Typically, car buyers will have a general idea of what sort of car they want to buy. However, in a market like ours with nearly 60 brands and thousands of models, historical ownership doesn't have to be maintained. Find an honest new car buyer's agent and have a chat to them about your requirements.
My company, Car Business, offers this service to my customers without any obligation. You can fill out the lifestyle form, by clicking and I will contact you to discuss your needs. I use the R J Pound Comparative new Vehicle Price Guide to assist buyers in understanding the alternatives. It may not be the one you're thinking about right now.
Q: I need some accessories for my new car, but I'm not sure that I'm getting the best price from the dealer
A: Accessories are another area that dealers make a lot of their profit. Apart from the window tinting, paint and interior protection and rust proofing, a typical salesperson will run through a long list of accessories. Even the manufacturer has copious amounts of accessories in their new car brochure.
Don't feel obligated to buy any accessories you want through the dealer. I suggest to a lot of my customers to phone the spare parts department of the same dealer and ask for a quote on the accessories they want. You might be surprised at a price. The other way is to search on the internet. There are lots of retailers who buy the same parts you want from overseas suppliers (even ones that supply the manufacturer directly) and will offer them at a substantially better price. All you have to do is fit them up, but generally it's a pretty easy thing to do for the home handyman.
Recently I assisted a customer to purchase a new Nudge Bar for his Toyota Prado. Ian was quoted $1467 from a shop in Toowoomba. I bought it for $900 and Ian fitted it himself. Saving? $567
Q: If I sell my car privately will I get a better price?
A: It is sometimes possible to achieve a higher price with a private sale, however this reduces significantly if your vehicle is not presented correctly and is no longer under warranty. The private buyer today is looking to receive the same benefits they would by purchasing from a Dealer and expect huge reductions in price if they believe they are disadvantaged. Consider preparing your vehicle to the same standards as new car dealers. Look at such items as Safety Certificates, Service, Tyres, Windscreen, Chips and Scratches, Detailing, and Advertising along with the need to be accessible and available at all times including weekends when prospective buyers will want to inspect your vehicle.
It may not be the wise choice to have people you don't know, coming to your home.
Once the costs and time involved are assessed, most people choose to trade their present vehicle or to use a professional Car Buying Service to ensure they get a good price without the expense or hassle.
Q: Do you allow and/or recommend RACQ Inspections on second-hand cars?
A: Yes, I welcome the RACQ Inspection Process in my business and recognise the need for such an independent examination. Once completed, I'll discuss the report with you and facilitate any repairs that are deemed necessary. You can arrange for the RACQ to visit my business. I can arrange for them to inspect your choice of vehicle and have them send the report directly to you if you prefer.
Q: Why are dealers so expensive for service in comparison to other service centres?
A: Dealers service and maintain vehicles as set out by the manufacturer's recommendations to protect your new car warranty. They will generally be willing to match other service providers as long as they are comparing "like for like".
Your circumstances can be taken into account regarding changing some filters and coolants etc. They also have factory trained technicians and have the support of specialised equipment and of course the proper factory support. There are many other reasons such as resale value, and when it comes to trade-in price, car retailers always look at maintained service books and especially if a dealer has serviced them.
On the other hand, if you're carefully managing your money, we can arrange a log book service at one of our preferred providers.
Do I need to return my vehicle to the selling dealer for service?
The simple answer is NO!
While dealers may suggest or insist that your new car is brought back to their service department, the reality is:
You can take your car to any of the brand's service centres for routine or warranty service. Brand X warranty is covered by the manufacturer, not by the dealer. So if there's a more convenient location to have your car serviced, take it there.
Dealers may suggest that you have to have your car serviced at the franchised dealer to maintain your warranty. Again that's a falsehood. You can have your car serviced by any qualified mechanic or technician, provided that they follow the service guidelines for your vehicle as specified by the manufacturer

They should use as a minimum the oil grade specified by the manufacturer and also parts that are of the same quality standard. You shouldn't use inferior parts. While I would suggest using the manufacturer's parts, there are similarly high-quality non-genuine parts available on the market. Things like brake pads, brake rotors, air and oil filters, spark plugs and the like are often cheaper and as good quality as those supplied but the manufacturer
How often should I check my Tyre Pressures?
I check my tyre pressures monthly. I have a tyre gauge purchased from Repco that I rely on to check the pressures in my tyres. Arguably, it's probably better to check your tyre pressures every second time that you fill your fuel tank. High volume petrol centres have good quality air pumps, and it only takes a few minutes to do that after you've got your fill.
What should I do if my car breaks down at night?
Firstly, I'm suggesting that you be in a roadside assistance program such as provided by the RACQ.
If you've purchased a new car, you'll have coverage under your new car warranty. Kia Motors Australia provides seven years of roadside assistance in coordination with their warranty. Hyundai and Ford have a 5-year program.
Mitsubishi provides roadside assistance after the first year provided you're having your services done at one of their dealerships.
If you run out of roadside assistance, best sign up with RACQ or your state motoring body. (NRMA, RACV, etc.) It's far from sensible to break down on a dark or unlit road and then have to do repairs yourself, particularly for younger drivers.
A phone call from inside a locked car is preferable to having to find a phone booth or a 'friendly neighbour' to call for help
If you'd like to discuss anything to do with purchase, trade-in, private sale, service, warranty issues or just have a conversation about the motor industry in Australia, please give me a call on 0418 748 498 or email to [email protected]
How do I get a better Google My Business listing?
I started improving my Google My Business listing back before everyone wanted to get better results.
In my Volkswagen Dealership, Northstar Volkswagen, I noticed that my dealership would achieve a better result on searches for terms such as 'Volkswagen Dealer', 'VW Dealer' 'Best Volkswagen/VW Price' as the reviews that I received increased in volume and rating
When I sold my dealership in 2015, Northstar Volkswagen had achieved 4.9 stars (from a maximum of 5) based on over 100 reviews.
Now, in 2019, there are companies who have automated reviews for their clients and along with this, those businesses have relatively high star ratings on lots of reviews.
The only concern I have with this is that the reviews are 'pushed' by these companies and that the dealer doesn't reflect at all on the customers who aren't satisfied.
With 'Car Business' I'm doing the process exactly the same way as I did it back in 2015. Here's a screenshot from the 'Car Business – Any New Car Cheaper' Google My Business page.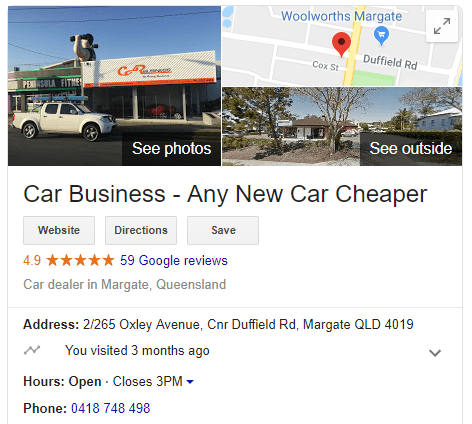 You can see from the picture above that Car Business has a rating of 4.9 stars from 59 Google reviews and if you drill down further, you'll see that the reviews are real and that the customers are using their own words and feelings.
If you'd like to grow your business like I have, call me on 0418 748 498 or email me [email protected] I can help you to grow your business online and particularly on Google My Business.