There's no doubt that the new front of the 2014 Jeep Cherokee was one that its mother could love – and when I say mother, I mean the design team and the folks who signed off on it. I remember Mike Manley's comments that the new design would provide the rest of the Jeep range with a fresh new generational look. Well Mike seems that you and the designers got it wrong – very wrong. The confrontational new grille was smacked by most of the Jeep family around the world, but at least it seems that Jeep listened. The new 2019 Jeep Cherokee is a change for the better – looks being the most significant change.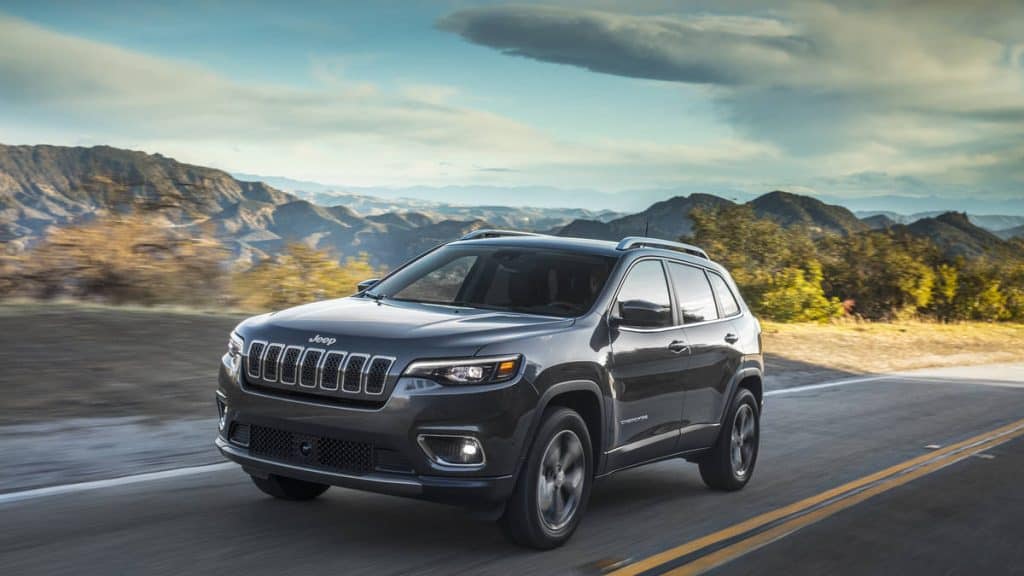 Our friends from Autoweek Magazine have test driven the new 2019 Jeep Cherokee and are pretty pleased with the changes extracted from Jeep headquarters. So whilst we down under here in Australia won't see this upgrade for a while, perhaps late 2018 or early 2019, perhaps your decision to upgrade your medium SUV can be put on hold for a year or so. Of course, the opinion and specifications contained in this article are relevant to the USA market.
So what separates 2019 Jeep Cherokee from the plethora of other medium SUV's. The Honda, Mazda's, Hyundai and Kia versions of the medium SUV's aren't typically designed for serious off-road work. Yes, the others can do some soft-roading, but only the Jeep can get off-road, down and dirty. If only Jeep can re-establish its reputation – that's the hard task ahead of the sales, marketing, and service department in Port Melbourne. The 5 year, there and back warranty is a start, but the proof of the pudding, as they say, is in the actual relationship that Jeep buyers have with Fiat Chrysler. I sincerely hope that they have tasked their service and parts division adequately and that the Jeep reputation can be cleaned up.
Mark Vaughn is the west coast editor of Autoweek Mag. He was one of the first journalists to take the new Cherokee for a serious spin. So have a read of Mark Vaughn's road test
"Small crossovers are big news and the 2019 Jeep Cherokee wants to be a bigger player in the segment.
"This is the largest SUV segment in the world," said Scott Tallon, director of Jeep Brand. "It's 9 million sales globally and 2 million in U.S."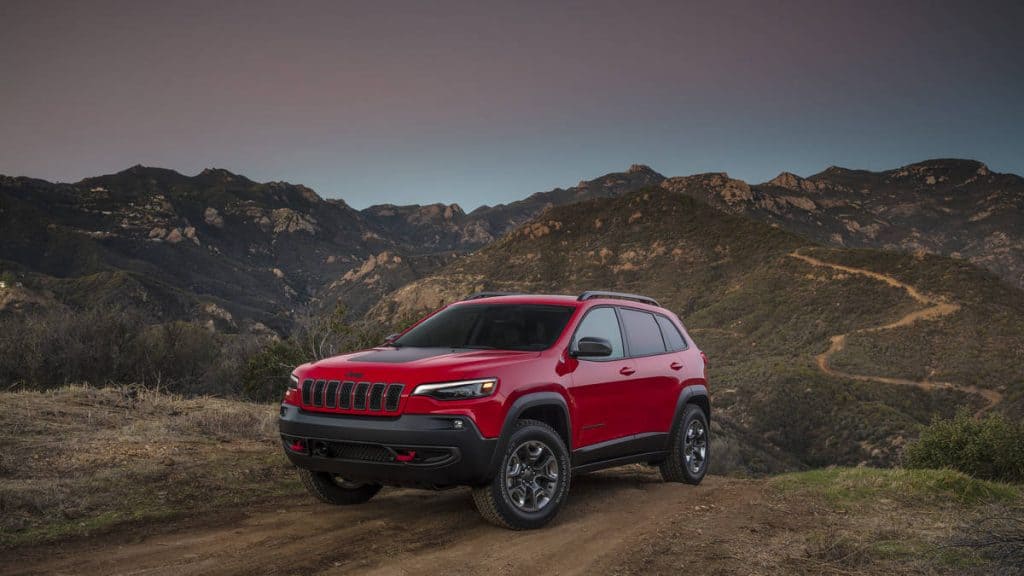 The segment leaders alone, the Honda CRV, Toyota RAV4 and Ford Escape, made up well over a million U.S. sales last year. People love the utility, economy and general ease of use of these things. And they show no sign of losing interest — all three of the segment leaders went up in sales last year, the frontrunning RAV4 by over 15 percent. The old Jeep Cherokee, meanwhile, long in the tooth and sporting that goofy grille dropped in sales by almost 15 percent.
So it was high time for Jeep to do something. What the 2019 Jeep Cherokee gets is a partial redesign, a new engine and the same off-roadworthiness that makes a Jeep a Jeep.
While it's not what you'd call all-new, the 2019 Jeep Cherokee is maybe half-new. The chassis, or basic body-in-white, stays the same aft of the A-pillars, the doors stay the same and two engines stay the same. For all, I know the song remains the same on the audio system, too.
It does get a new front end, replacing the "controversial" Salvadore Dali application of the seven Jeep stripes that graced the schnozz of the previous model with a more acceptable, more upright grille. It looks more like a Jeep now. But it's not just the grill that's new up there, it's the entire structure from the A-pillar forward, including the extruded aluminum crumple zones and the engine cradle. It has some nice aluminum structure to meet those extreme offset collisions, now, too. The headlights are more compact and efficient LEDs. And it gets a new 2.0-liter turbo four driving either the front or all four wheels.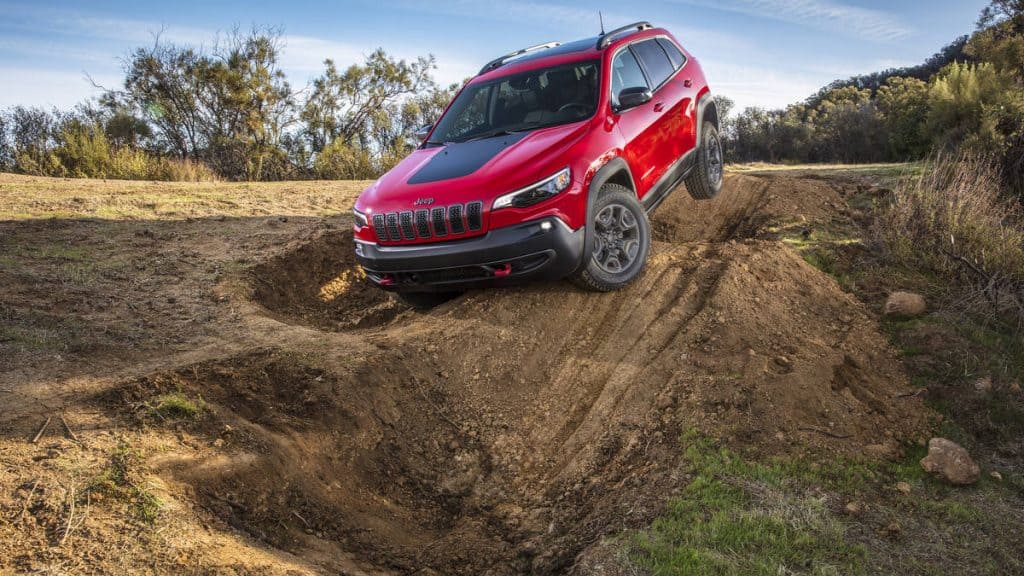 The new direct-injection 2.0 turbo four makes 270 hp and 295 lb-ft of torque. You can also get a 2.4-liter four making 180 hp and 170 lb-ft or the tried-and-true 271-hp, 239-lb-ft 3.2-liter V6. All engines come mated to a nine-speed automatic.
All this for between $25,190 for an entry level Latitude 4×2 model up to $38,970 for a fully loaded Overland 4×4.
But the 2019 Jeep Cherokee offers something its competitors can't match: the off-road performance that'll get you over the Rubicon and back. While you can get a Cherokee in front-wheel drive, Jeep's single biggest selling point is its 4×4 capability.
Four-wheel drive comes in three levels: Active Drive I offers a single-speed transfer case that can send power to the rear wheels when needed. Active Drive II offers a two-speed power takeoff unit and low-range gear reduction. Active Drive Lock is the same as II but adds a mechanically locking rear differential. You can get up to a 51.2:1 crawl ratio, which means you can creep up or down really steep stuff. On top of those choices, you can get Selec-Terrain traction control that adjusts the amount of slip it allows to one of five settings: Auto, Snow, Sport, Sand/Mud and Rock. And there is hill-descent control to help ease you down really steep trails by automatically grabbing individual disc brakes, and Selec-speed control to automatically set the speed at which you creep about.
Increased use of aluminum throughout, including an aluminum hood as well as a hands-free power tailgate made of plastic composite, mean 150 pounds of weight savings over the previous Cherokee.
With all this in mind, I set out to explore the wilds of Malibu.
My first drive was in a 2019 Jeep Cherokee Latitude Plus 4×4 with Active Drive I. The chassis tuning on the new Cherokee –- the changes they made to springs, shocks and bushings — was aimed at making a more refined, more luxurious ride in a straight line on the highway. This proved true as I headed down the SoCal paved four-lane of Pacific Coast Highway. The ride was quiet and the feel behind the wheel was nearly sedate. On very twisty two-lane mountain roads above the 'Bu, the Cherokee wasn't what you'd call sporty by any means, but it held its own. You're not going to seek out apexes in a crossover utility vehicle anyway.
Then I got into a Trailhawk trim level Cherokee — priced starting at $34,515 —  and got to try it out on some very interesting off-road terrain, from rock-crawling to trail running to situations where I locked that locking rear differential.
This is where the Jeep brand stands out. You could not have done the things I did in any of those top-selling competitors. On rock-wall descents, the Cherokee clung like a bug to the walls and stepped down with the confidence that comes from 77 years of building 4x4s. I went up steep trails, over boulders and down dirt that would make a CR-V squeal like a freshman during sorority initiation rites. I tried out everything Jeep offers, everything listed above, all the acronyms.
While the Wrangler is still the king of off-road, with far-greater articulation and maneuverability, the 2019 Jeep Cherokee can get you into and out of places, you wouldn't dare try with a CR-V, RAV4 or Escape. A couple times I thought I was about to roll the rig over, and even shifted my weight to the uphill side to prevent it, but the Cherokee was well within the range of safe motoring.
Which begs the question: how many suburban soccer parents are going to try the Rubicon? Perhaps none. Does having the best four-wheel drive capability mean anything in a market dominated by grocery shoppers? A set of snow tires will get you through a suburban winter better than all the low-range in the world. By maintaining such considerable off-road prowess, is Jeep remaining relevant to the market?
Having crossed the Rubicon a few times myself, and living within a couple hours' drive of the vast and trackless Mojave desert and all the adventure it promises, I certainly hope so."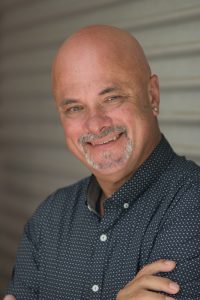 Bob Aldons is the owner and founder of The Car Guy, reviewing cars, reporting on Car Industry Matters, Car Tech and the world at large. He's spent the last forty years immersed in the automotive industry from salesman to the owner of a 7 brand multi-franchise dealership. Bob knows cars.
 Find One
If you're hunting around for a great price on your next new car, you should call the auto expert, Bob Aldons from Car Business. My company, a car Broker, Car Buyers Agent or Car Buyers Advocate based on the north side of Brisbane, will return your inquiry within 24 hours and make the process of buying a new car easy and stress-free. Are you tired of salesperson tricks? I protect you from the pressure exerted by car dealer's salespeople. There isn't any obligation – just a pretty significant saving.
You're where? Seriously, my services are available for you in any Australian state and territory: from Darwin to Hobart, Cairns to Perth.  Car Broker Brisbane, Sydney, Melbourne, Adelaide, Perth, Hobart, and Darwin – I'm available when you need me to be.
Here's an example
Matt wanted to purchase a Mazda 3 SP25 GT Manual Hatch. The retail value, drive away on that car is around $35,000. Car Business managed to purchase the same car for $28, 123.90 and with our fee Matt paid $25, 588, a saving of over $6000. And how do we know? Another customer, (looking for a new Holden HSV) just paid $35,000 for the same car – but he did it himself, without our assistance
If you've got a vehicle to trade, we have some clever ways to maximize the value – from used car dealers keen for your car to assist you to sell it privately. Finance and Insurance? We can handle that too, and we promise you will not be paying exorbitant dealer markups there either.
Trade In Value Example
2014 Jeep Cherokee Limited. Average dealer trade value – $16500. We achieved $22,000
2014 Volkswagen Tiguan 118TSI. Average dealer trade value – $14000. We achieved $16000
So, to get the best new car price, talk to others and then talk me. I've got the experience to handle the dealers and achieve the lowest new car prices. If you think you're entitled to fleet pricing, I can often get better than that too. Whether you're a small fleet or a large national fleet, Car Business will go to work and get that price down. Lower new car prices are my goal. So you'll get the best prices from us rather than hoping you can help yourself.
If I can't get you the best new car price, better than you can get yourself from a car dealer, we won't charge you any fee. No Saving, No Fee. – that's what you should expect from a car buying expert. 
Car Business WILL save you money on your next new car purchase – guaranteed