Infiniti Q50 3.0T Red Sport fitted with 3.0 litre Twin Turbo engine and 7 Speed Auto Transmission
 What is it: The Infiniti Q50 Red Sport is a high-performance luxury car from Infiniti, a part of the Nissan Corporation. Having experienced this sedan over the last week, I'm surely wondering why Infiniti as a brand hasn't done as well in the Australian market as the other contenders – Lexus, BMW, Audi, and  Mercedes Benz. Is it time in the market or marketing.
Key Competitors: Audi S4, BMW 340, Lexus IS350, Mercedes-Benz AMG C43, Jaguar XE
Base Price: $79,900 which is about $87,000 on road here in Queensland. On road costs will vary depending on your state.
Infiniti was established in 1989, the same year as Toyota introduced the Lexus LS to the market. Arguably, Toyota invested a serious amount of their cash into the luxury market but started from a solid base. No doubt that Toyota vehicles were and are now a quality vehicle from stem to stern and Lexus has the attributes of the parent company.
Infiniti started life with Nissan struggling in the market. Whilst the intent was there, Nissan targeted Infiniti at North America and subsequently at another 50 markets around the world. And Infiniti has played catch-up whilst Lexus has gone from strength to strength. And that's without even comparing again the big Germans of BMW, Mercedes-Benz and Audi.
I was pleasantly surprised at the performance and as importantly the quality of the Infiniti Q50. My expectations weren't high but the car impressed me. So what does it take for Infinito to get a bigger share of the market? To start with I'm thinking that the buyers of these higher performance luxury vehicles need to put Infiniti on their shopping list. And Infiniti (or Nissan) need to market this vehicle and the others in the range to the prospects. Whilst I've been in the car business for nearly forty years, I haven't heard too much about the brand. In the last 2 years as a Car Broker through Car Business, I've only had 1 serious enquiry on an Infiniti and even then that was from someone who already owned one.
Now under the Renault Nissan Alliance, Carlos Ghosn has expressed an interest in taking Infiniti in a completely different direction. He's stated publically that he sees Infiniti moving away from internal combustion engines to electric and hybrid technology in new models by 2021 – now only three years in the future.
Nissan CEO Hiroto Saikawa told Automotive News World Congress in Detroit that electric vehicles are a good fit for the Infiniti brand. The brand is switching to fully electric cars or models with electric motors and a small gas engine.
It's a mighty big call from the number one man, but potentially a move that will bring Infiniti front and centre in a rapidly changing market.
Front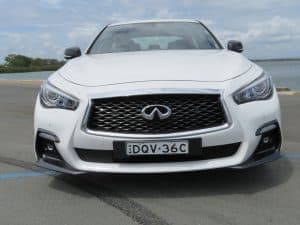 Imposing, bulbous, aggressive – things that I really like from the front of a car. There's no doubting the intent of the designers for this car. Make it purposeful and attention-grabbing. And that the designers have achieved this says that Infiniti was definitely looking to take that part of the game away from the competitors.
Under the Bonnet
3.0 litre twin turbo producing 298 kilowatts of power and plenty of torque – 475 Nm to be exact. What does that mean? Oodles of go fast. Motoring reports suggest a 0-100kph time in the high 4's or early 5's which is VERY quick in anyone's language.
Typically I don't actually test for power and torque – I leave that to journo's who can track the car, but even in suburbia, you realize pretty soon that the Infiniti Q50 is a weapon.
Down the Side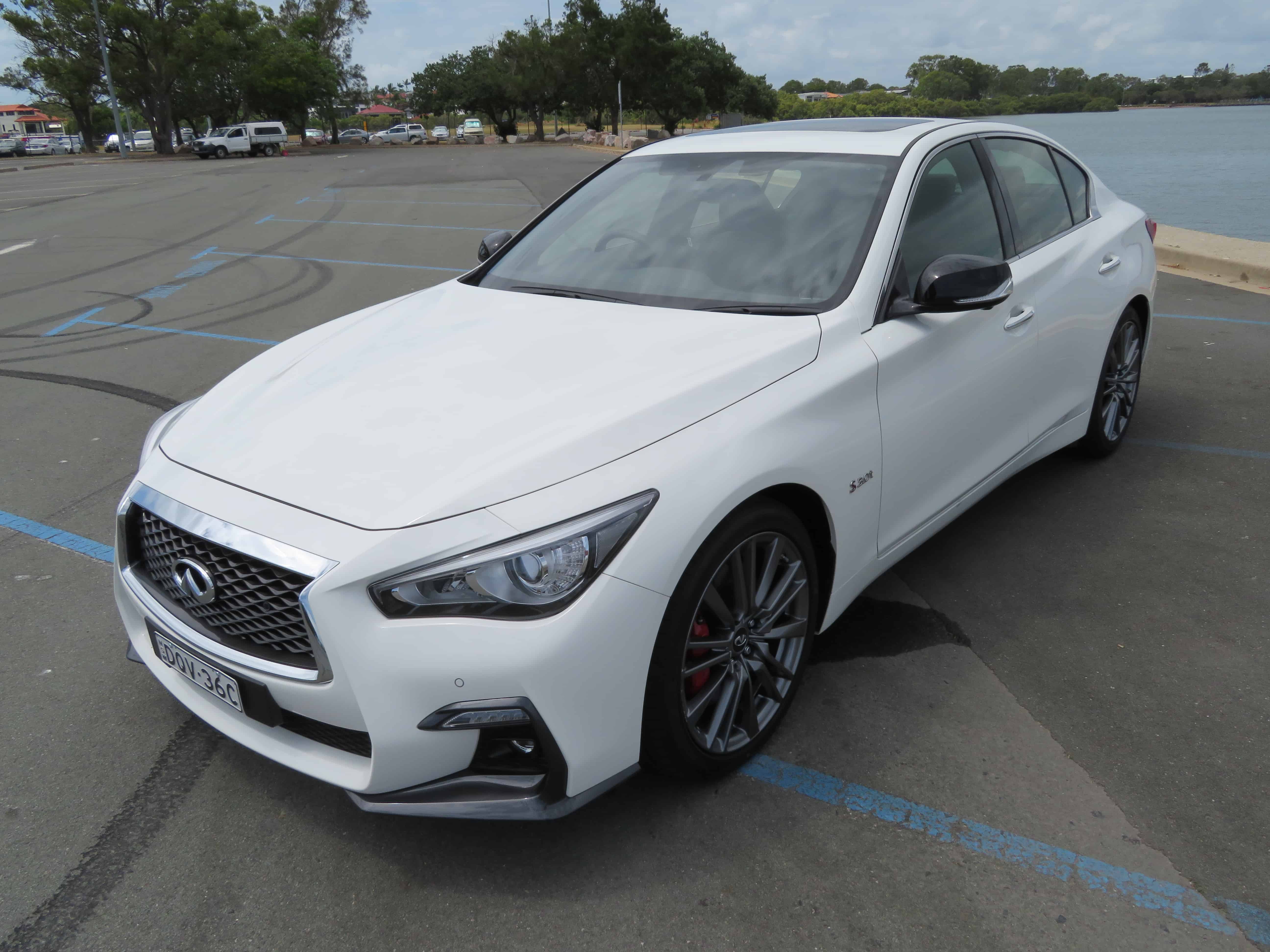 Side styling is glamorous and in keeping with the design of the whole carI use this section of my article to highlight the safety and technology in cars and the Infiniti Q50 is full of tech. Here's the list
INFINITI Drive Mode Selector with Standard, Sport, Snow, Personal, Eco and Sport + modes
Eco Pedal
INFINITI InTouch Navigation System
Bluetooth® technology for mobile connectivity
Voice recognition system
Remote keyless entry system with door handle touch selective unlocking
Front and rear parking sensors with display
Around View Monitor with Moving Object Detection and parking guidance
Direct Adaptive Steering
Active Lane Control
Intelligent Cruise Control (Full-Speed Range)
Lane Departure Warning and Lane Departure Prevention
Blind Spot Warning and Blind Spot Intervention
Forward Emergency Braking
Predictive forward collision warning
Distance Control Assist
Backup Collision Intervention
6 airbags (front driver and passenger airbags, front hip-thorax side airbags and front-to-rear curtain airbags)
Performance brakes (4 piston front 355mm; 2 piston rear 350mm) with Red brake calipers
4-wheel Anti-lock Braking System (ABS), Electronic Brake-force Distribution (EBD), Traction Control System (TCS) and Vehicle Dynamic Control
Brake Assist (BA)
Back of the Bus – The Rear End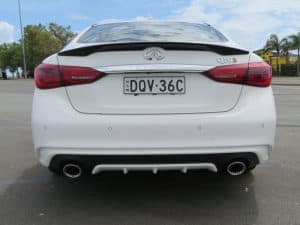 Given the size of the Infiniti Q50 you'd expect a pretty decent load carrying capacity in the boot – and you'd be right. Golf Clubs (2 of) Pram, groceries, market day finds – you might not fit them all in at once, but it would go close.
And apart from a ski-hole in the middle of the back seat (lockable by the way) the rear seats also fold down (60/40 split) giving you a monstrous space if you're not carrying rear seat passengers. With the seats down (they don't fold flat) you have 2 boots worth of space. The normal boot and then the room behind the front seats, so plenty of room for everything.
The rear seats also have 4 ISOFIX points for capsules, child seats and 'normal' child seat anchorage points if yours isn't ISOFIX compatible.
Drivers Side
Looking at the side of the Infiniti Q50, I'm seeing a combination of BMW , Audi, and Mercedes-Benz. A nice design that's not too way out. Colour coded door handles that are lit when the car is opened at night, contrasting smoke grey alloy wheels make the Infiniti Q50 stand out from the crowded luxury market. It just looks a premium finish
 Drivers Seat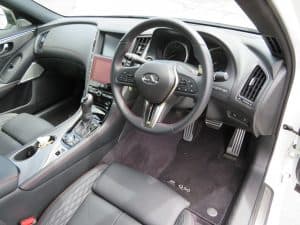 From the first time I got in the Infiniti Q50, I felt comfortable. There's significant adjustment in the seats, steering wheel and plenty of headroom for a 182cm (6 foot) tall me. My wife Suzi who came along for the pick up suggested she was a little bit claustrophobic in the passenger front seat but was very impressed with the quality of the finish. With the driver and passenger seat right back in travel, I'm not sure that any rear seat passengers would be all that comfortable on a long road trip, but it's ok.
On the Road
What can you say about a 298kw twin turbo V6 luxury car that hasn't been said already? Plenty of power both down low and at higher speeds, but I wasn't in a situation to test out it's 250kph top speed. On the range roads around my place at Peachester, the car handled superbly, smoothed out the small bumps adequately, but the drive by wire steering does take a bit to get used to. Now if Infiniti can loan the car to me again and find me a race circuit, I'll be happy to let it stretch it's legs and give you better feedback than I have to date.
Some quotable quotes
Here are some quotes from industry colleagues. The first is a grab from the Infiniti Q50 brochure, the second from Jake Williams journalist of www.chasingcars.com.au
"Greater comfort. Greater performance. The Q50's suspension shapes the drive around you. As road conditions change, it automatically adjusts your vehicle's body roll, pitch and bounce rate for smooth, comfortable ride. Dynamic Digital Suspension available on 3.0L Twin-Turbo V6 Variants." – Infiniti Q50 Brochure
 "Beyond the steering, the Q50 Red Sport's handling is actually deeply impressive – this is another area the engineers looked to improve for the 2018 update. No matter how hard you drive it, the Infiniti's creamy chassis remains composed, working with the driver to devour corners, bumps, and bumpy corners. Quick turn-in is appreciated, and it's easy to build up a flow from bend to bend. But the fun has a limit: the Q50's poorly-tuned stability control sees the ESP cut power for what feels like five seconds when wheel spin is detected. A more subtle ESC system that nips gently at the brakes to limit wheel spin would substantially improve the Q50 and provide skilled drivers with the ability to really engage with this vehicle." – Jake Williams
Surprise and Delight.
I first came across this particular feature in my M3 and that's the first time for me. What? The seatbelts. When you fasten your seat belt in an M3 and this Infiniti Q50, the belt tightens around you, positioning it in the safest place in the event of an accident. It feels, well it feels like your mum tucking you in at night – it's just nice.
And then there's a lady that talks to you via the navigation system. I'll call her Jennifer (after Jen Hawkins) Jen lets you know when you're approaching either speed or red light cameras. Either way, it's a feature that I wasn't expecting but one that I found useful particularly when you're driving a high-performance car.
Vehicle Specifications
Maximum Power (kW)                       298
Maximum Torque (Nm)                    475
Fuel Type                                              Petrol
Number of cylinders                           6
Engine size / Displacement             2997
Engine type                                        3.0 Litre V6 Twin-Turbo Petrol
Transmission Type                           7 speed automatic transmission
Top speed (km/h)                              250
Wheels Driven                                  Rear-Wheel Drive (RWD)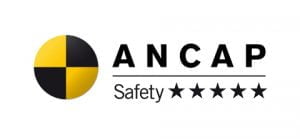 This ANCAP rating was determined by information provided by Euro NCAP. The vehicle hasn't been tested in Australia.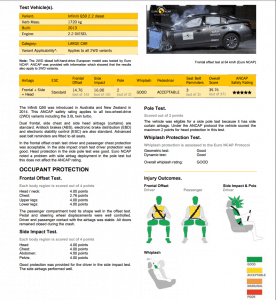 The Green Vehicle Guide website does not have the information for this Infiniti Q50 twin turbo sedan, so I can't really provide up to date information. What I can tell you is that all Infiniti's comply with Euro 5 Air Pollution standards
Credits  
Test car supplied by Infiniti Cars Australia.
Dealers
There are only two Infiniti dealers in Queensland, it makes 'shopping around' a bit of a task. Infiniti has five dealers in Sydney, another two in Melbourne and one each in Adelaide and Perth.
Brisbane City           Infiniti Centre Brisbane                 Ph: 07 3000 5999
Pacific Fair               Infiniti Centre Gold Coast             Ph: 07 5631 6888
The 'law according to Google' shows Infiniti Centre Brisbane with 4.8 stars from 5 reviews whilst the Gold Coast dealer hasn't had a review at all.
 Summary
I really enjoyed my week with the Infiniti Q50 Red Sport. It's a great value for money proposition if you're buying a larger car, with plenty of performance and a great feature list. The only thing you'll need to do is avoid the obvious badge snobbery. But if you do, your time with this excellent vehicle will be, well, excellent!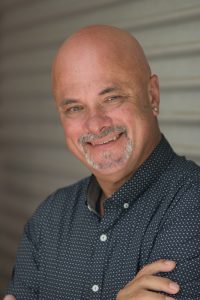 Bob Aldons is the owner and founder of The Car Guy, reviewing cars, reporting on Car Industry Matters, Car Tech and the world at large. He's spent the last forty years immersed in the automotive industry from salesman to the owner of a 7 brand multi-franchise dealership. Bob knows cars.
Find One
If you're hunting around for a great price on your next new car, you should call the auto expert, Bob Aldons from Car Business. My company, a car Broker, Car Buyers Agent or Car Buyers Advocate based on the north side of Brisbane, will return your inquiry within 24 hours and make the process of buying a new car easy and stress-free. Are you tired of salesperson tricks? I protect you from the pressure exerted by car dealer's salespeople. There isn't any obligation – just a pretty significant saving.
You're where? Seriously, my services are available for you in any Australian state and territory: from Darwin to Hobart, Cairns to Perth.  Car Broker Brisbane, Sydney, Melbourne, Adelaide, Perth, Hobart, and Darwin – I'm available when you need me to be.
Here's an example
Matt wanted to purchase a Mazda 3 SP25 GT Manual Hatch. The retail value, drive away on that car is around $35,000. Car Business managed to purchase the same car for $28, 123.90 and with our fee Matt paid $25, 588, a saving of over $6000. And how do we know? Another customer, (looking for a new Holden HSV) just paid $35,000 for the same car – but he did it himself, without our assistance
If you've got a vehicle to trade, we have some clever ways to maximize the value – from used car dealers keen for your car to assist you to sell it privately. Finance and Insurance? We can handle that too, and we promise you will not be paying exorbitant dealer markups there either.
Trade In Value Example
2014 Jeep Cherokee Limited. Average dealer trade value – $16500. We achieved $22,000
2014 Volkswagen Tiguan 118TSI. Average dealer trade value – $14000. We achieved $16000
So, to get the best new car price, talk to others and then talk me. I've got the experience to handle the dealers and achieve the lowest new car prices. If you think you're entitled to fleet pricing, I can often get better than that too. Whether you're a small fleet or a large national fleet, Car Business will go to work and get that price down. Lower new car prices are my goal. So you'll get the best prices from us rather than hoping you can help yourself.
If I can't get you the best new car price, better than you can get yourself from a car dealer, we won't charge you any fee. No Saving, No Fee. – that's what you should expect from a car buying expert. 

Car Business WILL save you money on your next new car purchase – guaranteed

The Australian Road Safety Foundation is a not-for-profit organization whose charter is to reduce serious accidents on our roads through training and education. Car Business donates to the ARSF for every car we sell. If you'd like to support this worthwhile foundation, donate to the cause or become a member today