The JL Jeep Wrangler has three engine options and a new Selec-Trac 4WD system
JL Jeep Wrangler Forums from the USA always seems to have the information that Jeep aficionados want way earlier than the 'normal' consumers can obtain. Apparently leaked directly from Fiat Chrysler Automobiles is the specification sheets that dealers will use to order the new JL Jeep Wrangler later this year in the USA. Fiat Chrysler Australia will use the same specification system to order stock for Aussie dealers. Whether we're offered the same complete specification list is arguable, but I think, based on my knowledge and history with Jeep, it will be pretty close to the mark. The only variation may be the engine offerings – I think that Australia Jeep buyers will be offered a V6 diesel variation and the petrol Pentastar V6.  However, never say never to the four cylinder engine. So read on and discover what your new JL Jeep Wrangler will look like.
"Next-gen Jeep Wrangler details are finally out, just not the way Jeep probably wanted them to be. JLWranglerForums.com managed to get screenshots of options, packages, colors and features for the new JL Wrangler in the FCA dealer system.
The existence of a turbo-diesel option is confirmed, as well as a base 2.0-liter turbo four cylinder and the optional Pentastar 3.6-liter V6. Both V6s will come with a start stop function as well. Transmission offerings consist of a six-speed manual and eight-speed auto.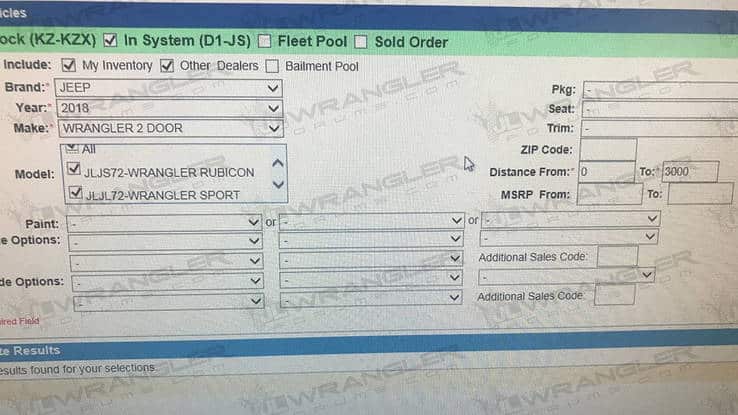 Perhaps the most surprising option on the list is a new Selec-Trac full-time 4WD system. Jeep has made two iterations of Selec-Trac in the past, appearing as far back as the Wagoneer/Grand Wagoneer. The most recent system on the Cherokee/Liberty was operated by a switch that allowed you to control the transfer case, toggling through the different modes available. Of course, we'll have to wait for Jeep to explain how this version of Selec-Trac works to know exactly what's going on down there.
Something Wrangler fans might be disappointed in is the decision to make the Sahara trim four-doors only. The rumored power soft top appears to have made it to production as well. Even the rugged Wrangler is going to offer technological niceties such as Android Auto and Apple CarPlay. Not exactly a surprise when you take stock of how many pavement queen Wranglers are rolling around out there.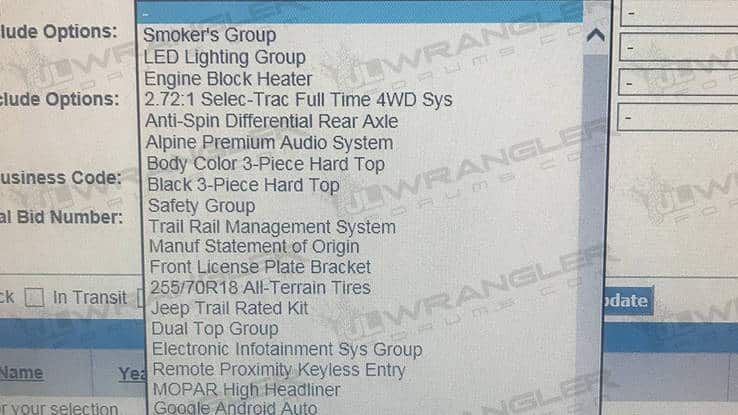 You can have any color seat as long as it's black (or part black) — tan is the only other color available, but it's only in a two-tone combo with black. FCA must have been a bit hungry when trying to pick color names, because we're left with one named "Nacho Clear Coat." No purple is listed, but your typical gamut of colors is offered. The notable new features are rounded out with something called a "Trail Rail Management System." Take your best guesses as to what that entails.
The all-important price tag is not a part of this leak, but this is plenty of info to chomp on for a little while."
Read more: http://autoweek.com/article/rumormill/2018-jeep-wrangler-details-and-features-leaked-fca-dealer-system#ixzz4pCXTKB2a
If you are hunting around for that great price, perhaps you should call the auto expert, Car Business. Our company, based on the northside of Brisbane will return your inquiry within 24 hours and make the process of buying your new car easy and stress-free. We protect you from the pressure exerted by car dealers salespeople. There isn't any obligation – just a pretty significant saving.
We can deal with you in any Australian state and territory: from Darwin to Hobart Cairns to Perth. If you're buying a new super car, it may be an issue, but any other brand is accessible.
If you've  got a vehicle to trade, we have some clever ways to maximize the value – from used car dealers keen for your car to assist you to sell it privately. Finance and Insurance? We can handle that too, and we promise you will not be paying exorbitant dealer mark ups there either.
So, to get the best new car price, talk to others and then talk to Car Business. We have got the experience to handle the dealers and achieve the cheapest new car prices. If you think you're entitled to fleet pricing, we can often get better than that too. Whether you're a small fleet or a large national fleet, Car Business will go to work and get that price down. Cheaper new car prices are our goal. So you'll get the best Volkswagen prices from us rather than hoping you can help yourself.
If we can't get you the best new car price, better than you can get yourself from a car dealer, we won't charge you any fee. No Win No Fee. – that's what you should expect from a car buying expert.
If we don't save you money, there's no charge Best car deal Fleet prices for retail buyers
Car Business WILL save you money on your next new car purchase – guaranteed