Jeep has released (almost) all of the details on the new Jeep JL Wrangler at Sema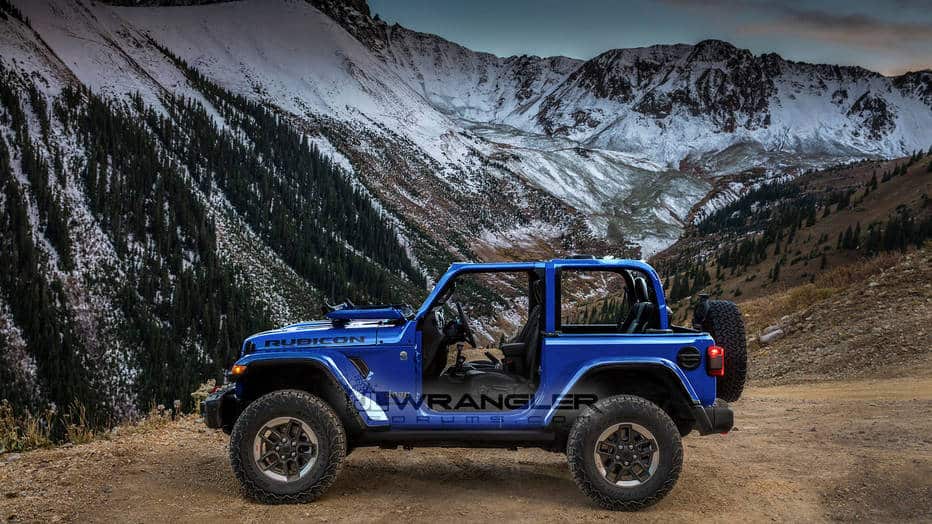 My sincere apologies for the problem with my story on the new Jeep JL Wrangler last week. Gremlins got into my WordPress site and whilst I posted a pic and link to the story through Hootsuite, something happened so my readers couldn't access the actual full story on my website www.thecarguy.com.au But that's the bad news, the good news is that this article from autoweek.com is more extensive than the previous one.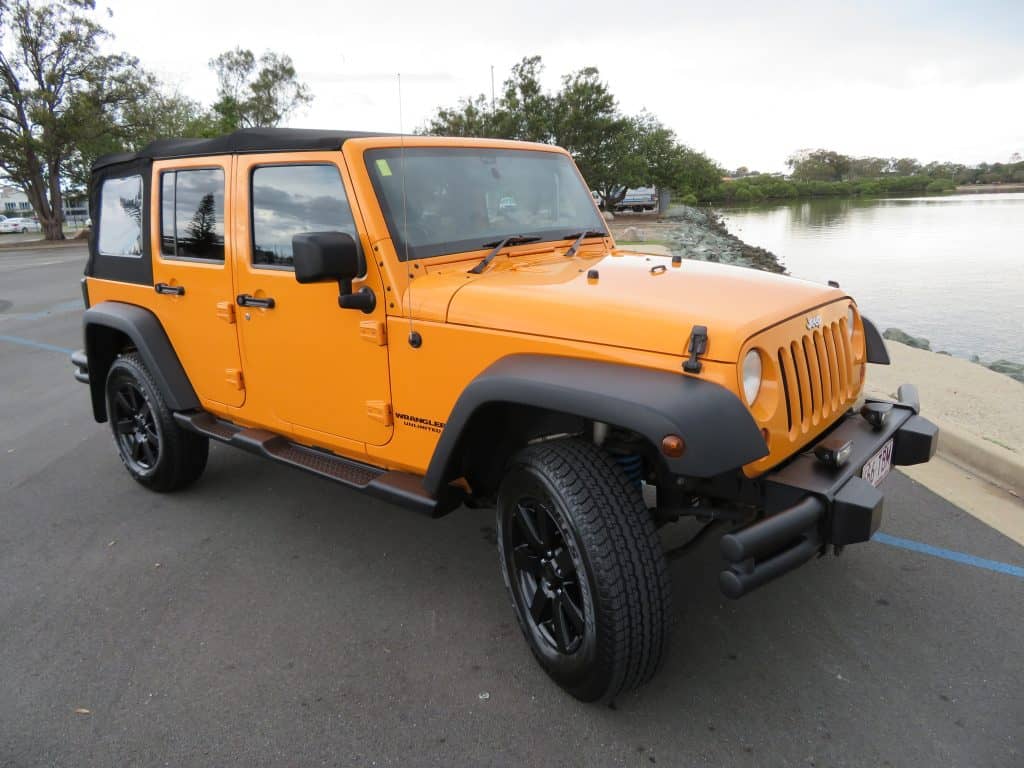 There's no doubt that Jeep Wrangler has been one of the most heavily customized vehicles available anywhere – Jeep won the 4×4 award at 2017 SEMA voted by all the 2400 plus stand owners as the best in show. Wrangler has been one of my most heavily customised vehicles during my time as a Jeep dealer. Cameron Semark, my GM at Northstar Jeep was a dab hand at this dark art and built some fantastic one-off vehicles for my business. I'm driving a 2013 Jeep Wrangler Unlimited presently that he created. It's mildly customized with a lift kit, tubular bars front and rear, leather, nav and other goodies. And for a 4-year-old vehicle, traveled 103,000k's it's a sweet ride. And did I say it's orange? Well the official name was/is Crush Orange and along with Dozer were my favourite Wrangler colours
Without further ado, here's the article from Autoweek direct from Las Vegas 2017 SEMA show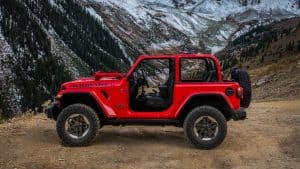 "The first redesign of the Jeep Wrangler since 2006 has been hard to keep under wraps — so much so that, on Halloween, Jeep itself pulled back the covers to reveal its Jeep JL Wrangler at the Specialty Equipment Market Association show in Las Vegas, showing off a new line of in-house accessories.
Jeep and FCA US have released only the skimpiest information about the new off-roader. But spy photos and leaks paint a clear picture of what Jeep chief designer Mark Allen and his team have come up with.
Allen has said his mission with the Wrangler was to not screw it up. He and his team experimented heavily — primarily through the brand's annual Easter Jeep Safari one-off vehicles — and explored alternatives such as all-aluminum construction and independent suspension setups.
The team settled on a design that sticks close to the Wrangler's roots while improving aerodynamics, strength, rigidity and fuel economy.
Jeep says it will release details Nov. 29 at the Los Angeles Auto Show, but here's what we know so far:
Engines:
The Wrangler will retain the current generation's standard 3.6-liter V-6 that makes 285 hp and 260 pound-feet of torque. Two optional engines will join later into the model year. One is a turbocharged 2.0-liter inline-four similar to that of the Alfa Romeo Giulia sedan. The Giulia's engine is rated at 280 hp and 306 pound-feet of torque. The other is a 3.0-liter EcoDiesel V-6 similar to that used earlier in the Grand Cherokee, where it was rated at 240 hp and 420 pound-feet of torque. Overseas versions will be offered later with a 2.2-liter inline-four turbodiesel that is unrated.
Transmissions:
Gasoline-powered JL Wranglers with the 3.6-liter V-6 will come with a standard six-speed manual or an optional eight-speed FCA-built automatic. Those with the 2.0-liter inline-four will be available only with the eight-speed automatic, according to the dealer ordering guide. Diesel-powered versions in the U.S. will be paired with the six-speed manual or a more robust eight-speed automatic built in Germany by ZF Friedrichshafen. A new five-position transfer case will allow a full-time all-wheel-drive option, and new paddle shifters on the steering wheel will permit quick shifts with the automatic transmission.
Axles:
The JL Wrangler will ride on upgraded floating Dana 44 and Dana 30 AdvanTEK axles, which are lighter and stronger than those in the current generation, according to Dana. Importantly, Wrangler will maintain its floating axle design, allowing modifications such as lift kits to be more easily added.
Styling:
Most changes will take place up front, in part because of the added length needed for the new eight-speed automatic transmissions. On the front fascia, revamped round headlights will accent a lightly redesigned seven-slot grille. The headlights are coupled with new horizontal LED daytime running lights mounted on the Wrangler's trapezoidal fenders. The most distinctive new feature is a pair of matching vents on the two front quarter panels, just behind the fender flares.
Interior and technology: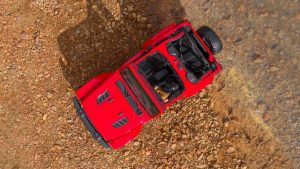 The big upgrade here will be the inclusion of FCA's top-of-the-line Uconnect infotainment system and its 8.4-inch touch screen, which will include Apple CarPlay and Google's Android Auto as an option for the first time. A leaked user guide for the JL Wrangler indicates that the touch screen will feature off-road performance and trail pages.
The Wrangler will also get a new 7-inch driver information screen on its instrument cluster, similar to those used in other FCA vehicles. Also new are four auxiliary control buttons integrated into the center stack, allowing easier installation and integration of aftermarket equipment such as exterior light bars and winches. Other new features include push-button ignition or optional remote start.
The 2018 Jeep Wrangler was finally revealed at the SEMA Show last week, so we've seen the sheetmetal. But the spies over at JL Jeep Wrangler forums found the colors list, and it includes some new …
Safety: Many safety modifications will result from tightening regulations, including new roof design and solid A-pillars. Spy photos and the leaked user guide indicate blind-spot monitoring, parking sensors and an electronic brake control system.
Cool new (and old) features: The JL Wrangler will retain its fold-down windshield, albeit with a modification to comply with roof crush safety regulations. The current-generation Wrangler's windshield folds flat onto the hood along with the A-pillars, while the JL Wrangler's windshield folds forward on a subassembly, allowing its A-pillars to stay in place. The backup camera will be in the center of the spare wheel carrier across the rear door, providing an elevated view of the terrain when backing. But the design makes use of aftermarket solid wheel covers problematic, as they would obscure the camera. A new power soft top will come later in the model year.
Lighting: The ordering guide shows an LED lighting group as an option for Sahara and Rubicon trims.
Models:
Only the Sport and Rubicon trims will be available as two-door Wrangler models. Among the four-door Unlimited models, the trim walk is Sport, Sahara and Rubicon.
Timing:
Production will begin this month with the hardtop Wrangler Unlimited, followed next month by soft- and dual-top four doors. Production of export versions will start in January and two-door JL Wrangler output is to start in mid-February.
Production of the current JK Wrangler will end in late March to allow its assembly line to be retooled for the 2019 Jeep Scrambler, the Wrangler-based pickup. Powered soft-top versions are to go into production in mid-May, and FCA expects to begin building diesel-powered Wranglers for the U.S. August or later, according to a leaked internal document.
Find One
If you're hunting around for a great price on your next Jeep Wrangler – current or future or any other new car, perhaps you should call the auto expert, Car Business. My company, based on the north side of Brisbane, will return your inquiry within 24 hours and make the process of buying your new car easy and stress-free. I protect you from the pressure exerted by car dealer's salespeople. There isn't any obligation – just a pretty significant saving.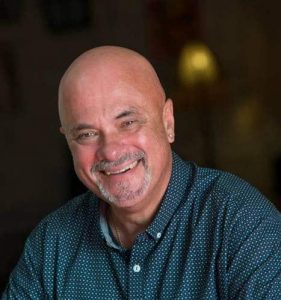 You're where? Seriously, my services are available for you in any Australian state and territory: from Darwin to Hobart, Cairns to Perth.
If you've got a vehicle to trade, we have some clever ways to maximize the value – from used car dealers keen for your car to assist you to sell it privately. Finance and Insurance? We can handle that too, and we promise you will not be paying exorbitant dealer markups there either.
So, to get the best new car price, talk to others and then talk me. I've got the experience to handle the dealers and achieve the lowest new car prices. If you think you're entitled to fleet pricing, I can often get better than that too. Whether you're a small fleet or a large national fleet, Car Business will go to work and get that price down. Lower new car prices are my goal. So you'll get the best prices from us rather than hoping you can help yourself.
If I can't get you the best new car price, better than you can get yourself from a car dealer, we won't charge you any fee. No Saving, No Fee. – that's what you should expect from a car buying expert. 
Car Business WILL save you money on your next new car purchase – guaranteed