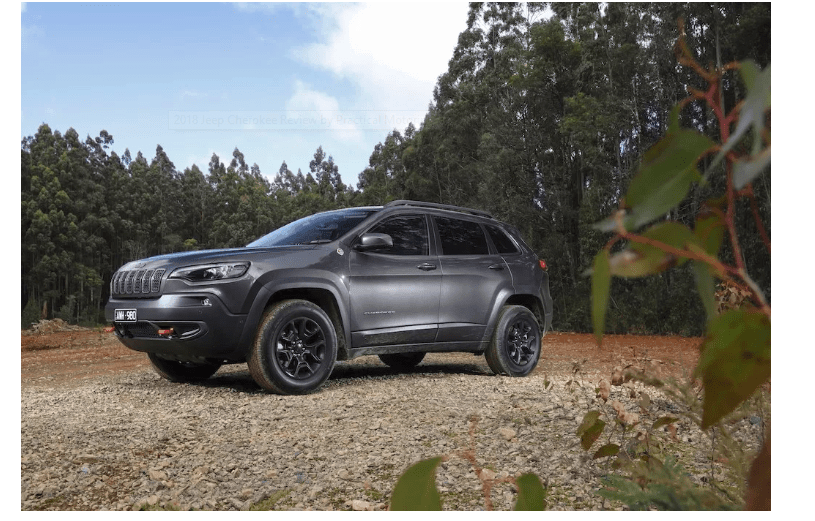 Hi there. Bob Aldons, The Car Guy with a piece on the 2018 Jeep Cherokee. Practical Motoring did a fairly extensive review on the 2018 Jeep Cherokee Trailhawk. If you'd like to see what they had to say, there's a link at the bottom of this article.
But to summarise their impression here's the rating table.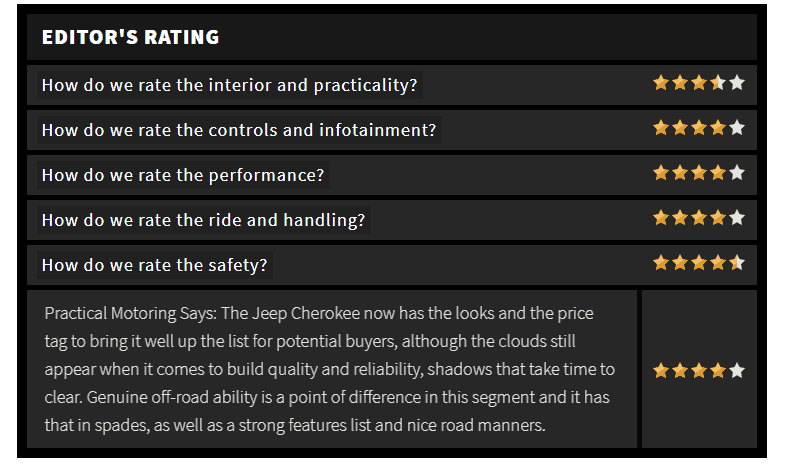 Now that's a pretty good rating for Jeep and parent company Fiat Chrysler. If this rating had been done 12 months ago, there's no way that four stars would have even been considered.
The MAJOR issue that Jeep in particular has, is their lack of customer focus. I was involved with two customers who had major failures with their Jeep Grand Cherokees Transmission.
And despite vehicles being off the road, the tardiness from the Fiat Chrysler Customer Assistance Centre was its usual self – terrible!
So if you want to take a risk with that service or lack thereof, then buy a Jeep. But whatever Jeep you buy, you best cross your fingers and hope that the reliability is way better than it was 12 months ago.
I've had some commentary from people that indicates Steve Zanulnghi, the Fiat Chrysler CEO, has grabbed hold of the poor customer experience and has taken steps to fix it.
I haven't seen that and only time will tell.
I'm not really worried about using other companies reviews and opinions. There are top notch reviewers here in Australia and around the world who have access to a lot broader range of cars than I do and I'll always add my '2 cents worth' to their article.  I'm very much a newbie in the world of car reviews but I particularly like Practical Motoring for the way they present their information.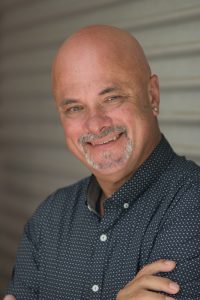 I'm Bob Aldons the owner and founder of The Car Guy, and Car Business. I review cars, report on car industry matters, car tech, motorsport but particularly Formula 1 and the automotive world at large. I've spent over forty years immersed in the automotive industry from salesman to the owner of a 7 brand multi-franchise dealership. I know cars.
I also appear frequently on National Nine News as their Brisbane based car expert. Here's the latest story on Takata Airbags
Find One
If you're hunting around for a great price on your next new car, you should call the auto expert, Bob Aldons from Car Business. My company, a car Broker, Car Buyers Agent or Car Buyers Advocate based on the north side of Brisbane, will return your inquiry within 24 hours and make the process of buying a new car easy and stress-free.
Are you tired of salesperson tricks? I protect you from the pressure exerted by car dealer's salespeople. There isn't any obligation – just a pretty significant saving.
You're where? Seriously, my services are available for you in any Australian state and territory: from Darwin to Hobart, Cairns to Perth.  Car Broker Brisbane, Sydney, Melbourne, Adelaide, Perth, Hobart, and Darwin – I'm available when you need me to be.
Whether you're a one-car buyer, a small fleet or a large national fleet, Car Business will go to work and get that price down. Lower new car prices are my goal. So you'll get the best prices from me rather than hoping you can help yourself.
If I can't get you the best new car price, better than you can get yourself from a new car dealer, I won't charge you any fee. No Saving, No Fee. – that's what you should expect from a car buying expert. 

Car Business WILL save you money on your next new car purchase – guaranteed

The Australian Road Safety Foundation is a not-for-profit organization whose charter is to reduce serious accidents on our roads through training and education. Car Business donates to the ARSF for every car we sell. If you'd like to support this worthwhile foundation, donate to the cause, become a member today or just buy your next new car from Car Business
10 THINGS ABOUT 2018 JEEP JL WRANGLER              2019 Jeep Cherokee – Facial Surgery Complete