125 miles (200 kilometers) EPA range for the Volkswagen e-Golf was conservative by our findings
From US based Auto week comes a relatively humorous story about the Volkswagen e-Golf. Now, we down under here in Australia, aren't privileged with this model – it's more about the homeland (Germany) and the USA. Environmental issues forced Volkswagen to introduce more fuel efficient models to play in the US market. And hence, that's where the 'diesel gate scandal' started its life.
So when you're reading this story, read it with a touch of envy, but ask your local dealer when they expect 'Stralia to get our fair share. There are two reasons we don't have it on the market – principally because we have right-hand drive cars, secondly that our market is so infinitesimal from a world perspective that we don't rate and thirdly that we don't have the federal government and state government incentives that make the e-Golf marketable.
As you read the story, you'll see mention of a $7500 Federal Government subsidy and another $2500 subsidy in California which reduces the starting price from $29815 to about $19000. If we use a currency converter that comes out to about $25000 Aussie. Plus on roads that equates to $26,538 here. Would it sell at that price? Absolutely it would. And it would be about the same price as the Toyota Corolla Hybrid.
So just think about why our governments aren't offering incentives to the electric car industry. Could we re-establish a car manufacturing industry here? My thought is that it certainly could be at these prices. If not full manufacturing then certainly CKD (Completely knocked down) would be a chance. But we'd also need to discuss this with the trade union movement – and that's a story for another day.
"Anybody read anything about Volkswagen in the news lately? Some sort of scandal?  Executives in jail? Cheating on emissions????
OMG.
So maybe VW won't exactly be emphasizing diesel vehicles in its marketing material for a while. But the upside of that entire scandal-wracked bad PR is that Volkswagen's efforts in the arena of electric cars will be redoubled. And this is a good thing. Plans call for two versions of the all-electric I.D. line of vehicles in 2020 and 2021. Even the I.D. BUZZ microbus concept shown at Detroit this year could be out as early as 2021. So, yay scandal!
But right now we have the e-Golf, and that is a good thing. I first drove an e-Golf, Volkswagen's current entry in the EV market, several years ago when it was just a "concept." Maybe it was an "engineering mule." Whatever it was called, it was a joy to drive. The coolest thing I remember about that car was the way the drivetrain disengaged and allowed the car to coast when you lifted off the accelerator pedal. Every other EV on the market goes into regenerative braking mode as soon as you lift off the accelerator, which makes for what the German engineers call herky-jerky driving. The e-Golf is smooth right out of the box. You can set it to regen if you want — there are three regen modes: normal, eco and eco+, but why would you do that when you can just coast?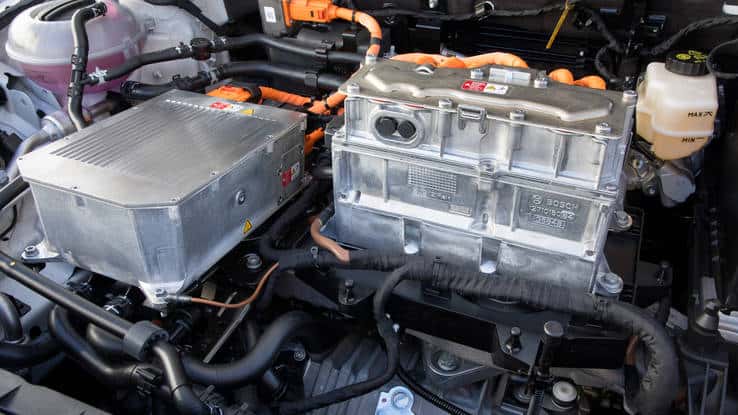 The 2017 e-Golf gets a larger 35.8-kWh battery instead of last year's 24.2, good for 125 miles range, or more. The electric motor puts out 134 hp and 214 lb ft. of torque.
The e-Golf first came to our shores and showrooms at the end of 2014, a later entry to the field that included, at that time, just the Nissan Leaf and Mitsubishi I-MiEV. Now the market is lousy with EVs, with everything from the Fiat 500e to various Teslas. But the e-Golf may just be my favorite among all of them. The 2017 model year e-Golf is so smooth and quiet; it's like being carried over the road on the electrically operated wings of Ferdinand Piech, or at least angels hired by Piech for the express purpose of carrying you. I have driven most, if not all, electric cars on the market now (accept the mythical Model 3) and I honestly think this is the quietest, smoothest and most effortless of them all. Yes, that includes the big Teslas. I haven't done a head-to-head comparison with a dB meter, but as wonderful as the Tesla Models S and X are to drive, and they are wonderful, I gotta think this e-Golf is wonderfuller. It's certainly more affordable.
Prices start at $29,815 according to Volkswagen's own website. That doesn't include the $7,500 federal tax credit or the $2,500 you get back in the state of California and other places. So if you bought a base e-Golf in California it'd be just $19,815. Of course, you could buy an off-lease Leaf or any number of other off-lease EVs for way less than that, and anyone who is not at least leasing an electric car right now does not understand math, in my opinion. They're giving them away. I have not looked into lease deals, but I gotta think around a hundred something a month deals are out there. Maybe I'm just being optimistic.
Back to the e-Golf at hand. Mine was a loaded SEL model, which starts at a more-profitable-for-VW $36,415. Both trim levels get the new-for-2017 bigger battery, with 35.8 kWh instead of last year's 24.2. That boosts range to 125 miles EPA, which has got to meet the needs of almost everybody in America except some salespeople and a few cross-country couriers. I got 138.3 miles of range from a mix of freeway, city and suburban driving, all done with the air conditioning on. I figure that with no A/C and more city driving, the range could top 150 easy, maybe 160 if you tried really hard.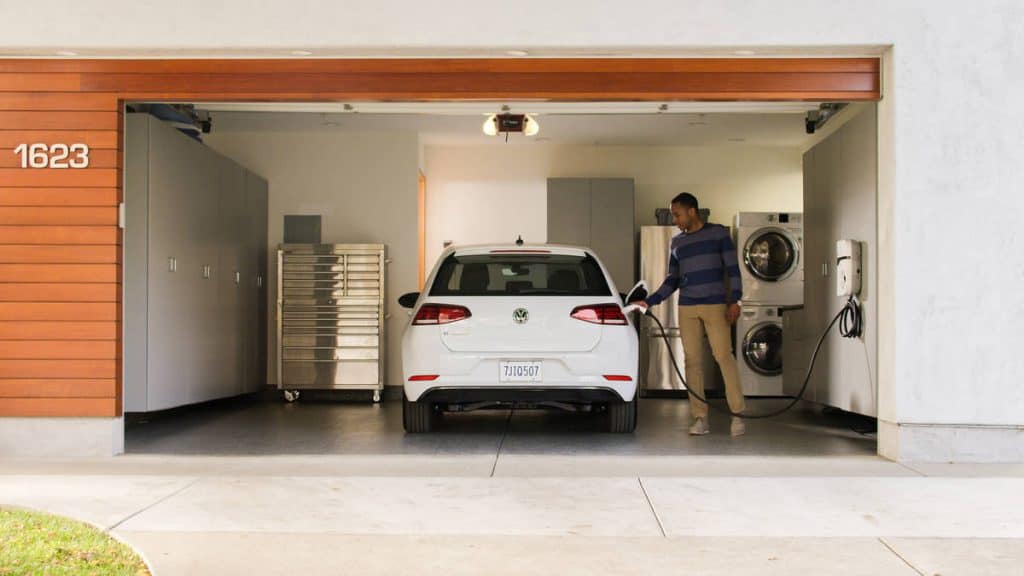 Driving it, as stated several times above, was a joy, no doubt in a large part because it sits on the new MQB architecture of the Mk7 Golf. These underpinnings would be a joy with just about any powertrain, and with the 134-hp, 214-lb-ft electric oomph, they're unmatched in the class. So you get a roomy and practical hatchback with a powerful motor in a car that is fun to drive. If you can seek out any kind of a decent lease, this is your choice in the EV field.
If this is the result of the silly diesel cheating scandal then I say, yay diesel cheating scandal!"
On Sale: Now in the USA
Base Price: $29,815 before credits
As Tested Price: $36,415
Drivetrain: electric motor, fwd
Output: 100 kW, 134 hp, 214 lb ft.
0-60 MPH: 9.6 seconds (mfg.)
Fuel Economy: 125 miles range (EPA City/Hwy/Combined)
Observed Fuel Economy: 138.3 miles range w/ a/c on
Pros: Fun-to-drive, smooth, quiet, electricity is cheaper than gas
Cons: I already bought an iMiEV
Read more: http://autoweek.com/article/car-reviews/2017-volkswagen-e-golf-drive-review-more-range-great-platform#ixzz4oe6jBNXJ
And a closing comment
If you've got to the end of this article, then good for you. At The Car Guy, we're not about complicating the car buying decision process as most of my colleagues are. If you really want to understand what I don't do, click on this link and listen to 'an auto expert' talk about Maximum Acceleration: Peal Power v Peak Torque. Seriously, what a load of rubbish unless you're an engineer and Power = Torque x Revs or Kilowatts = Newton Metres x Revs per Minute / 9549. If you're into this type of information for buying a car, you should 'torque' to someone who knows and understands this.
If, like me, this type of information is way over your head, and you are an ordinary driver in big cities or the suburbs, then you'll enjoy the information I provide.
Getting customers confused with too much complicated theory is wrong in any way you want to consider it. Most of my customers just want simple information to enable them to make a good decision on what car best suits the need they have. If you'd like some assistance in the purchase of your next car, contact our sister company Car Business.