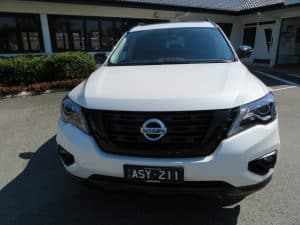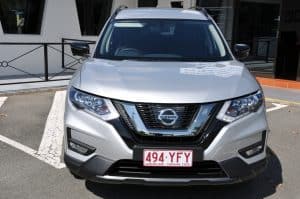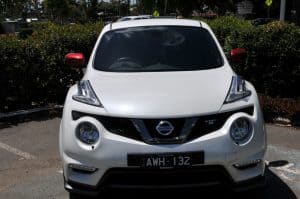 Over the last few weeks and over the Christmas break, the folks at Nissan have given me four of their SUV's to test drive and review for you. Nissan Juke, Qashqai, X-Trail and Pathfinder have found their way to The Car Guy's office.
So rather than providing four articles about the four cars, I thought I might review all four back to back and comparatively. Nissan doesn't really have any passenger cars for sale in Australia at the moment and most probably won't in the near future. So they rely on their SUV's completely to take the fight up to the other brands.
All apart from the Juke Nismo have been automatic, but I'm commenting on all of them as if they were.
Nissan Australia has slowly dropped passenger vehicles from their range – the Pulsar, Micra and Altima have all disappeared and instead, Nissan has introduced smaller SUV's to replace them.  There are two exceptions – the 370Z and GT-R are still available but in very limited volumes. I've driven the 370Z and its Nismo version but I'm yet to get my backside in a GT-R (HINT!!)
What are they?   The Nissan suite is SUV's – passenger vehicles on steroids. As the market for passenger cars has slowly declined here in Australia, Nissan was the first manufacturer to make a decision to drop them. Ford US has recently made the same decision – to replace passenger cars with SUV's.
The Competition?   I don't have enough space to give you all the competition but let me provide you with the top-selling models in each category.
Mazda 2 and Hyundai i30, would compare to the Nissan Juke, Nissan Qashqai compares to Mazda 3 and Volkswagen Golf, X-trail to Toyota Camry and perhaps Mazda 6  whilst the Pathfinder would be compared against the Holden Commodore and Kia Stinger.
Price?   I've indicated the drive away advertised price of each of the Nissan's that I drove (first pictures) – but be aware that Nissan gave me a higher spec model in each case. The base models run out at the following prices
Nissan Juke ST Manual                  $26,400
Nissan Qashqai  ST Auto                 $27,990
Nissan X-Trail ST Auto                   $29,990
Nissan Pathfinder ST Auto             $40,990
All these prices are for the 2wd versions of each, save for the Juke which is only available in a manual for the ST. The first auto Juke is the Ti-S model at $37,062 drive away.
Front
As you can see from the first set of pictures, there's a fairly dramatic difference between the look of the front of the vehicles. Qashqai and X-Trail look similar and more modern in appearance, whilst the Juke Nismo stands apart. The Nissan Pathfinder from my perspective looks fairly dated in appearance and is the model that's arguably due for a substantial upgrade sooner than the others.
From a power perspective, Juke Nismo produces 157kw with its 1.6-litre turbo engine, The Qashqai gets 106kw with its 2.0-litre engine, whilst the X-Trail produces 126kw with a 2.5-litre powerplant. The Pathfinder, having the only 6 cylinder engine with 3.5 litres vehicle is this comparison, pumps out 202kw
Down the Side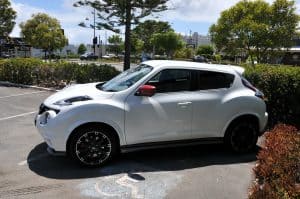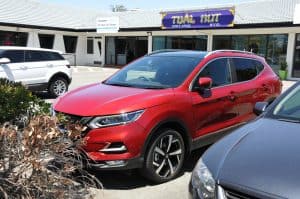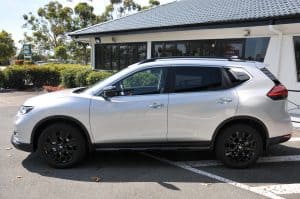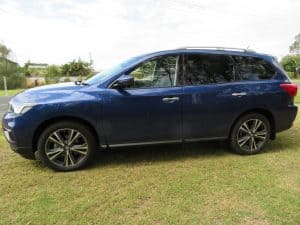 From The Rear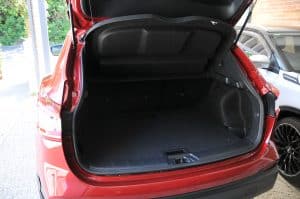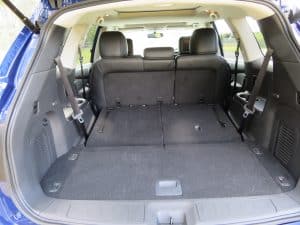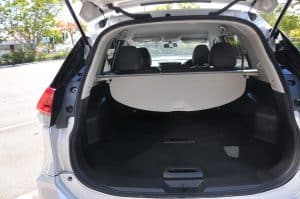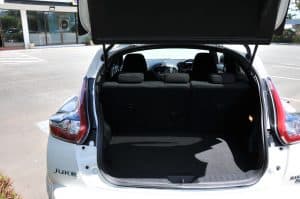 All of these vehicles have an adequate or better cargo capacity. The Pathfinder, with the 3rd row stowed, is massive and more than capable of carrying most anything that you need. With the second row folded, you could arguably use it as a dance floor! If you're buying one of these, you're purchasing it for a reason – city, suburbs, highway or off-road. Cargo space is relative to the vehicles size.
Drivers Seating Position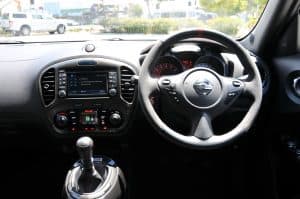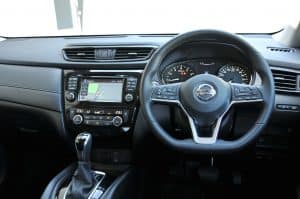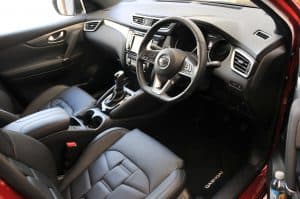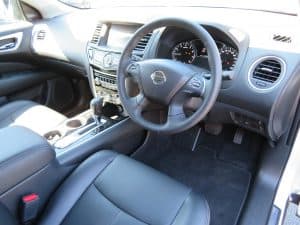 They're all pretty similar these Nissans. I'm very partial to the Nissan Juke Nismo as it gives me a very comfortable, hugging seat. However, my favourite from a driving point of view was the Nissan Qashqai. Just the right amount of comfort for a 100kg, 182cm male. Good adjustment with the seats and steering wheel. The Qashqai feels the most modern whilst the Pathfinder I think is showing it's age with older style controls.
I'm not really sure if there are too many interior colour options – I've seen a picture of the X-Trail with a brown interior, but dealers aren't too keen to order strange combinations for their stock. So we're faced with shades of grey – not fifty, but four different shades in these four vehicles.
On The Road and My Summary
If I had to choose just one vehicle to park in my driveway, I'm heading for the X-Trail. X-Trail comes standard as a five-seater but with the option of 7 seats. With a 7-seater and the 3rd row folded, you have a large vehicle, running a 4-cylinder engine and a modern CVT transmission.
Exclusively using a vehicle around the suburbs? I'd pick the Qashqai and narrowing that even further, as a city commuter, Nissan Juke is the answer.
Where does that leave the Pathfinder? Unfortunately, it wouldn't be my choice of a large SUV. There are many other choices, a lot with diesel engines and a more modern setup.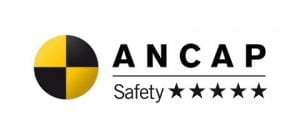 Direct from the ANCAP website – From 1 January 2018, vehicles will be evaluated against four key areas:
Adult Occupant Protection (AOP)
Child Occupant Protection (COP)
Vulnerable Road User Protection (VRU)
Safety Assist (SA)
Today the point of difference has expanded to include active safety features and technologies which can help avoid or minimise the effects of a crash.
autonomous emergency braking (AEB) — where the car brakes if you don't;
lane support systems (LSS) — where the car automatically holds you in your lane to avoid a head-on or run-off-road crash; and
speed assistance systems (SAS) — through intelligent speed sign recognition or GPS mapping to assist with vehicle speed to ensure the safety of motorists and other road users.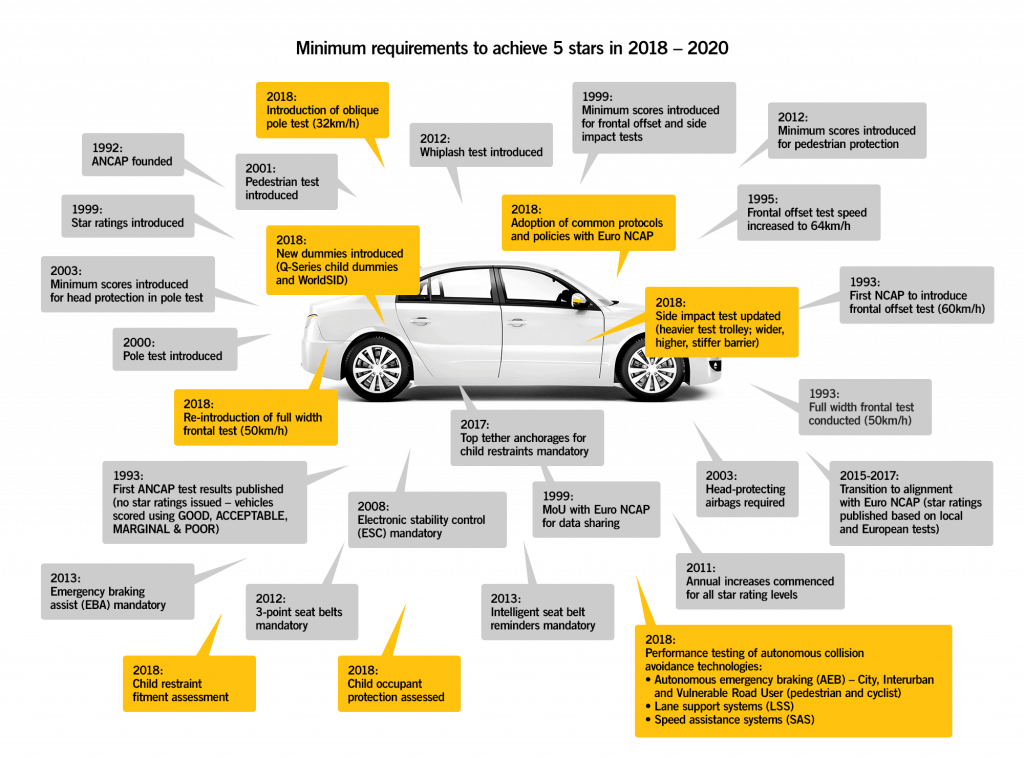 At first glance, you'll think that all of these Nissan models achieve a 5-star rating. You'd be wrong. If you check the headline, you'll see that the individual models have been tested at different times. Nissan Juke was tested in 2012, Nissan Qashqai in 2017, Nissan X-Trail in 2017 with the Nissan Pathfinder tested in 2013.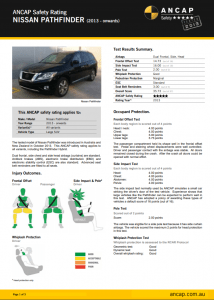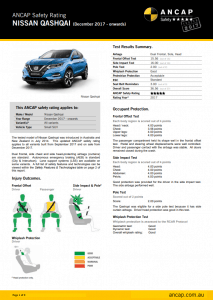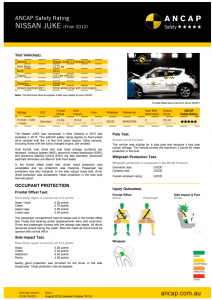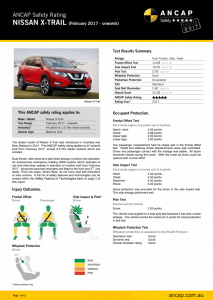 The boxes highlighted in orange are those aspects of the testing procedure that are required to gain 5-stars from 2018 to 2020.
Down The Side
I've created this table to give you a fair indication of the important safety features available in each model. Whilst all models under consideration have the basic modern safety elements, some of the more latest features, such as adaptive cruise control, and lane keeping are missing.
| | | | | |
| --- | --- | --- | --- | --- |
| Feature | Juke | Qashqai | X-Trail | Pathfinder |
| Cruise Control | Yes | Yes | Yes | Yes |
| Adaptive Cruise Control | No | No | No | No |
| Rear View Camera | Yes | Yes | Yes | Yes |
| Auto Headlights | Yes | Yes | Yes | Yes |
| Auto Wipers | No | No | No | No |
| 6 Air Bags | Yes | Yes | Yes | Yes |
| Traction Control | Yes | Yes | Yes | Yes |
| Intelligent Emergency Brake | Yes | Yes | Yes | Yes |
| Lane Departure Warning | Yes | Yes | Yes | Yes |
| Fuel Type Used | 95 Ron | 91 Ron | 91 Ron | 91 Ron |
Service Costs and Warranty
Nissan is one of the remaining dinosaurs when it comes to warranty. Still advertising a 3 year /100,000km plan, along with Toyota Nissan is the last of the old school. Even Subaru has moved to a 5-year warranty. Feedback from Nissan dealers is that the company doesn't believe it will sell any more cars with a 5-year warranty, but I think it will sell less in 2019.
Nissan has a capped priced service plan, but it's a little on the expensive side. From the Nissan website, costs for 6 services over 60,000km on the base model run out to:
Nissan Juke                     $1966
Nissan Qashqai               $1785
Nissan X-Trail                 $1882
Nissan Pathfinder           $2197
Brake Fluid needs to be replaced every 40,000km and this runs out to about $32 over and above the prices quoted above. I'ver said it before and I'll say it again. My strongest recommendation is that you have your new vehicle serviced by the franchised dealer. They're very competitive against the aftermarket service centres. HAvign a log booked stamped by the dealer for your brand improves resale values and also gives you the peace of mind that any software upgrades are done during the service without charge.
In fact, I'm suggesting with Nissan that you continue to service your car with their dealers for another 2 years after the 3-year warranty has expired. All vehicles sold in Australia are covered by the Australian Consumer Guarantee through the ACCC. If you suffer a major failure, arguably Nissan will have to come to the party and repair your vehicle under warranty.
Fuel Economy
X-Trail        2.5L Petrol Engine 2WD Auto        10.7 litres/100km Urban  6.0 litres/100km Highway
Pathfinder 3.5 litre Petrol Engine 2WD Auto   13.6 litres/100km Urban  5.5 litres/100km Highway
Qashqai      2.0L Petrol Engine Auto 2WD        9.2 litres/100km Urban  7.7 litres/100km Highway
Juke             1.6L Petrol Engine Auto 2WD         8.3 litres/100km Urban  5.5 litres/100km Highway

I use RACQ Insurance to give you a guide as to what you'll pay for your annual comprehensive car insurance. Conditions precedent for this cover are:
A male driver over 60 years of age, having held a license for over 10 years
Bronze member of RACQ with 2 other insurance policies
Has paid cash for the car for private use with the car parked in a garage overnight.
The driver resides in postcode 4017
The car is fitted with an engine immobilizer
1 at fault claim in the last 3 years, with no license suspensions
Rating 1 currently having held that rating 1 for 10 years or more
No driver under 25 will use the vehicle.
The premium quoted online by RACQ Insurance for Private Use –
Juke ST                      $380.55
Qashqai ST                $408.18
X-Trail ST                 $427.61
Pathfinder ST           $479.67
Variations from the information above may result in different outcomes. Check online with RACQ Insurance for your own particular quote.
Where to Buy – Dealers
My test vehicles were supplied by Nissan Australia. No financial incentives were paid to me by Nissan for this review. If you're in the market to buy any Nissan, pick your dealer carefully. When I want to check out the 'worthiness' of a dealer, I Google 'Nissan Dealers Brisbane" where the city is the one that you live in or around and the brand is that particular one you're interested in.
I only list dealers who have achieved a minimum of 15 reviews with Google and then only those with 4 stars or higher.
From a South East Queensland perspective here's the dealers I'd visit:
Northside                         Aspley Nissan                                   4.6 Stars from 69 reviews
Eastside                            Bartons Nissan                                 4.5 Stars from 116 reviews
Southside                         Motorama Nissan                            4.6 Stars from 53 reviews
Westside                          Ipswich Nissan                                  4.4 Stars from 46 reviews
Sunshine Coast               Cricks Nambour Nissan                  4.9 Stars from 87 reviews
Gold Coast                       von Bibra Nissan                               4.6 Stars from 118 reviews
(Google Stars and review numbers effective 4th January 2019)
Suzi's Opinion
My wife drives an SUV and has a definite opinion on these four cars. Of the four, she loves the Juke – just the right size she says. Her comments in precise form were:-
The other Nissan SUV's I've driven or been driven in aren't near as good as this Nissan Juke.
I like the high interior space, the overall cabin is spacious. The seats in the Nismo are sporty and cradle my back well. There's a lot of room for rear seat passengers and a surprising amount of luggage space for a relatively small vehicle. And I do like the exhaust noise – sounds like a sports car.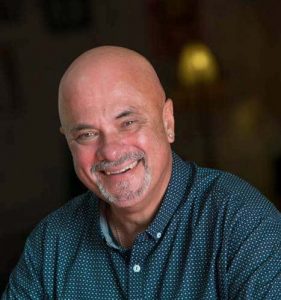 Hi,  Bob Aldons here, the owner and founder of The Car Guy, and Car Business, reviewing cars, reporting on car industry matters, car tech, Formula 1, buying #anynewcarcheaper and the world at large.
I've spent the last forty years immersed in the automotive industry from salesman to the owner of a 7 brand multi-franchise dealership. I know cars.
Find One
If you're hunting around for a great price on your next new car, you should call the auto expert, Bob Aldons from Car Business.
My company, a Brisbane Car Broker, Car Buyers Agent or Car Buyers Advocate based on the north side of Brisbane, will return your inquiry within 24 hours and make the process of buying a new car easy and stress-free.
Are you tired of salesperson tricks? I protect you from the pressure exerted by car dealer's salespeople. There isn't any obligation – just a pretty significant saving.
You're where? Seriously, my services are available for you in any Australian state and territory: from Darwin to Hobart, Cairns to Perth.  Car Broker Brisbane, Sydney, Melbourne, Adelaide, Perth, Hobart, and Darwin – I'm available when you need me to be.
Whether you're a small fleet or a large national fleet, Car Business will go to work and get that price down. Lower new car prices are my goal. So you'll get the best prices from me rather than hoping you can help yourself.
If I can't get you the best new car price, better than you can get yourself from a car dealer, I won't charge you any fee. No Saving, No Fee. – that's what you should expect from a car buying expert.

Car Business WILL save you money on your next new car purchase – guaranteed

Australian Road Safety FoundationThe Australian Road Safety Foundation is a not-for-profit organization whose charter is to reduce serious accidents on our roads through training and education.
Car Business donates to the ARSF for every car we sell. If you'd like to support this worthwhile foundation, donate to the cause, become a member today or just buy your next new car from Car Business.