Since its launch a few years ago, I had expected that the Mitsubishi Outlander PHEV would be a good seller for the brand. According to sources within the dealer group that's not been the case. Perhaps the bottom line has been the price. This new model retails at around $54700 in Queensland with the top of the line Exceed model topping out at around $60,000. The trouble here is that Outlander is the only model in the medium SUV category offering this option.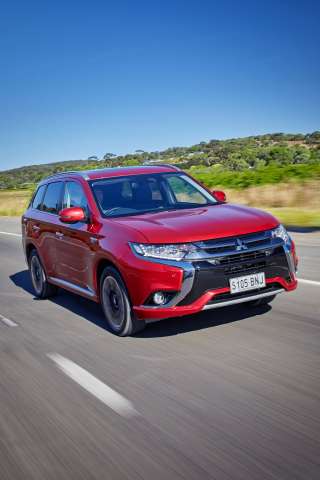 Within the medium and large categories there are only a few offerings in Hybrid – Lexus 450h $90160, Mercedes GLE at 4124900, Nissan Pathfinder $60690, and Porsche Cayenne $143055. Arguably it would be better for Mitsubishi Motors to have more competitors bringing their products to the market.
Nevertheless, here's the press release from Mitsubishi Motors regarding the updated Outlander PHEV. I'm pumping for Mitsubishi to gain some traction with this upgraded model and I look forward to providing a road test review in short order.
"Mitsubishi Motors' new Outlander PHEV has arrived in Australia with a revised design, new technology, increased refinement and additional fast charging flexibility. In a comprehensive update to the best-selling EV in the Australian market, the new Outlander PHEV has adopted the styling changes from the Model Year 2017 Outlander range while introducing new technology and increased convenience.
The Outlander PHEV was developed from the ground up to be driven by either an internal combustion engine or hybrid technology and as a result there are no compromises in terms of packaging, practicality or driving dynamics. Available in two specification grades, LS and Exceed, both come with new features such as; Mitsubishi's Smartphone Link Display Audio with Apple CarPlayTM1 and Android Auto2 integration and Digital Radio (DAB+), electric folding and heated exterior mirrors, LED headlamps with auto levelling and an electronically controlled park brake with Auto Hold function and a DC fast charging socket.
New safety features available as standard on Exceed include, Adaptive Cruise Control, Forward Collision Mitigation with human detection, Multi Around Monitor, Auto High Beam, Lane Departure Warning, Blind Spot Monitor, Lane Change Assist, Rear Cross Traffic Alert, and an Ultrasonic Mis-acceleration Mitigation System.
For 2017 Mitsubishi introduces a new EV Priority Mode across all variants. The new EV switch is located below the 4WD button and once activated, it allows the driver to operate the vehicle in EV mode without the engine starting, provided there is sufficient charge in the batteries. The electronic parking brake's auto hold button function which, when activated, holds the vehicle in traffic or on an incline the same way a handbrake would, allows the driver to release the footbrake.
It's stylish and functional interior includes a redesigned steering wheel, new accent trim, improved seating comfort with premium finishes and materials to give the cabin a more sophisticated feel.
The new Outlander PHEV delivers a smooth, more responsive on-road performance with improvements to noise levels, ride, handling and throttle response.
Ride quality and comfort have been enhanced with increased structural rigidity in the body, revised suspension design, new Electric Power Steering calibration and reduced noise, vibration and harshness (NVH) throughout the vehicle.
The new Outlander PHEV retains its predecessor's outstanding safety and environmental performance through the use of cutting-edge four-wheel drive, passive safety technology as well as fuel-efficient engine technology. Pure EV range extends up to a maximum of 54km, while overall fuel economy has been reduced to 1.7-litre per 100km based on the ADR 81/02 fuel economy cycle.
Mitsubishi Motors Australia Executive Director of Marketing Tony Principe said the new Outlander PHEV builds on the model success in this market.
"The Outlander PHEV is now more stylish, refined and has increased practicality with the addition of a DC fast charge socket capable of recharging the battery to 80% capacity in around 25 minutes," said Mr Principe. "Of course, if owners can't find a recharging station, they don't have to change their plans as the Outlander PHEV is not limited by the availability of recharging infrastructure."
Exterior
'Dynamic Shield' front design including dark chrome and silver plated grille, silver skid plate, LED headlamps, Day time Running Lamps (DRL) and fog lamps with chrome bezel complete the front design of the new Outlander PHEV. The sharper rear styling features a new design bumper and silver skid plate. The shark fin antenna, chrome tailgate garnish with LED rear combination lamps and rear fog lamp to complement the front design. Outlander's new exterior design is unified overall through the use of wheel arch mouldings, silver roof rails and chrome door sill garnish. New look 18-inch black and polished alloy wheel design complete the modern exterior.
Interior
The new Outlander PHEV gets a fresh design update to the interior space incorporating stylish yet functional features.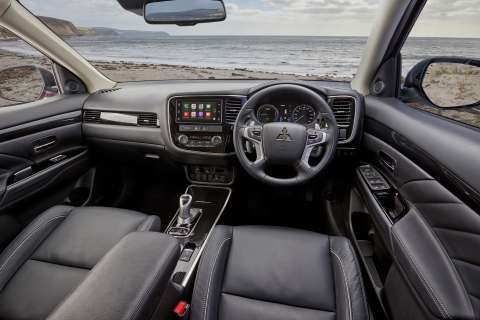 The interior is embellished with soft touch features and premium grade materials at every contact point. A new design four spoke steering wheel features gloss black bezel and new accent trim has been applied to the doors, dash and centre console. New material headlining, subtle stitching highlights on the instrument panel and a soft centre armrest enhance the sophisticated feel of the cabin. Seating comfort has been greatly enhanced with improved lateral support and an increase in side bolster stiffness. The LS seats feature black Sports cloth trim with leather look bolsters, while the Exceed's new style leather facings complement the new interior look.
Performance
The new Outlander PHEV boasts improved handling dynamics and greatly reduced noise, vibration and harshness (NVH) along with increased body and structural rigidity for a super quiet and composed ride.
NVH improvements have been developed in part from the application of extensive sound insulation and isolation damping materials throughout the vehicle. Engine noise, cabin boom, road and wind noise are all reduced due to noise-isolating windscreen glass, improved weather stripping, new tyres, damper tuning and modified suspension mounts.
Its low centre of gravity and excellent weight distribution make for exceptional driving dynamics, further enhanced with suspension updates. The Outlander PHEV offers an ultra-smooth driving experience, with a 2.0-litre petrol engine and a seamless transition between three driving modes (EV, series hybrid, parallel hybrid), which combine to deliver optimum performance regardless of driving conditions.
Outlander PHEV's dynamic performance continues to be refined with a number of suspension changes to enhance overall ride comfort and stability. New shock valves advance linearity and body control, while new rear toe link bushes provide improved lateral rigidity. Lower friction front struts and larger rear shock absorbers with new damping contribute to improved steering linearity, while rear shocks have been tweaked to boost stability and ride comfort.
The Outlander PHEV is unique in offering adaptive four-wheel drive with twin electric motors driving the wheels. The front and rear axles are each equipped with their own high-output motor to deliver powerful acceleration when needed while maintaining an incredibly responsive 4WD performance. The Outlander PHEV maintains its five-star ANCAP safety rating thanks to its combination of active and passive safety features. The Reinforced Impact Safety Evolution (RISE) body structure is further bolstered with a suite of active safety features.
Like all models in the Mitsubishi range, the Outlander PHEV is backed by a 5 year/100,000km warranty.
Outlander PHEV at a GLANCE
I – Timing:
• September 2012: World premiere @ Paris Motor Show
• January 2013: Start of Production for Japan
• March 2014: Australian sales commence
• July 2016: Global 100,000 sales milestone achieved
II – Highlights:
• Self-charging "Twin motor 4WD" cross over with EV-based architecture (drive-by-wire, no gearbox)
• The first "Dual Design" car, i.e.: designed from the outset for Internal Combustion Engines AND Plug-in Hybrid EV Technology
• No compromise packaging:
o Similar cargo space as Outlander ICE (from 463L)
o Similar interior space as Outlander ICE
• High level of safety:
o Permanent Twin Motor (electric) 4WD + Super-All Wheel Control system + low center of gravity + 55/45 weight distribution
o 5-star Euro NCAP rated
o Safety assist features
• Automatic selection of (alternative) Drive Modes, according to driving conditions
• Multiple charging choice (on-the-go, regenerating, charge mode, normal plug-in, quick plug-in)
• Long haul abilities
III – Product overview:
• Layout:
o At the front:
 Electric motor + inverter (60 kW – 137 Nm)
 Electric generator
 2.0 liter MIVEC DOHC petrol engine (89 kW – 190 Nm)
 Power Drive Unit
o In the middle, under the floor:
 12 kWh, 80 cells, 300 V Lithium-Ion air-cooled battery pack
 45 l fuel tank
o At the rear:
 Electric motor + inverter (60 kW – 195 Nm)
 Rear Motor Control Unit
• Multiple charging choice :
o Automatic "on-the-go" charging, in – Series Hybrid and Parallel Hybrid Modes
o Standard on-board dual plug-in charger for :
 Normal charging (approx 6.5 hours for 100% charge – 230V – 10 A or 3h30 with 16 A)
 Quick charging (approx 25 min for 80% charge )
o « Battery Charge Mode »:
 Driver-activated (switch on center console)
 Autonomous self-charging through ICE
 Can also be activated when the vehicle is stationary
 Can recover 80% charge in approx 40 min
o Regenerative Braking (cannot be controlled when Adaptive Cruise Control (ACC) is active.
 Activated either when lifting off accelerator pedal or when braking
 Degree of regeneration controlled by driver :
 « B » position on shifter with two selectable levels
 Six incremental steps through steering wheel-mounted paddles
• Additional EV features :
o « Battery Save Mode » :
 Driver-selected meant to switch automatically to « Series Hybrid Mode » or « Parallel Hybrid Mode » to save on electricity, allowing to later enter CO2-restricted city centers or quiet residential areas, or simply to enjoy nature in full silence.
o Remote monitoring through dedicated WiFi smartphone app
o « Acoustic Vehicle Alerting System (AVAS) to warn pedestrians
o Electric hot water-powered heater.
o Illuminated twin charge port (regular and quick) recess behind lid – with charging indicator (on/off lamp) and energy level gauge show charging status and level.
o 5 m standard charging cable with heat insulation, GND OPEN detector features and safety gauge.
o PHEV system designed to support long-term Vehicle-to-Grid (V2G) smart grid protocol
o EV Priority switch – to prevent the PHEV system to switch to hybrid mode and therefore retain the full electric driving on demand
• Unique Twin Motor 4WD drivetrain :
o No gearbox
o Permanent 4WD from independent front and rear motors
o Drive-by-wire 4WD operation, controlled by PHEV Operating System
o Multi-Mode Power Drive Unit-activated front wheels in « Parallel Hybrid Mode »
o Optimal Fr/Rr torque split
o Lancer Evolution-derived S-AWC («Super-All Wheel Control») to improve driving stability and handling precision – « 4WD LOCK » function available.
o Under-floor mid-mounted battery pack helps with low(er) center of gravity (- 30 mm vs. Outlander ICE) and excellent Fr/Rr weight distribution (55% – 45%).
• SUV versatility :
o Commanding driving position
o Minimum ground clearance : 190mm
o Towing capacity (braked): 1,500 kg
• Premium safety :
o Impact :
 Reinforced underbody construction (Supporting the extra weight of the drive battery and additional on-board motor, delivering the superior quietness and advanced driving comfort that drivers have come to expect from a PHEV)
 Four-member battery frame directly connected to the chassis
 Battery pack safely located under the floor, within the wheelbase
 5-star ANCAP rated
o Traction battery :
 Cooling unit, operated through an independent unit (air cooled)
 Four-member battery frame directly connected to the chassis,
 New sealed drive battery pack construction
 Rigid sheet metal and solid frame-weld construction battery pack tray
 Protective battery pack tray coating
o Safety Assist:
 Acoustic Vehicle Alerting System ("AVAS") to warn pedestrians
 Forward Collision Mitigation system ("FCM") with Pedestrian Detection Function
 Lane Departure Warning system ("LDW")
 Adaptive Cruise Control system (« ACC »)
 Ultrasonic Mis-acceleration Mitigation System (UMS)
 Multi-around Monitor w/ Bird-View Image
 Blind Spot Warning (BSW) + Rear Cross Traffic Alert (RCTA)
EV-based layout
• At the front :
o Electric motor + inverter (60 kW – 137 Nm), located on the left side of the engine compartment, transaxle style,
o Generator, positioned next to the motor
o 2.0 liter MIVEC DOHC petrol engine (87 kW – 186 Nm), located on the right side of the engine compartment,
o Multi-Mode front Power Drive Unit to offer optimum performance in three different driving modes with two different power sources.
• In the middle, under the floor :
o 12 kWh, 80 cells, 300 V Lithium-Ion air-cooled traction battery pack
o 45 l fuel tank
• At the rear, under the cargo area:
o Electric motor + inverter (60 kW – 195 Nm) with no intrusion in the cargo area.
o Rear Motor Control Unit, taking advantage of the electric motor characteristic to enable smooth driving.
Electric primary force
Outlander PHEV's Twin Motor 4WD system employs independent front and rear electric motors as primary force to drive the front and rear wheels.
This innovative layout features neither conventional gearbox nor driveshaft, the system being electronically-controlled through the PHEV Operating System. The elimination of the propeller shaft (or connective mechanism) lowers friction-induced power loss while greatly enhancing response and control.
Total (four wheel) control
Mitsubishi Motors' PHEV system uses a newly developed drive-by-wire Twin-Motor Four-Wheel-Drive system mated to Mitsubishi's S-AWC ("Super All Wheel Control"). Based on the four-wheel-drive technology developed and honed in the Lancer Evolution, S-AWC integrates control of the 4WD, ASC ABS and AYC (Active Yaw Control) systems:
In addition, working in tandem with the PHEV system, S-AWC distributes power to the front and rear wheels, as well as the left and right wheels to improve driving stability and handling precision. In effect, S-AWC reduces differential limiting force and front-wheel slippage while optimizing front-rear power distribution to ensure powerful takeoff acceleration.
Furthermore, a "4WD LOCK" function enhances response through front / rear drive power transfer that improves traction and straight-line stability on snow, dirt and other slippery road surfaces.
Last but not least, the under-floor location of the traction battery brings additional benefits, namely: increased passive safety as well as improved active safety, lowering the center of gravity (- 30 mm vs. Outlander ICE) and contributing to an excellent Fr/Rr weight distribution (55% – 45%).
PHEV Operating System
The Operating System gathers data and information from all the major EV components to provide integrated management of the car's performance.
This advanced management system constantly monitors battery status and the energy recovered from the regenerative brakes while regulating output to ensure smooth and powerful acceleration from a full stop. As a result the system optimizes and minimizes energy consumption to deliver the most appropriate actual on-road performance.
Outlander PHEV applies further advanced system from the PHEV Operating System from MiEV, including a function for plug-in charging, whether normal or through a quick-charger. It controls not only battery and motors, but also engine and generator.
EV – Series – Parallel
The PHEV Operating System also automatically selects Outlander PHEV's three driving modes ("EV", "Series Hybrid", and "Parallel Hybrid", enhancing driving performance and fuel economy with no driver intervention required.
All modes are engaged alternatively, the PHEV Operating System shifting constantly between them back and forth seamlessly in a split second, according to battery level as well as driving conditions, with a bias to return to EV Mode as soon and as often as possible.
Pure EV Mode
o Whatever the circumstances, the PHEV Operating System will always start the car in this « Pure EV Mode » where driving is electric-only :
o The car is powered by both front & rear motors (i.e. permanent electric 4WD)
o The energy is sourced from the traction battery
o The maximum speed in EV mode is 120 km/h (where legal)
o Outlander PHEV offers an appreciable 54 km driving range in Pure EV Mode i.e, within the average daily distance for most drivers. Individual driving style and therefore its impact on PHEV Operating System's automatic selection of Modes may translate in either shorter but also longer EV range.
Series Hybrid Mode
o The car is still powered by its front & rear motors (i.e. permanent electric 4WD) :
o The ICE is automatically engaged solely to run the generator, in order to charge the battery and/or provide up to 60kW additional drive power « on-the-go »(it also stops automatically)
o In case of sudden power demand (above the 60 kW supplied by the battery) such as passing or driving uphill, all situations interpreted the PHEV Operating System as a power drain, to be compensated.
o The system is biased to switch back to Pure EV Mode as often/soon as possible
o The ICE is also punctually activated to keep the catalytic converter in optimum condition
Parallel Hybrid Mode
o The ICE being inherently more efficient at higher speeds than the electric motors, it then takes over as primary motive power, driving the front wheels via the Multi-Mode front Power Drive Unit :
o Notwithstanding, the front & rear motors are still in motion to assist seamlessly the ICE (i.e. still permanent electric 4WD)
o As for the two other modes, « Parallel Hybrid » is automatically activated for steady high power demand such as long distance motorway cruising.
o The system is biased to switch back to « Series hybrid Mode » (or « Pure EV Mode » below 120 km/h – where legal) as often/soon as possible
o The ICE is also engaged to run the generator, in order to charge the traction battery using surplus torque
It should be noted that the Outlander PHEV power system never runs at a maximum output, i.e. combining all its various components (ICE + front motor + rear motor) at the same time. Instead, the PHEV Operating System will always look for the best combination of Drive Modes – and therefore power source – according to driving conditions.
As a result, there is no such concept as « maximum total output » as sometimes seen elsewhere but rather a sourcing of energy within a given range, using a matching combination of power sources:
Pure EV Mode
Series Hybrid Mode
Parallel Hybrid Mode
Max. energy
from Battery
(to Fr & Rr Motors)
up to 60 kW
(split between
front & rear motors)
up to 60 kW
(split between
front & rear motors)
up to 60 kW
(split between
front & rear motors)
Max. energy
from Generator
(to Battery via ICE)
up to 60 kW
(battery charging
3 to 10 min activation)
up to 60kW
Max. energy
from ICE
(to front wheels)
up to 89 kW
Recommended Retail Pricing
Outlander PHEV LS $50,490.00
Outlander PHEV Exceed $55,490.00
Warranty and Servicing
The new Outlander PHEV benefits from Mitsubishi's five-year/100,000km new car warranty. The Outlander PHEV range has Mitsubishi's four-year Capped Price Servicing which are scheduled every 15,000km or 12 months, whichever comes first. The new Mitsubishi Outlander PHEV will be available from Mitsubishi dealers from the 5th April 2017.
Further details about the new Outlander PHEV range is located at Mitsubishi Motors Australia website: www.mitsubishi-motors.com.au
*1: Apple CarPlay, is a trademark of Apple Inc. registered in the United States and other countries.
*2: Android and Android Auto are trademarks of Google Inc. registered in the United States and other countries.