And the Car God said that Nissan will beget Infiniti and Nissan Patrol will beget Infiniti QX80. And the Car God looked at his creation and said it was good.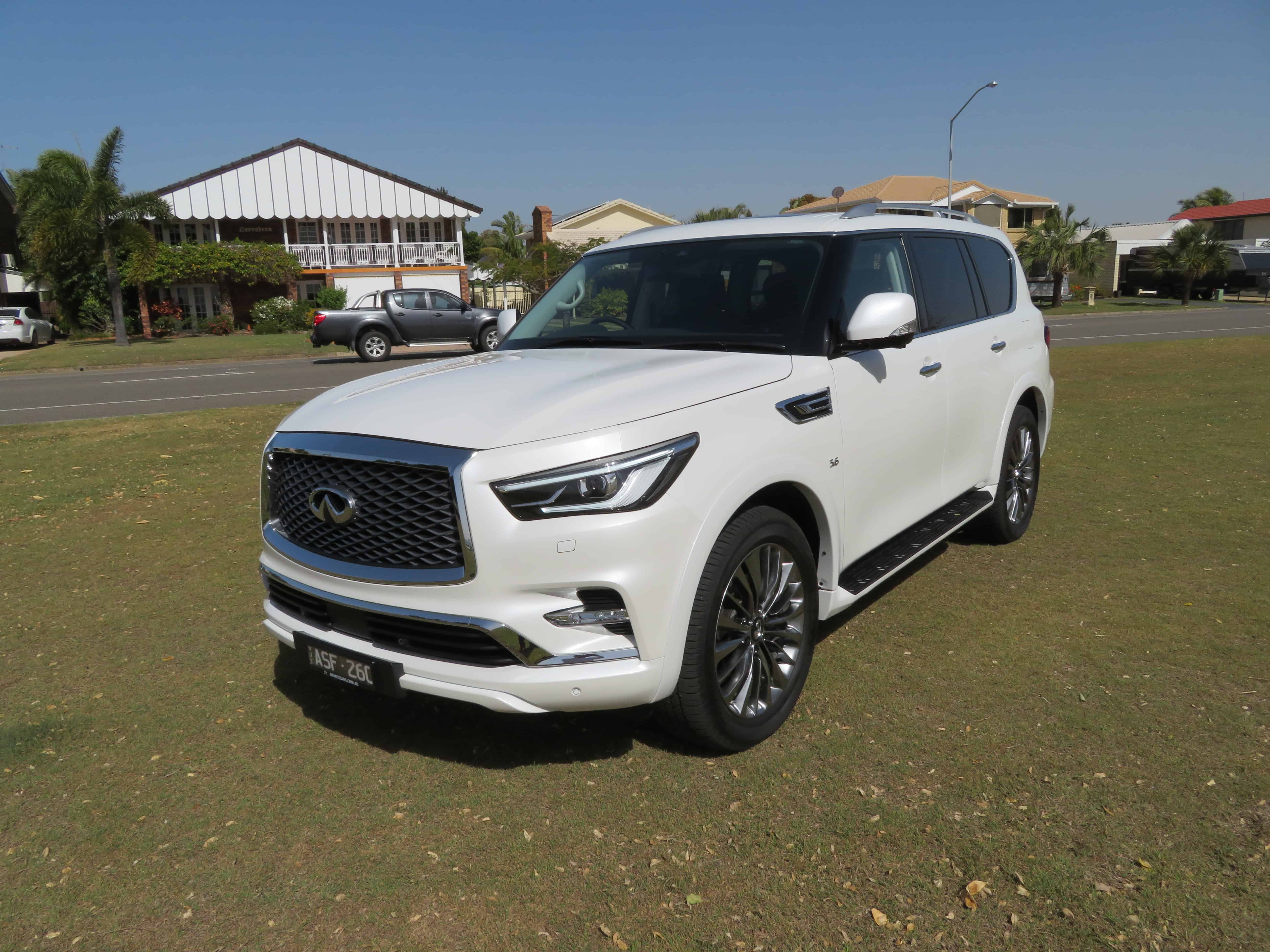 It's big. It's beautiful. The Infiniti QX80 is arguably the largest full-size SUV available in Australia.
Infiniti QX80 – PRESENCE. POWER. POSSIBILITIES.
"Harness the road's boundless potential, as well as your own, in the QX80. Exceptional capability, inspired design and a luxurious expanse converge for an experience that challenges the limits of your next journey."
Hi, Bob Aldons, The Car Guy with a review on the Infiniti QX80, a large SUV. Infiniti has limited the number of QX80's coming to Australia as have Nissan with the Patrol. Arguably, both companies have researched their market and don't expect to be a Lexus or Toyota yet. Infiniti expects to sell around 100 of this model for the entire year.
What is it? Infiniti QX80 is one of the largest SUV's available anywhere in the world if you ignore custom built off-road vehicles. It seats 7  comfortably in three rows of seats. How big? Think Lexus LX570 or Landcruiser 200 and bigger. And a lot of prospective buyers ask why it isn't available in diesel? Infiniti QX80 runs a stonking 5.6 litre V8 petrol engine. Simple answer really. The QX80 is pointed at the luxury end of the US market and over there a V8 petrol engine is king.
Competition. Full-size SUV's aren't numerous by any stretch. As mentioned, Landcruiser 200 Sahara, Lexus LX570, Range Rover 5.0 Vogue, Mercedes GLS 500,
Price. Infiniti QX80 starts off at $100,329 plus on-road costs taking it $123,825 drive away in Queensland. In this class of vehicle, it's relatively close to the Landcruiser Sahara in price and way cheaper than any of the others. The Lexus LX570 retails at over $143k so value for money on the Infiniti QX80 is fantastic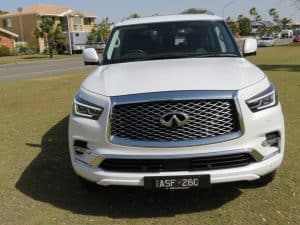 Front: The Infiniti QX80 has a presence. A massive grille with chrome highlights, enormous bonnet and quaint headlights, if you're coming up towards traffic, there's no doubt that the car in front will notice you. Under the bonnet is a 5.7-litre V8 engine with a 7-speed automatic transmission.
The Infiniti QX80 also has the benefit of low range 4WD which takes it above and beyond the likes of the large SUV class – Kia Sorento, Hyundai Sante Fe Ford Everest, Isuzu MU-X, Toyota Prado, Mitsubishi Pajero and Pajero Sports and others
Down the Side:
There's no doubting that the Infiniti QX80 is big – in any sense of the word, there's no escaping its size. It can be a little difficult to get in and out of this vehicle and the large side steps are handy to assist.  If you're interested, you can access the full specification information from the Infiniti Cars website.
Infiniti QX80 – Safety and Security
Anti-theft system

Backup Collision Intervention (BCI)

Blind Spot Warning (BSW) & Blind Spot Intervention (BSI)

Brake Assist (BA)

Child safety rear door locks / 2nd-row ISOFIX points

Distance Control Assist (DCA)

Forward Emergency Braking

Forward Collision Warning (FCW)

Front-seat Active Head Restraints (AHR)

Predictive Forward Collision Warning (PFCW) & Forward Collision Warning (FCW)

Intelligent Brake Assist (IBA)

Intelligent Cruise Control (ICC)

Lane Departure Warning (LDW) & Lane Departure Prevention (LDP)

Remote keyless entry system with selective unlocking

Roof-mounted curtain side-impact supplemental air bags with rollover sensor

Second-row outboard 3-point height adjustable seat belts

Third-row 3-point seat belts

Vehicle Dynamic Control (VDC) with Traction Control System (TCS)

Zone Body construction with the reinforced passenger compartment and front and rear crumple zones
Infiniti QX80 – Technology
8-inch VGA colour touch-screen display

Around View® Monitor with Moving Object Detection and Front and Rear Sonar System

Auxiliary audio/video input jacks

Bluetooth® Hands-free Phone System

Dual 8-inch colour monitors for multimedia video playback integrated into the front headrests

Infiniti Controller for navigation, audio, climate control, fuel economy, maintenance, and comfort and convenience features

Infiniti Hard Drive Navigation System
Rear End: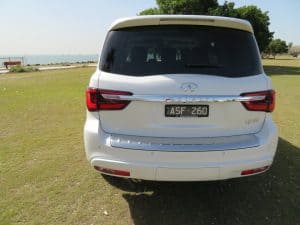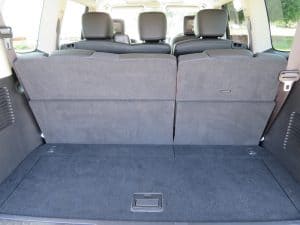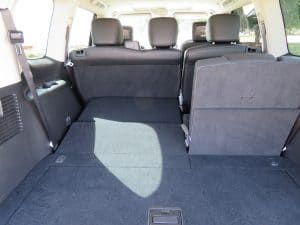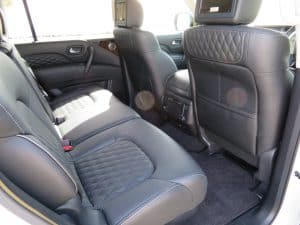 What I Like
Thumping V8 engine
Stadium-sized interior
Style matches the size
Needs Improvement
The suspension is a bit harsh on rough/rutty surfaces
No diesel option
Old style technology
The infotainment screen needs you to push a button from either the steering wheel or infotainment screen.

Green Vehicle Guide
The Federal Governments Green Vehicle Guide (http://www.greenvehicleguide.org.au) presents laboratory tests of the fuel consumption of vehicles available for sale in the Australia market. instead of the politically correct term Urban, I use City, Highway and Combined to provide information. Later in the year or perhaps in 2019, we'll be provided with real-world fuel consumption numbers, and not before time.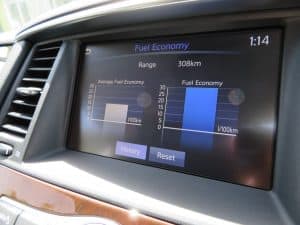 City (litres/100km)  20.9

Highway (litres/100km) 10.8

Combined (litres/100km) 14.5
During my week with the Infiniti QX80, I achieved around 15 litres per 100km for a mix of highway and city driving but skewed to more city use. For such a large and heavy vehicle, I was pretty impressed with those numbers. And if you refer to the Green Vehicle Guide, you'll see that my results are pretty much spot on with the published 'combined' numbers.
Towing: The Infiniti QX80 has almost unlimitless power, particularly for a vehicle that will be towing something large. Infiniti says that you can confidently tow up to 3500kg so that's more than enough for a VERY large caravan, boat, yacht or a multi-vehicle trailer.
As in all cases, I strongly suggest that you confer with the boat or caravan dealer to gauge exactly what you can and can't tow sensibly.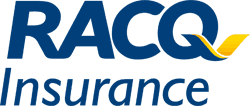 I generally use RACQ Insurance to give you a guide as to what you'll pay for your annual comprehensive car insurance. Conditions precedent for this cover are:
A male driver over 60 years of age, having held a license for over 10 years
Bronze member of RACQ with 2 other insurance policies
Has paid cash for the car for private use with the car parked in a garage overnight and another quote for business use
The driver resides in postcode 4019
The car is fitted with an engine immobilizer
1 at fault claim in the last 3 years, with no license suspensions
Rating 1 currently having held that rating 1 between 5 and 9 years
No driver under 25 will use the vehicle.
The premium quoted online by RACQ Insurance is:        Private Use – No Finance:  $715.30 with a $750 excess      
Variations from the information above may result in different outcomes. Check online with RACQ Insurance for your own particular quote.
Where to buy. My test vehicle was supplied by Infiniti Cars Australia and a big thank you to them. Presently Infiniti doesn't have dealer representation in Queensland. A new dealer is expected to be appointed shortly. In the meantime, Infiniti owners can have their vehicles served at Springwood. Call 07 3442 8270 or visit at 3468-3476 Pacific Highway Springwood Q 4127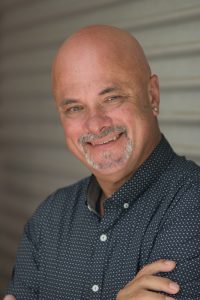 Hi,  Bob Aldons here, the owner and founder of The Car Guy, and Car Business, reviewing cars, reporting on car industry matters, car tech, Formula 1 and the world at large. I've spent the last forty years immersed in the automotive industry from salesman to the owner of a 7 brand multi-franchise dealership. I know cars.
Find One
If you're hunting around for a great price on your next new car, you should call the auto expert, Bob Aldons from Car Business. My company, a car Broker, Car Buyers Agent or Car Buyers Advocate based on the north side of Brisbane, will return your inquiry within 24 hours and make the process of buying a new car easy and stress-free.
Are you tired of salesperson tricks? I protect you from the pressure exerted by car dealer's salespeople. There isn't any obligation – just a pretty significant saving.
You're where? Seriously, my services are available for you in any Australian state and territory: from Darwin to Hobart, Cairns to Perth.  Car Broker Brisbane, Sydney, Melbourne, Adelaide, Perth, Hobart, and Darwin – I'm available when you need me to be.
Whether you're a small fleet or a large national fleet, Car Business will go to work and get that price down. Lower new car prices are my goal. So you'll get the best prices from me rather than hoping you can help yourself.
If I can't get you the best new car price, better than you can get yourself from a car dealer, I won't charge you any fee. No Saving, No Fee. – that's what you should expect from a car buying expert. 
Nissan 370Z – Why Should You Buy?     Nissan Navara ST 4×4 Dual Cab – Why Should You Buy

Car Business WILL save you money on your next new car purchase – guaranteed

The Australian Road Safety Foundation is a not-for-profit organization whose charter is to reduce serious accidents on our roads through training and education. Car Business donates to the ARSF for every car we sell. If you'd like to support this worthwhile foundation, donate to the cause, become a member today or just buy your next new car from Car Business