What does Mitsubishi say?
A New Generation of SUV
You don't need to change your life to drive an Outlander PHEV, but it will change your life. Outlander PHEV (Plug-In Hybrid Electric Vehicle) combines quiet, dynamic performance, exceptional economy and low emissions for a superior driving experience. With AWD stability and handling, advanced safety technology and the environmental benefits of a technically advanced electric drivetrain, Outlander PHEV is the fuel-efficient hybrid SUV for tomorrow that fits your life today.
What is it?
The first PHEV (Plug-In Hybrid Electric Vehicle) to appear on the Australian market, the Mitsubishi Outlander PHEV is still one of the few value for money PHEV vehicles in that market. Others are coming on stream, but Mitsubishi Outlander PHEV is still the family choice
Competitors? There still isn't too much competition in a full PHEV, but if you'd like to compare some here's a choice. The Outlander PHEV and Toyota's RAV4 are about the same size vehicle. The Toyota RAV4 Edge Hybrid goes for around $50,627, while the smaller Mazda CX-30 Hybrid is $50,755.
How Much? Mitsubishi Outlander PHEV starts off at $51,990, the GSR that I'm driving is $56,490 while the range-topping Exceed is $60,990 drive away
Exterior
MAterially the same as the non-PHEV Outlander, the PHEV is only available in a 5-seat configuration (got to put thos batteries somewhere). The overlall shape of the vehicle is pleasant to look at and design won't be the factor that stops you short of this brand and model
Interior
Again, similar to the ICE version Outlander, the interior is very comfortable for 5 passengers. The pilot (driver) is well taken care of with plenty of adjustment available, including electric seats and a great infotainment system. I'm not so impressed with the navigation system that Mitsubishi has chosen this time around – a Tom Tom unit is fitted as standard and that gives me great motivation to use the Apple Car Play/ Android Auto system
Pity that isn't wireless – I still have to use a cable to hook up
There's plenty of shoulder room, knee room for the rear seat passengers gets a tick. The luggage space is huge and there's no excuse to not carrying golf clubs, prams, strollers as well as family luggage for a week away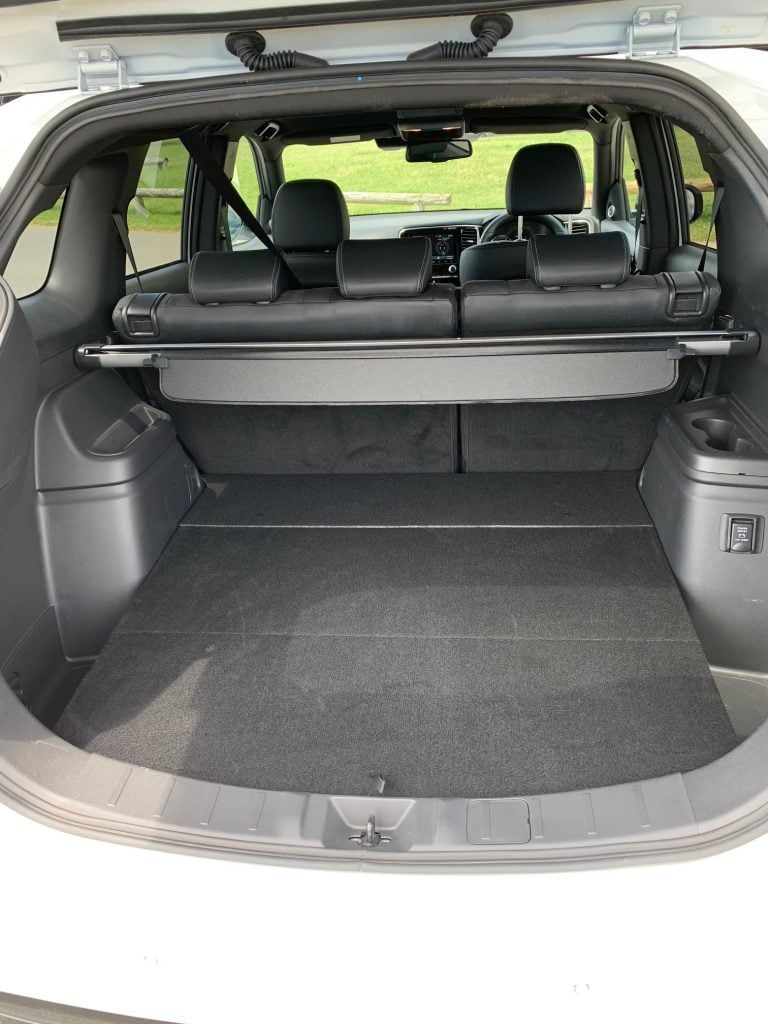 MY VERDICT
At A Glance
Price:                          $56.490 drive away in Queensland for the GSR           
Engine/Transmission  2.4 Litre petrol engine and 2 electric motors. Front at 60kw and the rear at 70kw.  This combination produces around 94kw of power and 199 Nm of Torque
Warranty/Service       Mitsubishi now has a 10-year warranty (150,000-kilometre limit) with accompanying roadside assistance and a 10-year capped-price service program. A 10-year warranty is extraordinary, to say the least, particularly for those of us who don't do a lot of kilometres. The only catch is that you have to service your vehicle through the Mitsubishi dealer network. If you choose not to service with Mitsubishi, the time drops to 5 years with 100,000 kilometres, so there's that.
The total 10-year cost of the capped-price service program is $4,890 equating to $489 per annum. (Effective @ 16th Feb 2021)
Insurance                     I always get a comprehensive insurance quote from RACQ online. I use my personal details to get a number, but you should use your own to get a comparison. Whenever I have a car insurance policy due, I always get quotes from a number of companies. Just because they advertise on the radio and television extensively, don't change the way you price compare. 
When I check the price for the Mitsubishi Outlander PHEV the website tells me I'd be paying $754.31  
Safety                         According to ANCAP, the Mitsubishi Outlander was tested in 2014 – 7 years ago and at that time achieved a 5-star rating.  Frankly, I'd ignore the rating and instead look a the safety feature package in this Outlander PHEV. Personally, I'd consider that if tested in 2021, it would achieve 4 stars – only because it doesn't have Lane Change Assist in this model. The Exceed on the other hand would perhaps achieve 5-stars as it does. 
Load Area              With both rows of seats being used, the luggage space is 463 litres. With the second row stowed, this increases to 1602 litres, sufficient for luggage for four adults  
What she thinks        Mrs Aldons has been in the car business nearly as long as I have. She started with "Jubilee Ford" in 1977. So I'm asking Suzi to give me some feedback on the cars that I test drive. Here's what she had to say about the Mitsubishi Outlander PHEV. 
"It's so quiet" and "I feel really comfortable in the passenger seat and my friend found the rear seats to be roomy too." "The driver's seat position seemed a bit complicated, but I'd get used to it pretty quickly I think".
Active Safety
Forward Collision Mitigation system (FCM) with pedestrian detection S2
Lane Departure Warning (LDW)
Blind Spot Warning (BSW) S3
Rear Cross-Traffic Alert (RCTA) S4
Automatic High Beam (AHB)
Emergency Stop Signal Function (ESS)
Emergency Brake Assist system (EBA)
Active Stability Control (ASC)
Active Traction Control (ATC)
Anti-lock Braking System (ABS)
Electronic Brakeforce Distribution (EBD)
Adaptive Cruise Control (ACC)
Electrochromatic rearview mirror
Electric park brake with brake auto-hold function
Automatic dusk sensing headlights and Automatic rain-sensing wipers
Rear wiper and washer with Intermittent rear wiper and washer
Front and Rear parking sensors
Which Dealer?
Whenever I'm looking for a new car dealer, I always search on Google.
In this case, if you searched for "Mitsubishi Dealers" and then the city (Brisbane) you'd be presented with dealers who score more than 4 stars. For those living on the Gold or Sunshine coasts, I've listed a dealer for you too.
| | | |
| --- | --- | --- |
| Brisbane Northside | Nundah Mitsubishi | 4.3 Stars |
| Brisbane Southside | Motorama Mitsubishi Springwood | 4.6 Stars |
| Brisbane Eastside | Bartons Bayside Mitsubishi | 4.8 Stars |
| Brisbane Westside | Toowong Mitsubishi | 4.2 Stars |
| Gold Coast | von Bibra Mitsubishi – Helensvale | 4.9 Stars |
| Sunshine Coast | Cricks Nambour Mitsubishi | 4.4 Stars |
-Advertisement-
Hello. I'm Bob Aldons, the owner and editor of The Car Guy. 
The Car Guy is an independently owned car review website. I'm currently testing cars for Mazda, Nissan, Kia, Suzuki, Mitsubishi, Renault, Subaru, Genesis and Hyundai. Through Mercedes AMG Petronas Motorsport I'm again this year writing about the Formula 1 season.
I'm not paid by any car company for my opinion and my companies don't receive advertising revenue to say nice things about them. I call it as I see it. 
However, I also own a new car brokerage company – Car Business. Being able to review new cars gives me an opportunity to provide accurate information on these brands. If you're in the market for Any New Car Cheaper, contact me at Car Business and see how I go about saving you some serious money.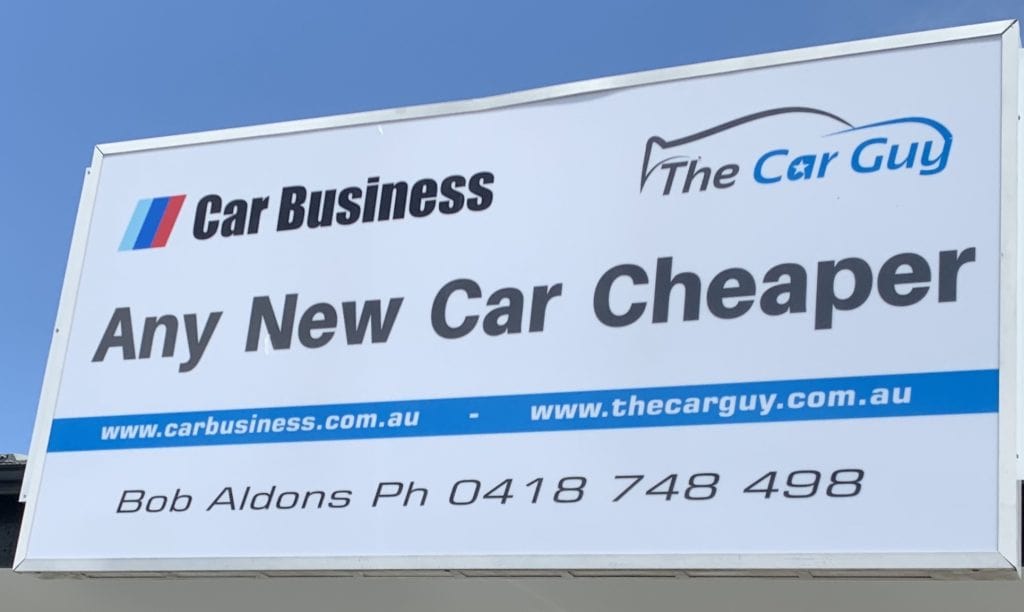 Perhaps you think that you can do the job of buying a new car yourself? If you're after any advice at all, give me a call and ask me any question that you need to be answered. I'll put your negotiation skills to the challenge against my own. Let's see who can buy a new car cheaper, without all the fuss.
I'm often asked "I'm an Australian Defence Force Veteran. How can you help me to buy a new car?" There are various levels of eligibility for Veterans. Starting with the highest DVA Concession, this with a GOLD CAR TPI eligibility general buy GST Exempt, they don't pay stamp duty and get concessional registration. If you're an Australian Defence Force Veteran and haven't seen these Facebook sites,  DVA Gold Card Benefits & Concessions – check it out by clicking here. The second Facebook page for Veterans is called DVA Entitlements. If you're not a member, check it out here
There's a particular process that I use to get the biggest discounts for Veterans – dealers try not to pass on everything – so let me help, obligation-free.
If you're an Aussie Veteran, I take particular pride in looking after of you. For every car that I source and deliver, I donate part of my fee to Mates4Mates.  My fee is reasonable and I'm all about making sure that I help you buy any new car cheaper. Of course, and it won't be a surprise, new car dealers want to make as much profit as they possibly can.