Real Estate Guru (Image Property Consultants) and sponsor of the Redcliffe Dolphins Juniors, Andrew Reibelt, has owned a Jeep Gladiator Rubicon Launch Edition since it was released onto the Aussie market in August 2020. My first question to Andrew? How's it been? Have you had an issues?
With a very positive response, Andrew told me that the Jeep Gladiator had been fantastic. Apart from damaging a couple of windscreens, he hasn't had any issue at all. Andrew has a rural property with dirt roads and the Gladiator is perfect for his needs. And referencing the V6 3.8 engine, he said that he hadn't missed a diesel at all. Andrew has been in Redcliffe for about 29 years, from 1994 when he came down to play footy with Redcliffe. Over the years, in real estate (since 1998) he's purchased a lot of vehicles through me for personal and business use.
He did me a favour and showed me two features that I wasn't aware of. Behind the back seat is a Jeep radio for 'entertainment' when off road away from the vehicle. And as importantly, a gun rack, located (and lockable) under the rear seat. They do think of most things.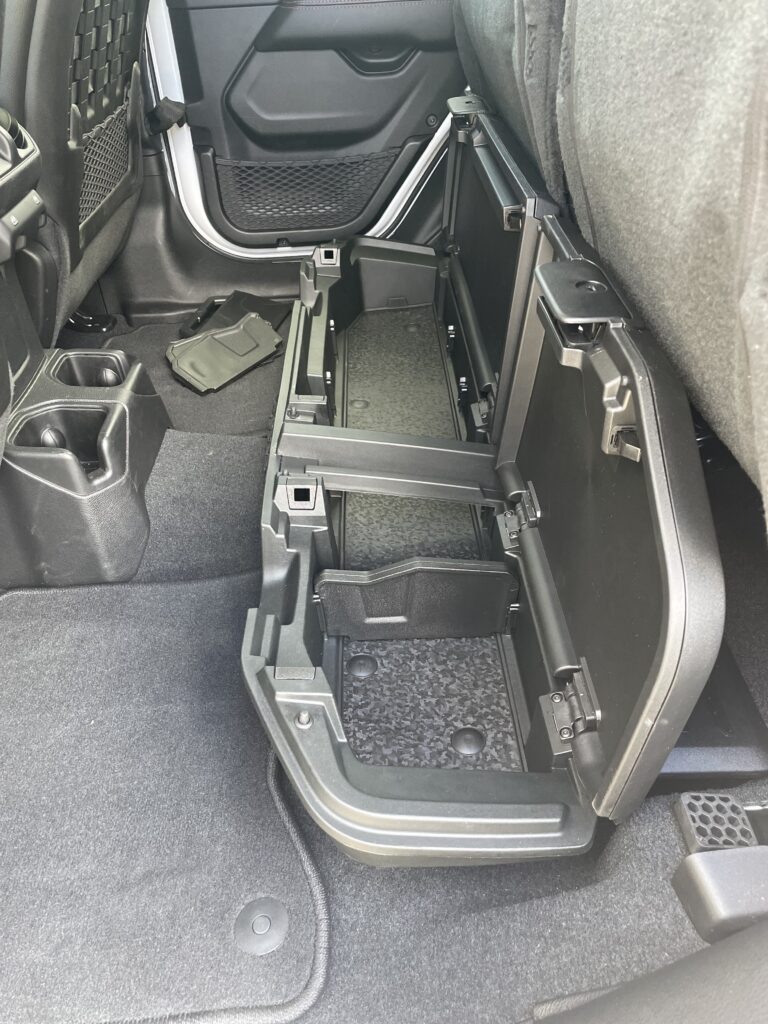 Northstar Motor Group was invited to take the Chrysler Jeep franchise in late 2003 for North Brisbane and we did without too much fear. Over the next 12 years, Fiat Chrysler as it became, was a magnificent contributor to our volume and profitability. However the Jeep part of the business with Grand Cherokee and Jeep Wrangler in particular was the standout. Our dealership was awarded numerous National Dealer of the Year awards during that time, a feat unequalled by the local dealer today.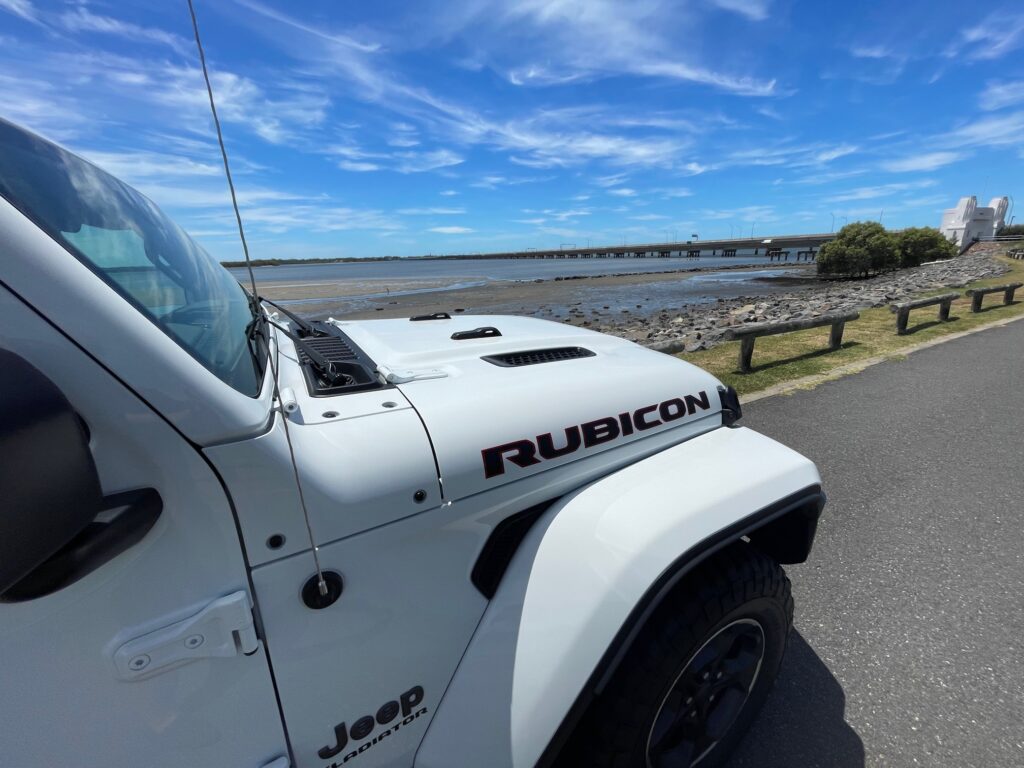 Jeep Gladiator Rubicon Price
It's not cheap. The Jeep Gladiator Rubicon retails for $87, 250 drive away in Queensland, but it does provide you with the Jeep reputation for go anywhere driving. Locable front and rear diffs and electronic front sway bar disconnect adds to the purposeful strength of the Gladiator
What Jeep Has to Say
"The Jeep Gladiator Rubicon is one of the most capable 4WD utes in Australia and a whole lot of fun to drive" – Marcus Craft, Carsguide
"Despite the highly-competitive high-end ute market I would certainly have the Gladiator Rubicon on my short-list if I was after a dual-cab for fun as much as practicality. This would be an ideal vehicle for someone who needs a ute for light duties during the week but likes to get way off the beaten track on weekends." – Stephen Ottley, SpeedCafe
"I'll be honest, part of me didn't want to like the 2021 Jeep Gladiator Rubicon. Truth is, I don't like it, I love it." – Sam Charlwood, Carsales
Jeep Gladiator Features
Rock-Trac® Active On-Demand 4×4 System (4:1 Transfer Case)
77.2:1 Crawl Ratio
Tru-Lok® Front & Rear Locking Differentials
Electronic Front Sway-Bar Disconnect
FOX aluminum-bodied 2-Iinch diameter shocks (front/rear)
Off-Road Plus Mode
32-Inch BFGoodrich Off-Road Tyres (255/75R17)
17-Inch Granite Crystal Alloy Wheels
Steel Rear Bumper
Rubicon Hood Decal
Front and Rear Floor Mats
Increased Payload
Jeep Wave Commitment
Adventure, with peace of mind included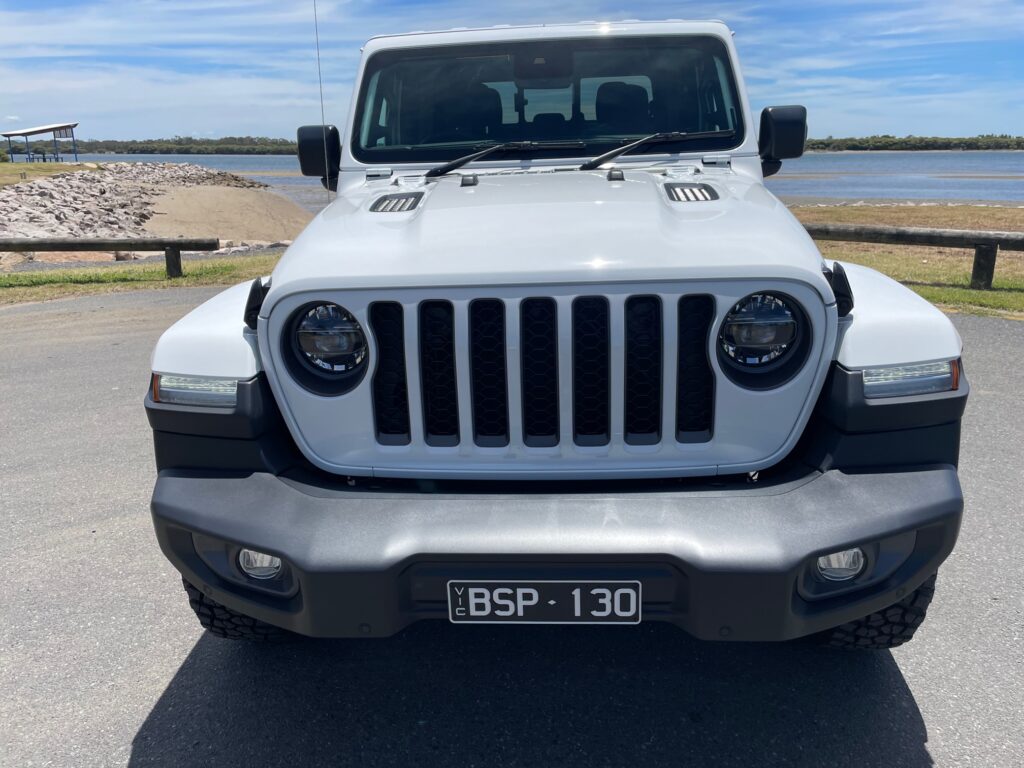 Engine/Transmission
The Jeep Gladiator comes with a 3.8 V6 Pentastar Engine and 8-Speed Automatic Transmission. Back in the day, we had a choice of the V6 petrol engine and a diesel option too. The diesel option has been dropped but it's anticipated that Jeep will introduce both a hybrid and EV powertrain in the near future. Unfortunately, the Gladiator doesn't get the optional 6.4 Litre Hemi which is available in the USA and other left hand drive markets.
Jeep Gladiator Rubicon Safety
Electronic Stability Control
Hill Start Assist
Traction Control
Electronic Roll Mitigation
Trailer Sway Control
Heavy Duty 4-Wheel Disk Brakes with ABS
Sport Bar
Remote Keyless Entry
Remote Proximity Keyless Entry
Sentry Key Theft Deterrent System
Security Alarm
4 Airbags (2 Front, 2 Side Seat)
Parkview Reverse Parking Camera
ParkSense Rear Park Assist System
ParkSense Front Park Assist System
Adaptive Cruise Control with Stop
Full Speed Forward Collision Warning Plus
Blind Spot Monitoring
Rear Cross Path Detection
Tyre Pressure Monitoring Display

All Jeep vehicles come with a 5 year / 100,000 kilometre warranty. The first 5 services are capped at $399. Service intervals are 12 months or 12,000 k's. And if you service at a Jeep dealership, you're eligible for a life-time roadside assistance program. There is some fine print in the roadside assistance program so make sure that you're aware of the limitations before you travel off-road.
Comprehensive Car Insurance
The first company I go to for a quote is typically RACQ. For the Mitsubishi Pajero, RACQ have quoted me $1256.95 with a $850 Excess. But remember this quote is for my personal history and will vary when you input your details. I chose Alliance to get a second offer. Allianz quoted me $977.82 with the same $850 excess, so nearly 30% cheaper than RACQ
The strongest advice I can give you is to never buy or renew with your historical company without price checking. You should get at least 2 quotes to ensure that you've got the best deal from a reputable company
When I was in primary school, teachers issued reports to show my parents and me what I'd achieved during the school year. I really liked the simplicty of the system, so thought I'd share my thought on the good and not so good of the test vehicle
| | |
| --- | --- |
| Well Done | Could Have Done Better |
| Plenty of power | Infotainment screen is very small |
| Plenty of room for 5 | I would like a diesel or V8 option |
| Advanced safety feature for a serious off roader | No Lane Departure warning |
| Tows 3100kg braked and 750kg unbraked | No Wireless Car Play |
| Fantastic articulation through the suspension | Std Tyres aren't big enough for rock climbing activities. |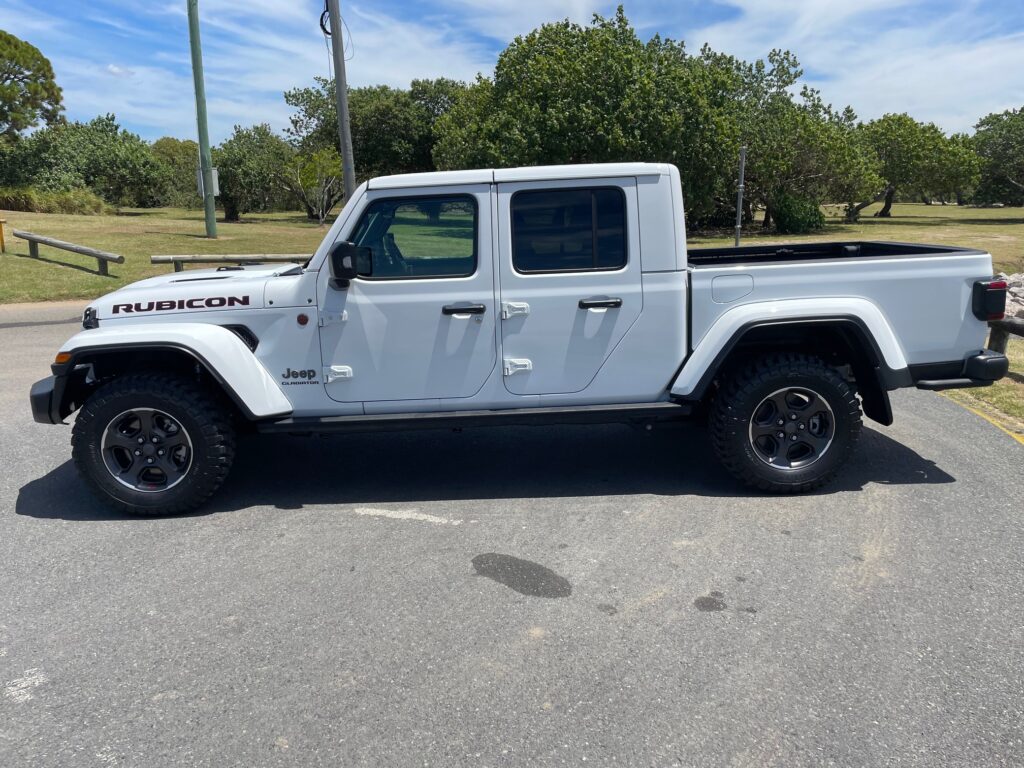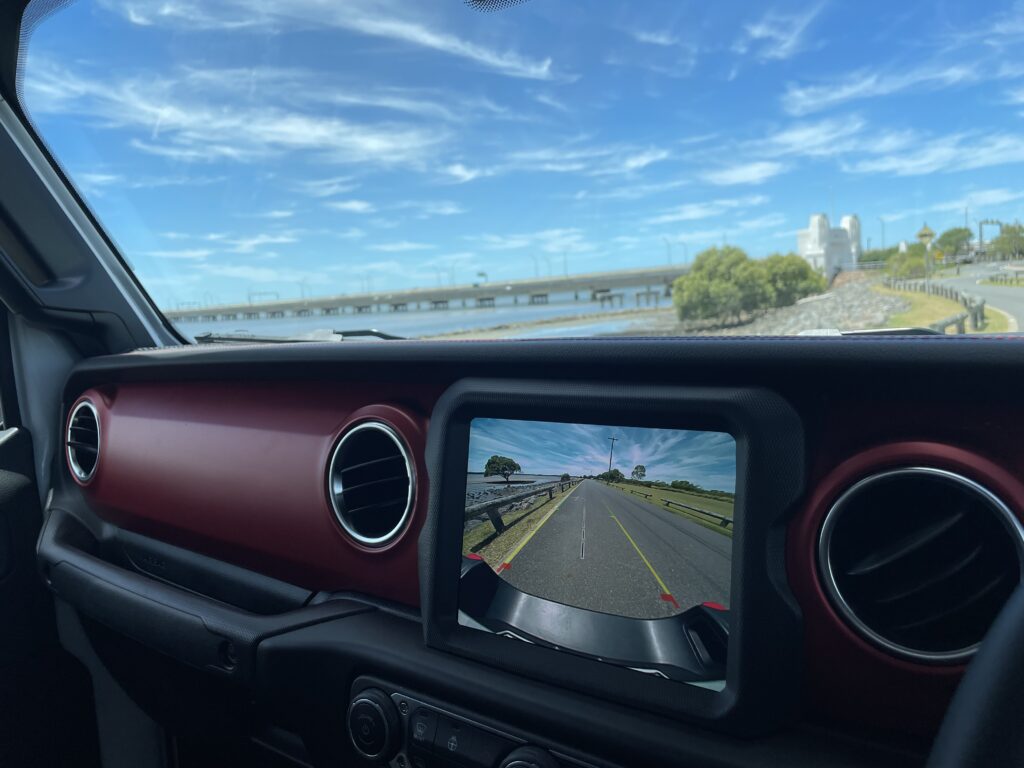 Summary and My Opinion
I'm so impressed with the Jeep Gladiator. It has plenty of room, a good sized bed, and the necessary tech to get you out into the great Aussie outback and back again. Jeep Wrangler and Gladiator is one of the most 'dressed' vehicles on the market and you can reliably spend thousands more to get all the stuff that you want.
A little bit of axle tramp on take off, and understandably the off-road tyres are noisy. But really nothing that would stop me from having a Jeep Gladiator in my garage
Easter Eggs – Jeep Gladiator Rubicon
It's not Easter as yet, but the folks at Jeep have added Easter Eggs into the Jeep Gladiator. Easter Eggs are the surprise when you look carefully over your Jeep. I'm told thats there's 7 hidden around the Jeep Gladiator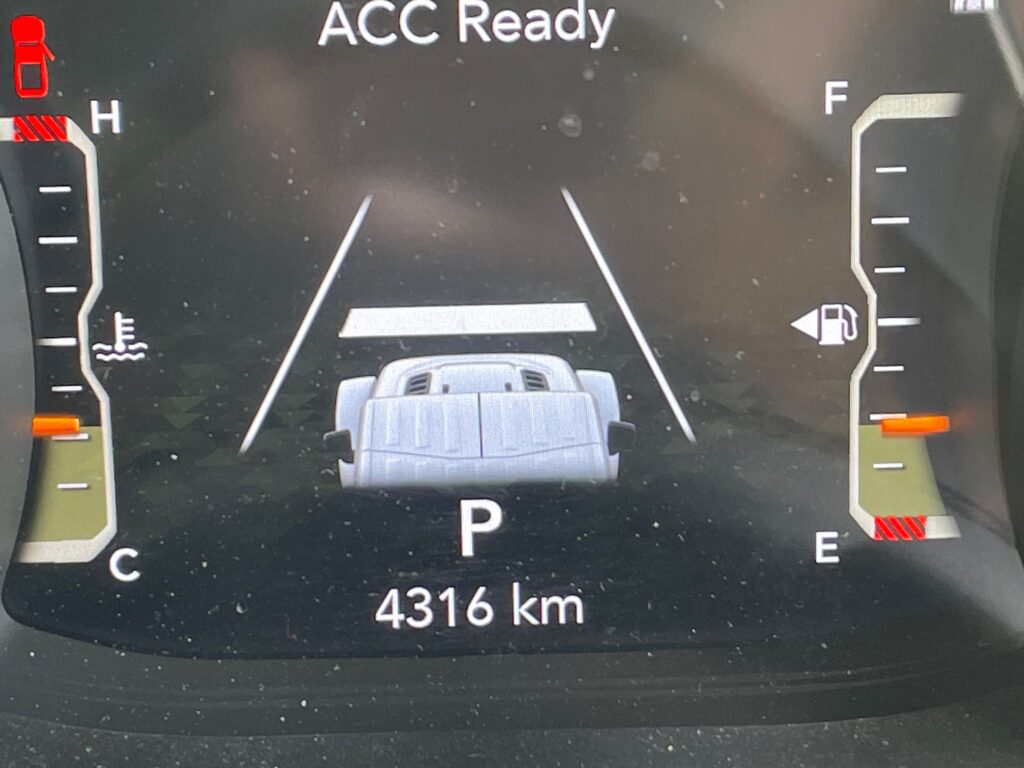 And for those of you who don't mind seeing the real vehicle doing its thing, here's a video of the Jeep Gladiator doing the Rubicon Trail in California USA, courtesy of Driving Line. Arguably, as far as I'm aware, we don't have anything similar down under, but I'm guessing it would do as good a job in the outback or mountain trails
And at about 9.01 in the video, the articulation of the Jeep Gladiator blows my mind. And at 19.30 you'll see Rubicon Trail legend, Bob Sweeney (7th Generation Rubiconeer) demonstrate the right way to climb seriously sized boulders, and straight after, how to extricate a damaged Jeep Unlimited.
For your interest Ali's Jeep Gladiator in this video has the following upgrades
40″ Nitto Trail Grapplers
139″ Wheelbase
Dynatrac Prorock
XD60 Axles
3″ JKS Suspension Kit with Fox 3.0 Shocks
So in summary about Jeep Gladiator and the Rubicon Trail – lets see you take your Toyota or Ford over this. Hoora!
-Advertisement-
Hello. I'm Bob Aldons, the owner and editor of The Car Guy. The Car Guy is an independently owned car review website. I'm currently
reviewing cars for Mazda, Nissan, Kia, Suzuki, Mitsubishi, Haval, MG, Hyundai, Genesis, Jeep, Alfa Romeo, Fiat, Polestar and GWM.
I'm not paid by any car company for my opinion and my companies don't receive advertising revenue to say nice things about them. I call it as I see
it. However, I also own a new car broker company – Car Business. Being able to review new cars gives me an opportunity to provide accurate information on these brands. If you're in the market for Any New Car Cheaper, contact me at Car Business and see how I go about saving you some serious money.
Perhaps you think that you can do the job of buying a new car yourself? If you're after any advice at all, give me a call and ask me any question that you need to be answered. Best to get me on 0418 748 498 or email to [email protected]
If you're an Aussie Veteran or serving in the military, I take particular pride in taking care of you. For every car that I source and deliver, I donate
part of my fee to Mates4Mates.