Don't Drive Distracted – Safety Advocate Wants More Discussion.
Just before 9.00am on December 31st 2015, I was sitting in my office working away when my Volkswagen Amarok and another car, a 1984 VK Holden SS Sedan were hit by a BMW sedan driven by a young female driver. A car following witnessed the BMW veer off the middle of the lane and hit our cars, which were parked.
The 20 something driver hadn't noticed the camber of Anzac Avenue as she looked at her mobile phone rather than the road ahead. Subsequent to the accident the police advised that not only had she been on her phone, but that she recorded an alcohol reading of 0.09. So a set of circumstances arose to cause $10,000 damage to my car, writing off the classic Holden for $12,000 and I'm sure the BMW for about the same amount – total for Driving Distracted was around $30,000.
It just doesn't make any sense at all to me that an inexperienced driver, under the influence would be texting or using her smartphone. And so I suppose that another question arises as to the responsibility of the smartphone makers to ensure that their product is safe, or can be made safe. And I'm going to add another point to this discussion. How long will it be before car manufacturers make the buckling of seatbelts a must before the car will start.?They certainly have the technology to do this now, but it hasn't hit anyone's radar.
Following is a story from an organization from the USA called www.fairwarning.org. I'm re-posting this story as it discusses in depth the problem with smartphones and the lack of input from governments, car manufacturers and smartphone suppliers.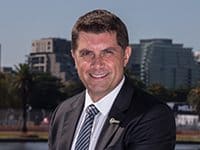 But, I've also reached out to a colleague of mine, Russell White from the Australian Road Safety Foundation. Car Business is a sponsor of the ARSF – we donate for every vehicle we sell, either new or used. Here's what Russell has to say.
Hi Bob,
Yes, I totally agree with everything in this article.
Technology got us into this situation so it clearly has a role to play in getting us out of it.
Whilst there is a personal responsibility on the drivers, in my opinion, there is an equal responsibility to the tech companies too.
Why is driver distraction such an issue?
According to the NHTSA there are four distinct types of driver distraction:
visual, auditory, biomechanical (physical) and cognitive distraction.
Visual Distraction – There are three different types of visual distraction.
The first form occurs when the driver's visual field is blocked by objects, such as stickers on the car's windscreen or windows or dark window tints, that prevent them from detecting or recognising objects or hazards in the road environment (Ito, Uno, Atsumi & Akamatsu,2001).
The second type of visual distraction occurs when the driver neglects to look at the road and instead focuses on another visual target, such as an in-car route navigation system or billboard, for an extended period of time.
The third type involves a loss of visual "attentiveness", often referred to as "looked, but did not see", and interferes with the driver's ability to recognise hazards in the road environment (Ito et al., 2001). The second type of visual distraction is of most interest in this review.
Auditory Distraction – Auditory distraction occurs when the driver momentarily or continually focuses their attention on sounds or auditory signals rather than on the road environment.  Auditory distraction can occur when listening to the radio or when holding a conversation with a passenger, but is ost pronounced when using a mobile phone  (Direct Line Motor Insurance, 2002).
Biomechanical (Physical) Distraction – Biomechanical distraction occurs when drivers remove one or both hands from the steering wheel to physically manipulate an object instead of focusing on the physical tasks required to drive safely such as steering in the appropriate direction or changing gears (RoSPA, 1997).
Cognitive Distraction – Cognitive distraction includes any thoughts that absorb the driver's attention to the point where they are unable to navigate through the road network safely and their reaction time is reduced (Direct Line Motor Insurance, 2002).
Talking on a mobile phone while driving is one of the most well documented forms of cognitive distraction however it can also occur when trying to operate in-vehicle devices such as route navigation systems.
It is important to note that these four forms of distraction, although classed separately, are not mutually exclusive.
For example, operating a particular device, such as a mobile phone, may involve all four forms of distraction: physical distraction caused by dialling a phone number or pressing buttons to receive a call; visual distraction caused by looking at the phone to dial a number or receive a call; auditory distraction caused by holding a conversation with a person; and cognitive distraction caused by focusing on the topic of conversation rather than monitoring any hazards or changes in the road environment.
DRIVER DISTRACTION: A REVIEW OF THE LITERATURE – MUARC 2003
This applies to any mobile conversation regardless of whether it is hands free or not.
Sending or receiving a text message or using the phone to email, checking Facebook while you're behind the wheel is worse still. It has all the downsides we've already covered and will dramatically increase the time that the person has their eyes off the road.
The best advice is, don't use a mobile phone while you're driving…full stop. In fact if your engine is on, turn your mobile off.
When you're behind the wheel you need to focus on just one job, driving the car.
Everything else is a distraction that could have catastrophic consequences.
As much as we'd like to, we can't split our concentration between two tasks, we're just not programmed that way.  Remember that it's not possible for us to do two things at once without compromising your focus. Doing so means that you are a crash going somewhere to happen.
Regards
Russell
"Just after noon on March 29, a pickup truck crossed the center line of a rural road in South Texas and slammed into a church bus, killing 13 members of the First Baptist Church of New Braunfels. A police report said the 20-year-old pickup driver, who survived, had taken medication and was texting. In other words, he was on two drugs, not one.
It was a particularly gruesome toll for a single crash, but in recent years thousands have died on the nation's highways, mostly in ones and twos, as a result of drivers fiddling with their phones. Despite more crashworthy vehicles, in 2016 U.S. traffic deaths reached 40,000, the highest number in years, according to an estimate by the National Safety Council. Distraction from wireless devices is widely suspected to be a factor.
Smartphones are portals to the internet and consciously designed to seize the user's attention. For some drivers, the ping of an incoming message is as irresistible as an open bag of potato chips on the passenger seat. The warning not to dial and text now seems quaint because drivers in large numbers are doing so much more: Reading and sending emails, viewing photos and videos, playing games, browsing social media and surfing the internet.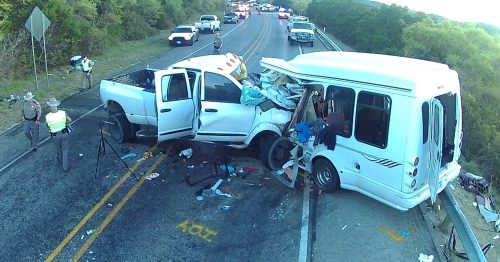 The main countermeasures–campaigns exhorting drivers to stay focused and ticketing violators of state bans on texting and hand-held use of phones–have had limited effect. Apps that can block electronic notifications, such as AT&T's DriveMode, are voluntary and easy for drivers to bypass or ignore.  Safety advocates want wireless companies to put the genie back in the bottle, or at least on a leash, when people are driving, by automatically blocking electronic distractions.
Christopher Kutz, a University of California Berkeley law professor, compared the situation to opioid drug makers "who distribute their product widely and then close their eyes to what seems to be a pretty inevitable risk of catastrophic misuse." Companies in the mobile ecosystem "should do much more to make it harder to consume while driving."
"The companies do have responsibility," said Deborah Hersman, president and chief executive of the National Safety Council. "These are devices that they put out. People are addicted to their phones, but connectivity has no place behind the wheel."
But industry members endorse the current strategies, which put full weight on personal responsibility and impulse control, and require next to nothing of them. They fiercely resist any limits on the way they design and market their enticing gadgets and, according to critics, have snubbed possible technological fixes that could curb drivers' temptations.
The industry is lobbying the Trump administration to kill proposed federal guidelines aimed at limiting distraction from smartphones and other portable devices. The nonbinding guidelines, issued in draft form in December by the National Highway Traffic Safety Administration (NHTSA), call on industry players to collaborate on technology that would disable distracting features of drivers' phones without blocking devices of passengers. Like other safety and health initiatives advanced in the waning months of the Obama administration, the guidelines could be scrapped.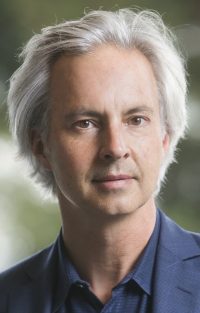 Leading the opposition are a pair of trade groups that are a potent force in Washington: the Consumer Technology Association, which represents 2,200 companies in the $321 billion-a-year consumer electronics industry; and the CTIA (formerly known as the Cellular Telecommunications and Internet Association).
Between them, the groups combine all segments of the mobile wireless ecosystem–telecom companies, makers of devices and operating systems, app developers and retailers—and include such household names as Apple, Google, Samsung, Qualcomm, AT&T and Verizon. According to the Center for Responsive Politics, the CTIA and Consumer Technology Association have spent $78 million and $23 million, respectively, on lobbying in Washington since the start of 2010. Their member companies have poured hundreds of millions more into lobbying and political campaigns. Both groups declined interview requests.
The "worst of government overreach"
In a letter in February to Transportation Secretary Elaine Chao and the White House Office of Management and Budget, technology association CEO Gary Shapiro claimed the guidelines represent "the worst of government overreach" and would stifle technological innovation. In a statement provided to FairWarning, the CTIA said: "We absolutely share NHTSA's goal of maintaining driver focus. But we favor a more flexible approach that takes account of the evolving nature of technology."
At times, CTIA officials appear to have exaggerated the difficulty of selectively blocking drivers' phones–as in their opposition to a bill in Massachusetts that would require that customers on family plans be offered at least one free app that can block cellphone use when their teens are driving. The group also declared unworkable a bill in New Hampshire to disable texting and email in moving vehicles.
In both instances, the group cited the so-called 'passenger problem'–that is, how to block a driver's phone without also locking out devices of passengers. "This technology mandate cannot make a distinction between the person driving the vehicle and his or her passengers," according to a November, 2015 letter  from a senior CTIA official to Massachusetts lawmakers. "In fact, the mandate cannot distinguish between someone in a car versus a passenger traveling on a bus, by rail, in a taxi, or any other mode of transportation."
But that statement appears to be misleading. Several firms (here, here and here) have developed software or hardware that can sense when someone is driving and selectively block their phone. "Too many lives have been lost," Rep. Carolyn Dykema, the sponsor of the Massachusetts bill, recently told FairWarning. "I'm very skeptical about the argument that we can't come up with a technology to address this."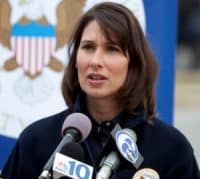 Apple, too, has found a solution to the passenger problem, according to one of its patents. The patent was submitted in 2008, but for some reason not issued until 2014. It states: "Texting while driving has become so widespread that it is doubtful that law enforcement will have any significant effect on stopping the process." The Apple technology is capable of selectively "disabling any function of a handheld computing device that may interfere with the safe operation of a vehicle by a driver."
The existence of the patent–and Apple's failure to deploy the lockout technology—became center stage in several lawsuits against the company, including a 2015 wrongful death case in federal court in East Texas. As previously reported by The New York Times, the case involved a driver who was texting on her Apple iPhone when she crashed her Dodge Ram into the rear of another vehicle and pushed it into oncoming traffic, where it was broadsided by a truck. A 7-year-old child was paralyzed and his grandmother and another woman were killed. Another case stemmed from the death of 5-year-old Moriah Modisette. She was killed by a driver who slammed into her parents' vehicle while using Apple's FaceTime video calling service.
Gregory Love, a lawyer for the bereaved families in both cases, said the patent showed that Apple understood the risks of drivers using iPhones, but decided to ignore them. "If you create the monster, you should have the duty to control it," he said.
However, the two cases were recently dismissed when judges ruled (here and here) that the drivers, not Apple, were solely responsible. The rulings are being appealed, and no cases have reached the discovery phase in which Apple could be required to explain why it has not deployed the lockout system.
Apple recently announced that the next upgrade of its operating system, iOS 11, due out in the fall, will feature a "Do Not Disturb While Driving" app that can silence messages and calls. Few details have been released but it appears that like other anti-distraction apps, use will be voluntary. Apple officials did not respond to several interview requests.

Smartphones have been around for barely more than a decade, yet U.S. users number 224 million. They have become such a potent cultural and behavioral force, particularly among teens and young adults, that it can be hard to remember what things were like without them. Psychologists and social critics have bemoaned the wasted time and social isolation that can result from being glued to a smartphone, but the situation is more fraught when compulsive users get behind the wheel.
Although education is a key part of the anti-distraction playbook, it appears that public awareness could not be much greater. A recent Google search of the term "distracted driving" turned up 3.25 million results. "In the realm of distracted driving, there appears to be little to no relationship between knowing risk and changing behavior," observed Paul Atchley, a professor of psychology at Kansas University.
According to a 2016 survey by the AAA Foundation for Traffic Safety, "Most drivers view texting and emailing while driving as a very serious threat to their own personal safety and consider it completely unacceptable." Yet "nearly 1 in 3 … admit to typing or sending a text message or email" in the past month, and "2 in 5 … report reading a text message or email while driving."
Research from AT&T was even more sobering. Although 95 percent of drivers disapproved of distracted driving, the survey found that 71 percent use smartphones while driving–including 61 percent who said they read or send texts; 33 percent who read or send emails; 28 percent who surf the web; 27 percent who use Facebook; and 17 percent who said they take a selfie or photo. Of the wireless carriers, AT&T is by far the most emphatic about the risks, stating: "It's not possible to drive safely while using a smartphone."
David Greenfield, a psychologist and co-founder of the Center for Internet and Technology Addiction, said the ping of a smartphone delivers a little burst of dopamine, a brain chemical associated with pleasure and reward.
And Ramsay Brown, co-founder and chief operations officer of Dopamine Labs, a Venice, Calif., artificial intelligence software firm, said that the smartphone "has been carefully engineered to habituate you to respond to it every time it makes any noise. … Now if you're just sitting around your dinner table and you decide your family is not as important as YouTube … I can't tell you how to live your crappy personal life," he told FairWarning. "But when you get behind the wheel of a car those habits don't disappear."
With smartphones constantly adding compelling new features, entrepreneurs and developers of anti-distraction technology saw a need and opportunity. But a number of these startups have failed, and the survivors have yet to become sustainable businesses. "There's a graveyard that is many acres in area that houses the individuals, the companies, the well-intended souls that have tried to address this problem," said Dan Abramson, a co-founder of Cellepathy, Inc., a developer of anti-distraction software.
Zero traction
The main barrier has been an inability to engage the big gatekeepers with their vast market reach–the makers of operating systems, manufacturers of handsets and wireless service providers. The big companies have been reluctant to embrace anti-distraction technology, observers say, because they do not see it as a moneymaker and fear a loss of customers if they limit functions of drivers' phones.
Among the casualties was Aegis Mobility, a developer of text-blocking software that launched in 2007 but went out of business last year. "We got zero traction" because "it was too difficult, too expensive and it had no return" for the major players, said Aegis founder Steve Williams. Timothy Smith, former Aegis chairman and lead investor, said the company burned through $17 million before giving up. "The market as we envisioned it…just never took off," he said.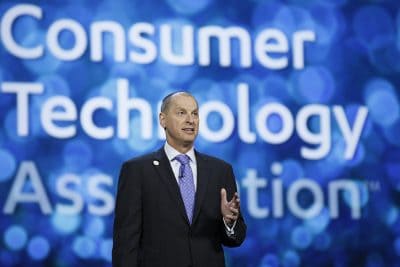 "It's a painful subject because I had so much of my net worth and my emotion and my time in it," Smith said. "This was something I thought could be part of a legacy" and "make people safer."
Erik Wood, founder of Otter LLC, another defunct developer of anti-texting software, started the company after seeing his 3-year old daughter nearly run over by a texting driver. Wood told FairWarning that at one point Otter seemed close to a partnership with handset maker Nokia, but the deal fizzled. Marc Kleinmaier, the former head of developer experience for Nokia North America, confirmed that he was "very enthusiastic" about the idea of preloading Otter's text-blocking software into new Nokia phones, "but at levels much higher than my pay grade there wasn't enough interest in getting it done."
"None of these companies are brave enough" to be the first, Kleinmaier said, "because they're afraid of the consumer backlash."
That worry makes this "a classic case for legislation," said Kutz, the Berkeley law professor. A company "that requires its consumers to jump through hoops is likely to lose a lot of market share to the other companies unless there's a common requirement."
Some surviving start-ups have pivoted from the gatekeepers to directly targeting two promising markets: Parents who want to police their teen drivers, and companies that have policies against on-road use of cellphones by employees but no way to enforce them. Cellcontrol, based in Baton Rouge, La., offers DriveID, a small hardware device that attaches to the windshield and allows parents or company fleet managers to block data, texts and calls to the driver without affecting devices of passengers. A spokesman said Cellcontrol has distributed 40,000 to 50,000 DriveID units.
Katasi, based in Boulder, Colo., also sees parents and fleets as prime markets for its device called Groove, which can blocks texts and other notifications. But Groove can be activated only via telecom company networks. In 2014, the firm seemed close to a breakthrough deal with Sprint before the company pulled back, according to a report in The New York Times.
Lying awake at night
Katasi founder Scott Tibbitts said he's come to understand that it isn't distracted driving deaths that keep industry CEOs awake at night, but how to lift the stock price. Their attitude, Tibbits said, is that anti-distraction technology "has to be a good business for us–We're not in the business of philanthropy." Even so, Ready Mobile, an Iowa-based marketer of pre-paid phone services, recently announced plans to offer Groove, and Tibbitts said he expects a deal with a major wireless carrier will be announced soon.
Others are pessimistic that effective solutions will reach a broad swath of motorists without a government mandate.
"Some type of regulatory or legislative action is required because the mobile ecosystem will not take action on its own,'' software developer Cellepathy said in comments filed with NHTSA. "Distracted driving safety technology is not something that will help sell more phones and therefore the profit motive will not drive development of such technology."
Such a mandate is nowhere on the horizon. Given powerful industry resistance and the Trump administration's anti-regulatory crusade, even guidelines may be dead.
****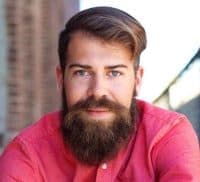 In December, 2011, the National Transportation Safety Board decided it had seen enough. Its investigations had implicated cellphone use in a string of deadly incidents: the 2008 commuter train wreck that killed 25 people in Chatsworth, Calif., a big rig-passenger van collision that killed 11 in Kentucky; and a truck and school bus crash in eastern Missouri that caused two deaths and 38 injuries. So the safety board called on states to ban all non-emergency uses of cellphones, except those, like navigation, that support safe driving. It also urged the industry to develop technology to block electronic distractions on drivers' phones.
The NTSB is an advisory agency with no regulatory powers, and its recommendation drew an acid response from the Consumer Technology Association (then known as the Consumer Electronics Association). "There is absolutely no real world evidence supporting such a blanket prohibition, unless one would also ban fast food, make-up application and engaging with children in the car."
At the time, Transportation Secretary Ray LaHood was making distracted driving a personal crusade, and a top priority for NHTSA. Drivers on cellphones were not the only problem. Automakers had launched an electronics arms race with built-in infotainment systems that they claimed made driving safer by enabling drivers to stay connected while keeping their eyes on the road and hands on the wheel. Many features of the built-in systems, and of smartphones, can be activated with voice commands. However, research has shown (here and here) that voice systems can also be complicated and distracting in the noisy environment of a car.
The softer path
Rather than attempt regulations to hold back the tide, NHTSA chose the softer path of guidelines. The first phase, adopted in 2012, focused on disabling the riskiest features of built-in infotainment systems. The guidelines called on automakers to lock out certain tasks–watching video, typing text messages, browsing the web and social media–unless a car is in park. Other tasks meeting a "two second rule"—the driver could perform them without looking away from the road for more than two seconds—would be allowed. Critics have blasted this as reckless, noting that in the space of two seconds a car going 60 miles per hour travels 176 feet.
NHTSA next turned to drafting the portable device guidelines that are now under review. The proposal calls for the industry to deploy a Driver Mode that automatically disables manual texting, games, social media apps and Internet browsing by the driver, without blocking passengers' phones. Other tasks that meet the two second rule would be permitted by pairing smartphones with in-vehicle electronics and using their screens and controls.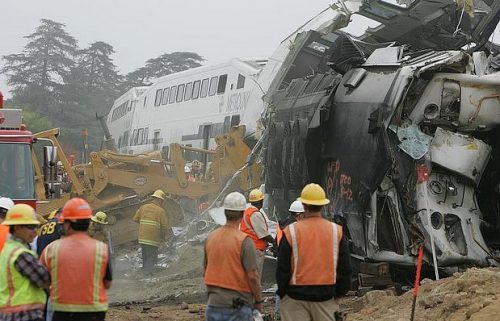 Some commenters have applauded. "This issue should have been taken care of long time ago to jam cellphones while vehicles are in motion," the safety director for a trucking company said in a comment submitted to NHTSA. "Great idea and please get this rolling. Lives depend on it."
A write-in campaign by the American Motorcyclist Association generated more than 1,500 biker pleas for NHTSA to act. Most were form letters, but some cited near-death experiences at the hands of distracted drivers. "My wife and I are both motorcyclists," one wrote. "Last year she was nearly killed when a texting kid in a pickup truck crossed the center line. Without her keen attention to the road ahead and expert evasive action she would have gotten clipped leaving behind a heart-broken husband, 4 kids, and 4 grandchildren."
Others complained that the proposal is weak, or rejected the idea of voluntary measures altogether. Christopher A. Hart, who until March was chairman of the NTSB, said that by accepting some infotainment features, the guidelines send "the wrong message to states and the driving public." Similarly, the nonprofit group Advocates for Highway and Auto Safety said voluntary guidelines are "woefully insufficient to address this public safety epidemic."
Unyielding opposition
Given their nonbinding nature, the industry's unyielding opposition might seem disproportionate. But industry officials say their members would be under strong pressure to comply, in part to avoid liability exposure in distracted driving cases. They further contend that NHTSA, while empowered to regulate vehicle designs, has no legal authority over portable devices.
The guidelines represent a "dangerously expansive" assertion of NHTSA's authority and "could have a sweeping effect on the multibillion-dollar market for mobile devices and apps," the Consumer Technology Association warned in its letter to Transportation Secretary Chao and OMB.
Industry groups had raised this challenge before but were rebuffed by Obama administration officials, who said NHTSA was on firm legal ground. Several Republican lawmakers, including chairmen of four key House panels, had channeled the industry's arguments in a November, 2014 letter to then Transportation Secretary Antony Foxx. "The activities being conducted by NHTSA in its development of the Guidelines are beyond the scope of its authority," the letter said. The technology association enclosed the congressional letter with its February letter to Chao and the OMB.
More Coverage:
While Assailing Driving Distractions, Automakers Pack in Tempting Gadgets
U.S. Seeks to Limit Risk From Auto Infotainment
Do Cell Phones Kill 1,000 People a Year?
The signers were GOP representatives Fred Upton of Michigan who, at the time of the letter was chairman of the House Energy and Commerce Committee; Bill Shuster of Pennsylvania, chairman of the Transportation and Infrastructure Committee; Greg Walden of Oregon, then chairman of the Communications and Technology Subcommittee; and Lee Terry of Nebraska, then chairman of the Commerce, Manufacturing and Trade Subcommittee (Terry left Congress after his re-election defeat in 2014).
All four had received campaign support from the Consumer Technology Association and CTIA, and considerably larger sums from member companies such as Verizon, AT&T and Google. The two trade groups have donated $56,750 to Upton's campaigns and leadership political action committee in the last decade; $38,750 to Walden and his leadership PAC; $23,500 to Shuster and his leadership PAC; and $28,500 to Terry, according to data from the Center for Responsive Politics. Emails and calls to their congressional offices were not returned.
NHTSA officials declined to be interviewed about the guidelines, but said in an email that they are reviewing the comments "and will consider this information … as we make decisions about whether, how and when to move forward."
Ironically, distracted driving is considered such a daunting problem that it has fuelled enthusiasm for the automotive and tech worlds' shiny new thing: driverless cars. As the technology association said in comments to NHTSA, "the best and ultimate solutions" for distracted driving "are the technology and path to the driverless car."
Some new cars and trucks already have autonomous features, such as automatic emergency braking and correction for drifting out of lanes. But some experts think it will be many years before fully self-driving cars will be even as capable as the flawed human motorists they are meant to replace. And some are concerned that, in the meantime, efforts to combat distracted driving will wane in expectation of a magic bullet.
Douglas H. Weber, a senior researcher for the Center for Responsive Politics, contributed to this story.

If you're hunting around for that great price, perhaps you should call the auto expert, Car Business. Our company, based on the north side of Brisbane, will return your inquiry within 24 hours and make the process of buying your new car easy and stress-free. We protect you from the pressure exerted by car dealer's salespeople. There isn't any obligation – just a pretty significant saving.
We can deal with you in any Australian state and territory: from Darwin to Hobart, Cairns to Perth. If you're buying a new super car, it may be an issue, but any other brand is accessible.
If you've got a vehicle to trade, we have some clever ways to maximize the value – from used car dealers keen for your car to assist you to sell it privately. Finance and Insurance? We can handle that too, and we promise you will not be paying exorbitant dealer markups there either.
So, to get the best new car price, talk to others and then talk to Car Business. We have got the experience to handle the dealers and achieve the cheapest new car prices. If you think you're entitled to fleet pricing, we can often get better than that too. Whether you're a small fleet or a large national fleet, Car Business will go to work and get that price down. Cheaper new car prices are our goal. So you'll get the best Ford prices from us rather than hoping you can help yourself.
If we can't get you the best new car price, better than you can get yourself from a car dealer, we won't charge you any fee. No Win No Fee. – that's what you should expect from a car buying expert. 
Car Business WILL save you money on your next new car purchase – guaranteed.