Hello and welcome. Bob Aldons, The Car Guy with the press release from Audi on the exclusive Audi R8 V10 plus Coupe Neuberg Edition.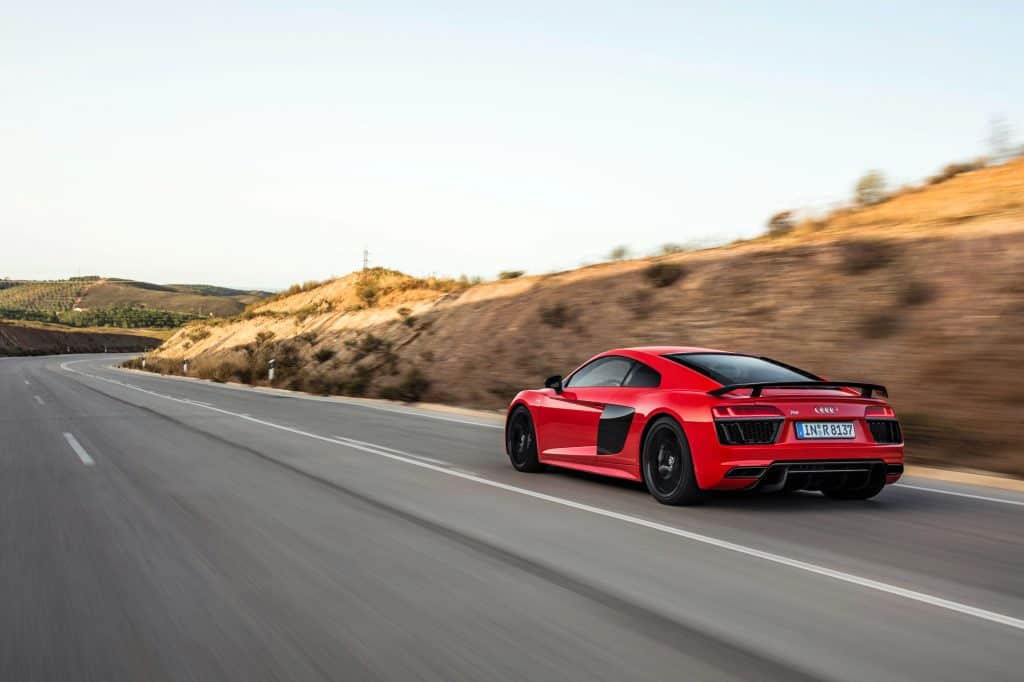 There's a lot to be said for an Audi R8 let alone this Audi R8 V10 plus Coupe Neuberg Edition. Build quality will be excellent, engine output is staggering at 449kW but will it be value for money for the 10 customers who have pockets deep enough to buy one. At $402500, it's cheaper than the 'normal' V10 by $500 but gets lots of goodies including an exclusive bespoke set of Bang & Olufsen headphones, Samsung Galaxy Tab S2 as well as a video of the car driving around Phillip Island.
And yes, this Audi R8 V10 plus Coupe Neuberg Edition has Nappa leather, Alcantara headlining, and special treatment to the shifter and steering wheel. Audi has tried manfully to turn this model into a desirable supercar, but I'm not sure if it succeeds compared to Lamborghini, Ferrari, and Porsche. But at least Audi has provided an entry point car way below the price of its supercar competitors.
So, let's read what the PR people at Audi have to say and wonder where the 10 lucky souls will come from.
 Limited edition of only 10, individually numbered cars produced exclusively for the Australian market
Outstanding Audi exclusive equipment, additional carbon components, and  interior highlights
Scintillating performance and exclusive specification for $402,500*
Zetland, 12 December, 2017 – Audi has announced the production of an exclusive, limited edition Audi R8 V10 plus Coupe Neuberg Edition specifically developed for the Australian market. Strictly limited to just 10 individually numbered vehicles, the Audi R8 V10 plus Coupe Neuberg Edition is named after the Audi Sport headquarters in Neuburg, Germany, and represents an exclusive embodiment of the brand's proud motorsport heritage.
Powered by the award-winning 5.2-litre FSI V10 engine, the limited edition R8 produces 449kW and 560m, and is capable of reaching 100km/h from rest in just 3.2 seconds on its way to a top speed of 330km/h.
A seven-speed S Tronic transmission and Quattro permanent all-wheel drive combined with the lightweight carbon fibre and aluminium construction of the Audi Space Frame (ASF), for a vehicle with not only extraordinary power to weight ratio, but the highest levels of handling and grip even at the extremes of performance.
The R8 Neuburg Edition builds on the already impressive specification and equipment of the R8 V10 plus, adding a host of additional features throughout that distinguish it as a special model.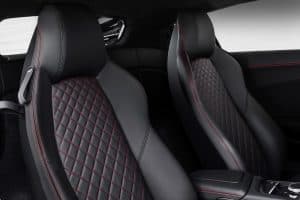 From the LED headlights with Audi laser light at the aggressive front end, to the 20-inch alloy wheels in Anthracite gloss black, the R8 Neuburg Edition has a presence all of its own. Gloss carbon engine covers and exterior wing mirrors and the Audi exclusive high-gloss titanium black exterior package are subtle touches that point to the special nature of the Neuburg Edition.
While inside, black fine Nappa leather upholstery with the distinctive express red diamond pattern stitching is echoed by black Alcantara also with diamond pattern stitching covering the headlining. This is complemented by the use of black Alcantara on the rear wall and parcel shelf, as well as on the flat-bottom steering wheel and gear shift gaiter where it is highlighted with express red contrasting stitching.
Inlays throughout the cabin are in gloss carbon, including the door sill trims which also feature illuminated aluminium inlay and customised Audi exclusive inlay that features the individual build number of the car.
Exterior colours are limited to four specific Audi sport colours for the R8 Neuburg edition (colour availability subject to build number), with Tango red, Mythos black and Suzuka grey all in a metallic finish and Daytona grey in pearl effect.
R8 Neuburg Edition customers will also receive an exclusive, bespoke accompaniment to their limited edition vehicle delivered upon ordering. Presented in a beautifully crafted box which opens at the angle of the Audi sport rhombus, it contains a set of Bang & Olufsen H6 headphones with subtle R8 badging, as well as a Samsung Galaxy Tab S2, preloaded with a beautifully produced gallery of images shot by celebrated Australian motoring photographer, Chris Benny Imaging, as well as the first locally produced 360 degree video of the Audi R8 in full flight at Victoria's Phillip Island Grand Prix Circuit.
Pricing
*(Manufacturers List Price [MLP] – excludes dealer delivery and government statutory charges)
Audi R8 V10 plus Coupe Neuburg Edition       $402,500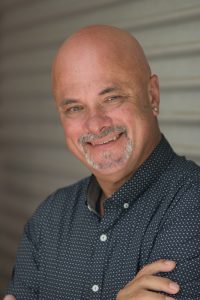 Bob Aldons is the owner and founder of The Car Guy, reviewing cars, reporting on Car Industry Matters, Car Tech and the world at large.
Find One
If you're hunting around for a great price on your next new car, perhaps just not this R8, but other than this one, any other Audi, you should call the auto expert, Bob Aldons from Car Business. My company, a car Broker, Car Buyers Agent or Car Buyers Advocate based on the north side of Brisbane, will return your inquiry within 24 hours and make the process of buying a new car easy and stress-free. Are you tired of salesperson tricks? I protect you from the pressure exerted by car dealer's salespeople. There isn't any obligation – just a pretty significant saving.
You're where? Seriously, my services are available for you in any Australian state and territory: from Darwin to Hobart, Cairns to Perth.  Car Broker Brisbane, Sydney, Melbourne, Adelaide, Perth, Hobart, and Darwin – I'm available when you need me to be.
Here's an example
Matt wanted to purchase a Mazda 3 SP25 GT Manual Hatch. The retail value, drive away on that car is around $35,000. Car Business managed to purchase the same car for $28, 123.90 and with our fee Matt paid $25, 588, a saving of over $6000. And how do we know? Another customer, (looking for a new Holden HSV) just paid $35,000 for the same car – but he did it himself, without our assistance
If you've got a vehicle to trade, we have some clever ways to maximize the value – from used car dealers keen for your car to assist you to sell it privately. Finance and Insurance? We can handle that too, and we promise you will not be paying exorbitant dealer markups there either.
Trade In Value Example
2014 Jeep Cherokee Limited. Average dealer trade value – $16500. We achieved $22,000
2014 Volkswagen Tiguan 118TSI. Average dealer trade value – $14000. We achieved $16000
So, to get the best new car price, talk to others and then talk me. I've got the experience to handle the dealers and achieve the lowest new car prices. If you think you're entitled to fleet pricing, I can often get better than that too. Whether you're a small fleet or a large national fleet, Car Business will go to work and get that price down. Lower new car prices are my goal. So you'll get the best prices from us rather than hoping you can help yourself.
If I can't get you the best new car price, better than you can get yourself from a car dealer, we won't charge you any fee. No Saving, No Fee. – that's what you should expect from a car buying expert. 
Car Business WILL save you money on your next new car purchase – guaranteed