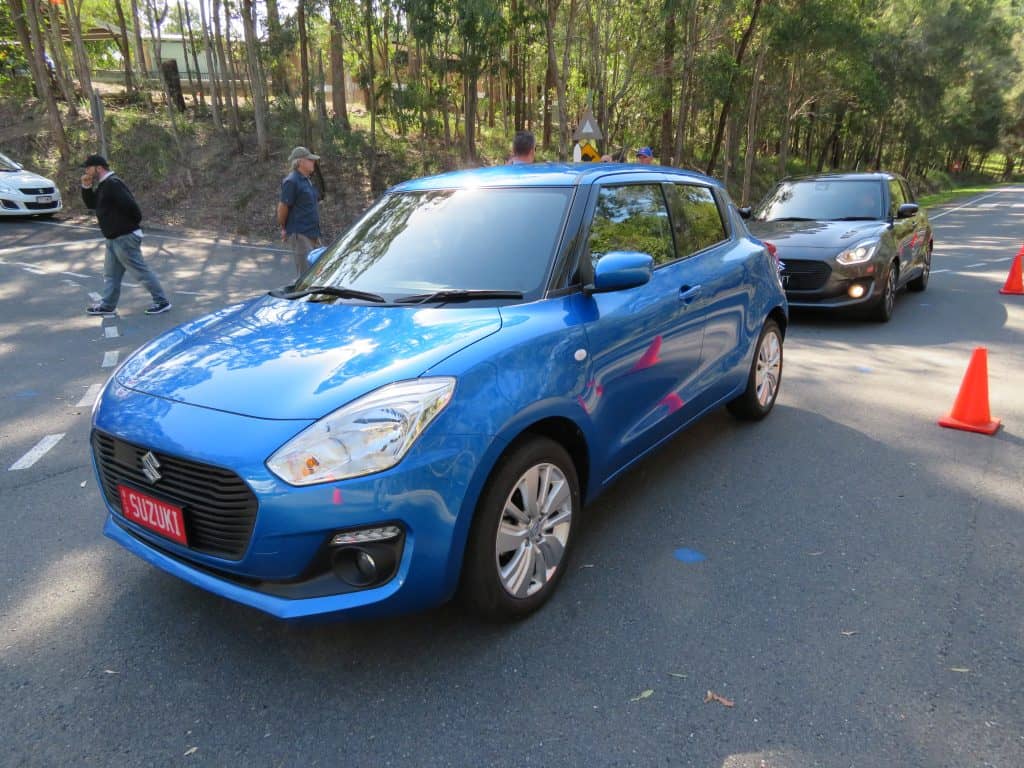 The Mt Cotton Driver Training Centre was the launch site of New Suzuki Swift. Back in early 2005, my first look of the then remarkable Suzuki Swift was at the Suzuki factory in Hamamatsu, Japan. The internet, in its pretty early life, was not friendly to providing information as it does today. A group of Queensland dealers, including the venerable John Zupp and his wife Wendy, were along for the trip with the then general manager of Suzuki Auto Co, Keith Carroll.
To say that I was very pleased with what the Swift was all about would be an understatement. Swift tipped the small car category on its head and for the next number of years, was one of the top selling vehicles both in Queensland and Australia.
Time does pass though and even with a couple of mid-life updates, the last few years have not been as kind to Swift in pure number terms. Owners however still speak highly of the small Suzuki and even driving a run-out model in comparison with the new version proves that as far as small city cars go, it's still up there with the best in overall performance. So let's do the typical www.thecarguy.com.au walk around and see what the 2017 Suzuki Swift has to offer.
Front and Under Bonnet
The familiar Suzuki Swift shape has been evolutionized rather than revolutionized for the new model. The thin grill of the previous model has been replaced by a larger 'ovalized' shape. Headlights are smaller than the 2007 version which had been larger than the original 2005 version. Daytime driving lights are standard across the range of 4 models – GL, GL Navi, GL+ and GLX. Apart from the GL other models get fog lights in the lower front bumper.
Under the bonnet is a choice of 2 engines. GL gets a 1.2 litre engine whereas the GLX is powered by a 1.0-litre turbo power plant. Don't let the engine size worry you one little bit. Both engines feel stronger than the 1.5 litre engine of the older model, and it's more than sufficient for an urban vehicle. I tested the power around the Mt Cotton Training Centre track and came away very impressed with both the engines and transmissions
It continues to amaze me that manufacturers can still elicit power from smaller engines – the major benefit is fuel economy improving yet power loss is not evident.
Sides and Safety
New Swift has a 'floating roof' styling – a, b and c pillars are black contrasting against the colour of the lower area and roof. I like the look. The car looks compact and it's immediately event that it's a Swift.
Safety is becoming a higher priority, even in small cars and Suzuki has reused and added to the safety suite for this car.
Adaptive Cruise Control                          (GL+ and GLX)
Cruise Control                                           (Gl and GL Navi)
Dual Sensor Brake Support                    (GL+ and GLX)
Lane Departure and Weaving Alert      (GL+ and GLX)
High Beam Assist                                      (GLX)
Anti-Lock Braking
Electronic Stability Program
Brake Assist System
Electronic Brake Force Distribution
Hill Hold Control
SRS Airbags  (Front, side, and curtain)
Controlled Deformity and Crumple Zones
Side Impact Beams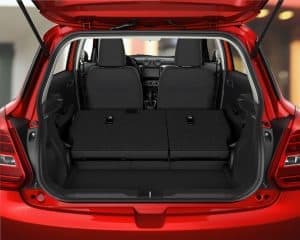 Rear and Boot
With the rear seats in the upright position luggage space is challenged – but does an adequate job for light luggage, perhaps a stroller or pram, but wouldn't fit in my 2 golf bags. Lowering the back seats opens up a pretty large boot area including room for my golf bags. A removable luggage shelf allows for storage of bulkier items whilst a light is included for night work. Whilst the front seat passengers get 2 cup holders, rear seat occupants get one to share.
Drivers Side
Access to the rear seats is good – the doors open wide enough to make entry pretty simple. Gran and Grandad may struggle a bit with the leg room, but they'll find it easy enough to get in. Seat height is good. Rear doors have childproof locks.
Drivers Seat
It's pretty easy to get comfortable in the new Swift. Good adjustment on the seat and steering wheel allowed me to find a driving position that made me feel just right. Dash instrumentation is simple but adequate, the key reminder is standard as is a seatbelt reminder for front and rear occupants. The information I want (low fuel, consumption guide, driving range and average speed is all included. Other than the GL, other models have apple car play/android auto which gives a great navigation system. The proprietary Dual Sensor Brake Support (DSBS) is standard in the GL+ and GLX.
With the advent of this feature as mandatory for a 5-star ANCAP safety rating from 2018, it's one feature that may be
The GLX is the high specification model and comes with everything that you'd expect.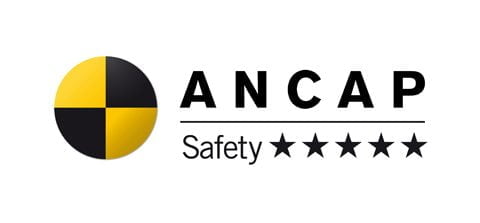 This is the ANCAP information on the previous model Swift tested in 2011. Apart from the removal of the knee airbag in this new version, I would expect 2017 Swift to achieve five stars, particularly in the higher spec models fitted with Lane departure and Dual Sensor Brake Support.
Airbags                                  Dual Frontal, side, and curtain airbags, knee*
(*Knee airbag isn't included in the 2017 Swift)
Front Offset                         15.68 out of 16
Side Impact                          15.88 out of 16
Pole                                        2 out of 2
Whiplash Protection          Good
Pedestrian Protection        Acceptable
ESC                                        Standard
Seat Belt Reminders          2 out of 3
Overall Score                       35.55 out of 37
Using the Car Business percentage rating, Suzuki Swift scores 96.08%, a very high achiever in the small car market. But please remember that this is the score for a 2011 model Swift. I expect that the new model will do as well.
New model Swift is not listed in the Green Vehicle Guide presently, but the information provided on the launch day is as follows.
Swift GL manual                 4.6 litres per 100 km (Combined)
Swift GL CVT                        4.8 litres per 100 km  (Combined)
Swift GLX 6 Speed Auto    5.1 litres per 100 km (Combined)
Insurance
We use the RACQ Online Portal to calculate insurance prices. The quoted figure is for an RACQ member, Rating 1 driver, female aged 45, living in postcode 4000. We are assuming that the insured has a clean license and no history of accidents in the last three years. For accurate information about your own particular circumstances, please visit their website 12-month Comprehensive Insurance  $534.61
 On the Road.
Driving the old model and new model back to back was interesting. The older version is as I remember it – sure footed on the road, very competent on cornering and plenty of oomph on the longer straighter roads. The old model braked well. The new model 2017 Suzuki Swift is better – less tyre squeal on the corners gave me the confidence to push it harder through the same corners. And despite an overall drop in engine size by .3 of a litre, the new model felt more powerful.
The new Suzuki (nor the older model) isn't one that you'd take out on track days – it's a very comfortable urban commuter that can be pressed into service for longer trips. As a four seater it's  adequate – Front seat passengers have plenty of room whilst the rear leg room is a bit squeezy for anyone other than young children. Swift is easy to drive, simple to park with its size and reversing camera.
My Opinion
I loved the Suzuki Swift when it was first launched in 2005. The small car market was caught flat footed and Swift was the most popular car in the segment for years and years. The competitors have caught up in a big way – Mazda 2, Holden Barina, Mitsubishi Mirage, Toyota Yaris, and even Suzuki's own Baleno and Ignis. In my opinion, the 2017 Swift is an excellent small car, but it doesn't have the advantages over the others it had in 2005. It's well equipped, good size and still cute as and good value for money. So on history alone, I'd buy a Swift. The others may have caught up but none have usurped Suzuki.
Vehicle Supplied by Suzuki Auto Co. – Queensland