A while ago, an industry colleague of mine handed back his Land Rover franchise. Just found it too hard to hit the numbers that made for a profitable business. Fast forward to 2017, and he must be kicking himself that he didn't have the patience for the bounce back of this brand. I've just finished testing a Land Rover Discovery Sport Si4, and I love it. I suppose a general question I'm regularly asked is whether there are any 'bad' cars on the road in this day and age. Other journalists and some, in particular, will rubbish any European brand and instead wax lyrical about Japanese and Korean cars. My reports are based on the actual review of the car rather than the brand. So let's look at my thoughts on this medium five seat SUV.
Owned by Indian conglomerate Tata Motors since 2008, Jaguar Land Rover was struggling pre the takeover with everything. I'm thinking that their R and D budget was in the basement and with Tata Motors as the new owner, it's been bankrolled the way it needed to be by former owner Ford Motor Company. Ford, as you'd be aware is an American business, and when they catch a cold in their market, all their other businesses get the flu. Fix the parent and let the kids work it out themselves.
So let's do our walk around on the Landrover Discover Sport.
Front and Under the Bonnet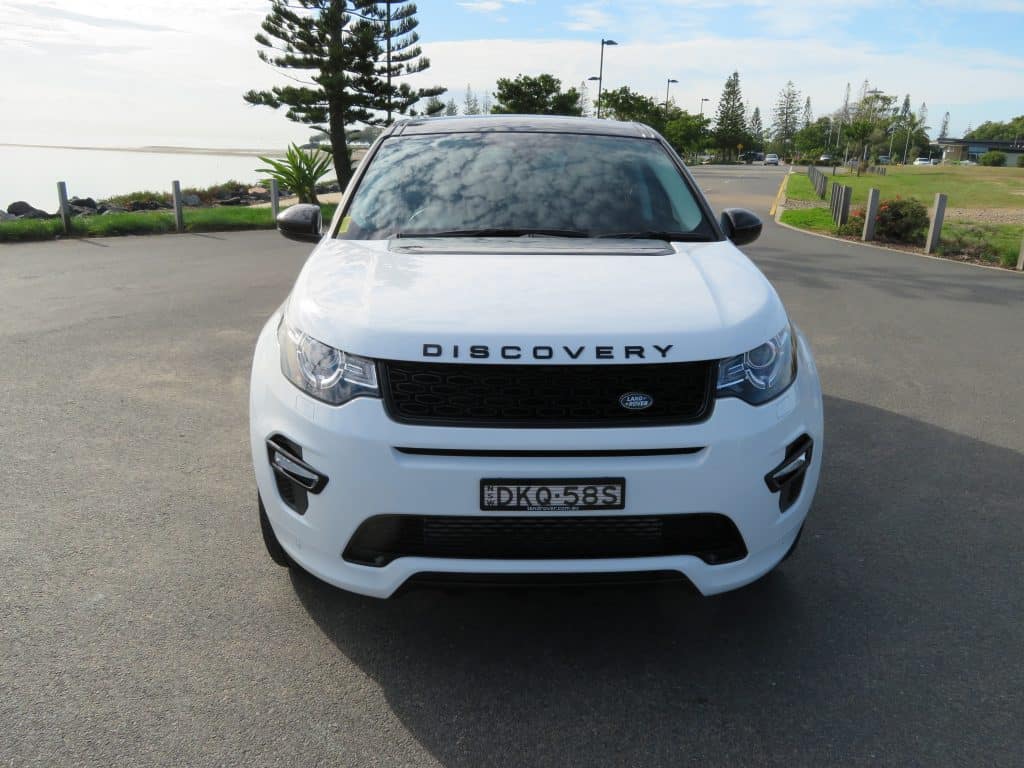 The Discovery Sport is manufactured at the Jaguar Land Rover Halewood Body & Assembly facility, in Halewood, Liverpool, United Kingdom, alongside the Range Rover Evoque.There's no doubt that the Landrover Discovery is a beautiful vehicle from all angles, but more so from the front.
Under the bonnet is a 2.0-litre turbo engine producing 177kw which is plenty to carry a full load around the suburbs or on holidays. Maximum speed is rated at 200 kilometres per hour but why that's necessary is anyone's guess. Suppose that some of these might find their way to Germany where there are open speed limits on some autobahnen. One of the intriguing 'surprise and delight' features at the front are pedestrian airbags which I'll talk about later. Progressive rate crumple zones are standard which allows the front of the vehicle to crumple under the passenger cell in the event of a major head on accident.
Side and Safety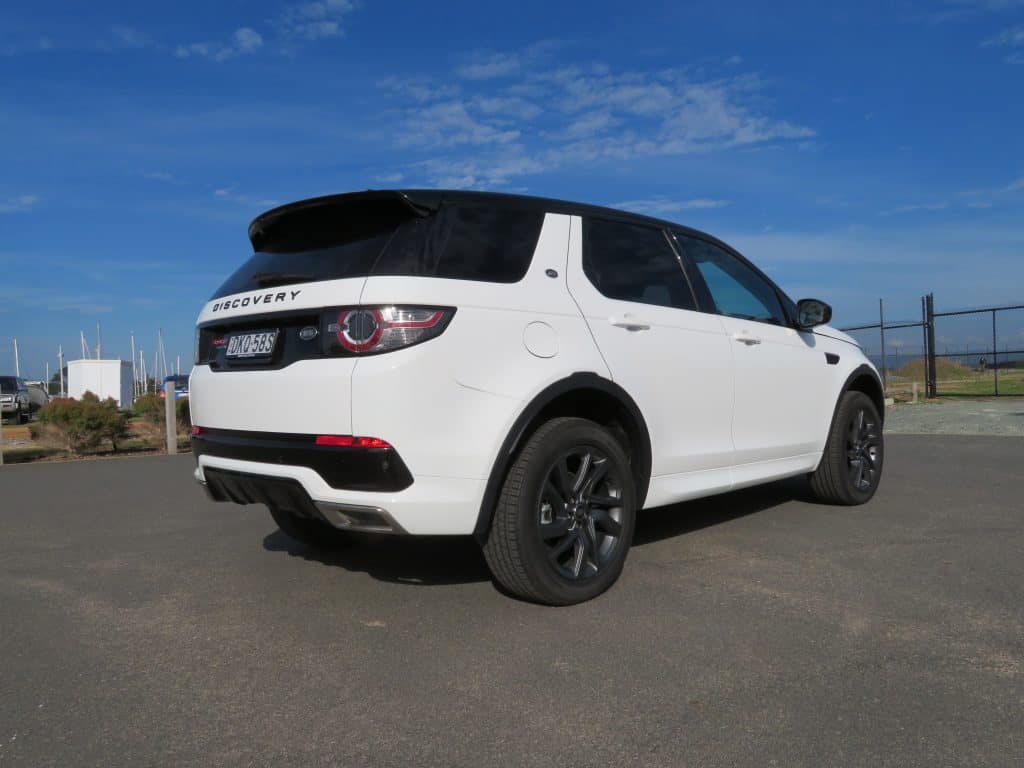 Landrover Discovery has a modern wedge shaped side profile – did I say it was handsome? Well, it is in so many ways. Moreover, safety is a paramount part of Landrover. Here's a small list of what Landrover think is important for you to know
Terrain Response
Trailer Stability Assist (TSA)
All terrain Progress Control
Hill Descent Control
Autonomous Emergency Braking
Pedestrian Protection System
Front and rear Parking Aids
Rear View Camera
Full-Size Spare Wheel
Moreover, this vehicle had some extra's (factory fitted) that you should be aware of.
Adaptive Dynamics
Active Driveline with Torque Vectoring by Braking
Front Fog Lights
 Rear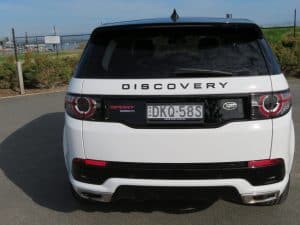 Well, it is nice at the rear. There's plenty of room for luggage, rear camera, electrically
controlled tail gate and reversing sensors. Not dissimilar to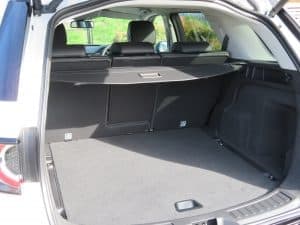 other comparative vehicles in the medium to large SUV market.
Drivers Side
Comfortable seating for 3, 2 USB ports, privacy glass for the second-row passengers is standard as it is for the luggage area. If you want to get dark glass for the driver and passenger, you'll need to visit your local tint shop and pay for that.  Entry to the second row is comfortable, with wide door openings.
Drivers Seat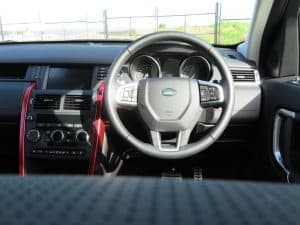 Along with the 2-litre turbo engine comes Landrover's 9 Speed Automatic Transmission which includes paddle shifters. IMHO, paddle shifters are only useable on off road situations and rarely used even then. However, as with most other European brands, if you haven't got them, so motor journalists will poo poo the vehicle. The driver has eight-way electrically adjustable leather seats, push button start, control Touch Navigation, parking aids, dual zone climate control air conditioning, interior mood lighting (mood lighting – good mood, bad mood or just a mood) and 2 USB ports for the common devices.
One feature of the Land Rover Discovery sport that I find useful/useless is the Lane Departure Warning system. A big plus is the tactile vibration of the steering wheel when you move out of your lane, but the visual warning light is on the instrument cluster and is pretty invisible. You'll need to look carefully to see a small illustration of the vehicle in the middle of the lanes, while if you're moving out of the lane, a little red light illuminates. Arguably it would be perfect if a loud audible warning was included.
Driving
It's comfortable – full stop. I've driven some medium sized SUV's, and this seems to be one of the best. I don't feel the ruts and undulations in the road – a small amount of 'off-road' driving was remarkable for the smoothness.
If you're weekend warrior wanting to take this vehicle on the beach or into the bush, it will not let you down. It's quiet, the steering is responsive and typically Land Rover with great clearances front and back.
Surprise and Delight
It's a term that most retail consumers will not be familiar with, but car dealers will have heard it a thousand times. It is manufacturer speak for some features that appear in a new or updated model that salespeople can use in their presentation to convince the buyer that their particular manufacturer has the customer in mind with the design or redesign of this particular vehicle.
Accordingly, I've included this section from today where I'll illustrate some of the features that attracted me.
Pedestrian Air Bags – if you happen to be a pedestrian, then the Land
Rover Discovery Sport is one that you should be hoping you'll be hit by. Why? This vehicle, or at least the manufacturer has included SRS airbags on the outside of the vehicle. Yes, there are two airbags fitted to the bonnet, near the windscreen. Methinks that if a pedestrian is hit by this car, the momentum will take that person towards the windscreen. Hitting a windscreen (hard immovable object) would likely lead to severe head injuries, probably fatal. Land Rover has installed these airbags to limit the trauma a pedestrian would face. So perhaps broken legs, pelvis, and abdominal injuries but less likely fatal head injuries with the airbag protection
Auto High Beam – I was surprised when the high beam came on at a particularly dark area of my neighborhood. Flashed on and then as quickly went off. Another night trip showed me that the high beam came on automatically and then went out when another car was approaching. Like that a lot.
Reversing lines – how many of us have scraped the alloy wheels on our cars when trying to reverse into Landrover provide a myriad of lines, with particular ones designed to give enough room to avoid those gutter scrapes.
Infotainment System – The central screen in the vehicle provides information on the radio station, outside temperature, your mobile phone and also, using the navigation system, generally where you're located.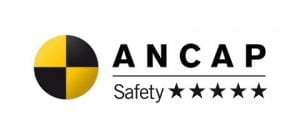 Safety
Airbags                                              Dual Front, Side, Head, and Knee
Adult Occupant Protection         35.6 out of 38
Frontal Offset                                 14.87 out of 16
Side Impact                                     8.00 out of 8
Pole Impact                                     7.67 out of 8
Whiplash Protection                     2.21 out of 3
AEB (City)                                       2.81 out of 3
Child Occupant Protection          41.0 out of 49
Safety Assist                                    10.8 out of 13
Speed Assistance System             1.3 out of 3
ESC                                                   3.0 out of 3
Seat Belt Reminders                     3.0 out of 3
Lane Support System                   1.0 out of 1
AEB (Interurban)                          2.5 out of 3
Pedestrian Protection                  25.2 out of 30
Our 'The Car Guy' rating system gives Landrover Discovery Sport a score of 87.8%. I am struggling to understand the result somewhat – this vehicle has advanced technical safety systems particular as it relates to pedestrian protection. It is the very first car I have tested that protects a pedestrian from serious injury, so in my opinion, it should rate higher.
Full ANCAP Technical Report Available Here

Urban                                                10.6 litres per 100 kilometres
Extra Urban                                     6.5 Litres per 100 kilometres
Combined                                         8.0 Litres per 100 Kilometres
Air Pollution Standard                  Euro 5
Accordingly, if you have got a full tank of fuel (70 litres), you can expect to achieve 875 kilometres in driving distance if you achieve the combined fuel economy, 660 if you are driving for economy around the suburbs and an impressive 1077 on the highway. Of course, these numbers are laboratory determined, and your particular driving habits may achieve more or less.
Insurance
I use the RACQ online Portal to estimate comprehensive insurance costs. I suppose that you are male, a Blue RACQ member, with no other RACQ policies, held a rating 1 for ten years or more with no recent history of accidents or traffic fines, living in Hamilton. You've not financed the vehicle, and you'll park it in your garage overnight. You're also using it for private use only, not a business. You'll also have held your license for over ten years, and not have a driver under 25 using your vehicle.
On that basis, expect to pay around $684.30 per annum
Towing
You can tow an un-braked trailer with up to 750kg which is pretty standard for all vehicle. Braked (electric brake controller fitted) that increases to 2200kg with a ball download weight of 150kg. Without the electronic brake controller, you'll get away with a Jet ski or similar. Remember with a braked trailer, the device you're towing has a maximum capacity of 2200kg including any gear in the van or boat.
Pricing
You will have to dig deep to afford the Landrover Discovery Sport that I drove. The standard model is around $64,500 drive away in Queensland, but the test vehicle came with over $16,000 of options from the factory.
Complete Dynamic SE Pack $8190
Adaptive Dynamics $1910
Fixed Panoramic Roof $1850
Active Driveline Torque Vectoring $1670
Santorini Black Contrast Roof $950
Heated Front Seats $640
Privacy Glass $620
DAB+ Digital Radio $560
All this extra tech takes the vehicle to over $81,000, a pretty expensive vehicle
Verdict
I'm a fan of European cars. In those countries the competition to produce a quality vehicle is immense. Hence the Land Rover Discovery Sport includes a lot of 'nice' stuff to compete against the likes of BMW, Volkswagen, and Mercedes-Benz. Even at $80,000, it is a whole lot of vehicle and one that I'd seriously consider if I were in the market.