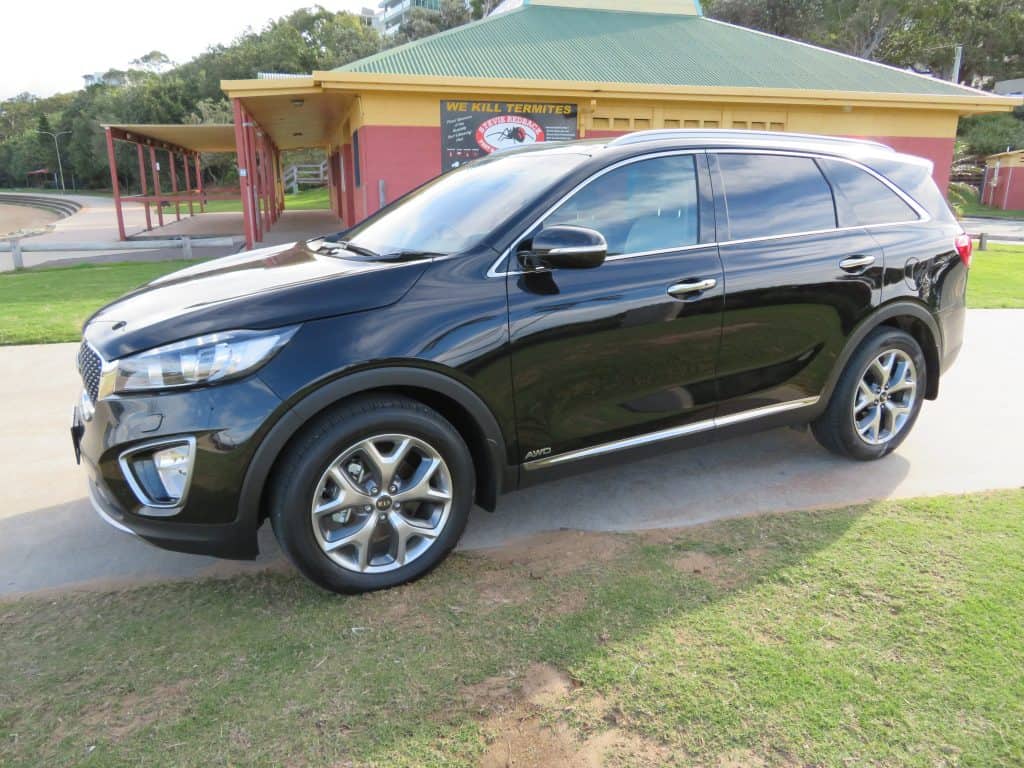 Introduction:
You only get one chance to make a good first impression, and I was very impressed when I drove away in the Kia Sorento Platinum. Lots of interior space, powerful diesel engine, smooth automatic transmission and lots of tech too. The badge test tells me that I could have been in a Luxury SUV – BMW, Range Rover, Mercedes-Benz or Lexus but what I was driving was an affordable seven-seat AWD wagon. Kia Sorrento has a lot of competition in a busy Large SUV market. Mitsubishi Outlander, Volkswagen Tiguan, Holden Captiva, Nissan Pathfinder – the list goes on.
However, Kia Motors has come a long way in the last few years – their build quality is outstanding not to mention their warranty program. Any manufacturer offering a seven-year warranty with accompanying roadside assistance and capped price service is worthy of a close inspection. It certainly 'serves' it up to the opposition and comes out a winner.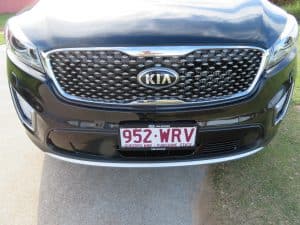 Front and Under Bonnet
I'm not too wrapped in the grille design, but the overall look is a front end of purpose. The look is modern, daytime driving lights as well as HID Headlights with washer and auto-levelling. Auto leveling means that depending on the load you're carrying the headlights will adjust in height to provide the best forward vision at night. Big tick for this. Static Cornering lights are standard (lights up when you put on your indicator) as is a forward collision warning system.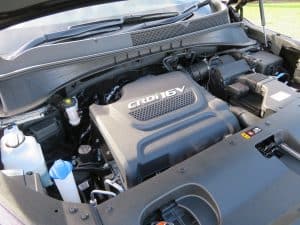 Under the bonnet is Kia's 2.2 Litre 16 valve Common Rail Diesel Engine which produces 147kw of power and 441-newton metres of torque. What's that mean? Plenty of power on acceleration and lots of grunt for steeper climbs, towing and the like. The transmission is a six-speed conventional automatic with Active AWD – think safety and security.
Side and Safety
From an active and passive safety viewpoint, the question is what the Kia Sorrento does not have as to what it does have. So in the interests of always been open and accountable, here's the list.
ABS Brakes
Electronic Stability Control
Vehicle Stability Management
Hill Start Assistance Control
Emergency Stop Signal
Front and Rear parking Sensors with Dash Display
Rear View Camera
Electrochromatic Rear View Mirror
Daytime Running Lights
HID Front Headlights with washer and auto-levelling
Adaptive Front Lighting System
Dusk Sensing Auto Headlights
Front and Rear Fog Lights
Blind Spot Detection and Lane Change Assist
Rear Cross Traffic Alert
Autonomous Emergency Brake with Forward Collision Warning
Door Open Warning
Speed Sensing Auto Door Lock
Driver and Front, Front Side and Curtain SRS Airbags
Side Door Impact Beams
Burglar Alarm
Anti-theft Immobilizer
Remote Central locking with Tailgate Open/Shut
Headlamp Escort Function
A smart feature on the Sorento is an 'easy open' feature where you don't have to pull the lever hard to open the door. The system presets the 'open' function on the door enabling an exit without having to reef on the door
The side of this large SUV is impressive. The designers have provided an overall wedge shape which makes the Sorento look smaller than it is. Moreover, that's no easy matter for the design team. 19" Alloy Wheels are standard in a smoke/polished alloy finish. The only aspect of the Sorento that I found a bit puzzling was the lack of auto wipers. Strange
Rear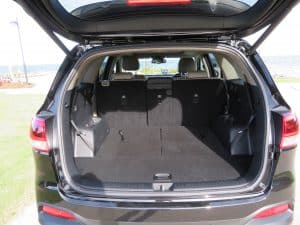 With seven seats used, there's only a small luggage area, but with the rear seats stowed, the capacity is massive.  Plenty of room to fit shopping, a pram or two, or even three.
Smart Power Tailgate opens automatically when the key is sensed near the boot or can be opened and closed via the key fob – very clever.
One of the very few manufacturers to offer a full-size alloy wheel.
Towing
Towing capacity is 2000kg braked, and 750kg unbraked but with only a 100kg towball download weight. The Sorento won't be seen towing a larger caravan or boat, but will comfortably handle a larger trailer, double jet ski or similar
Drivers Side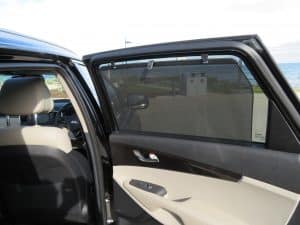 Easy entry and departure for the second-row passengers, but the third row is a bit hard to access for adults. Arguably designed for smaller people (read children) I've always found that kids and mine included, love using the third row.
Just be sure to remember that the curtain airbags do not cover the third row.
I also like that the exterior rear vision mirrors lower the angle of viewing when you select reverse. Certainly, minimizes the chance of scraping the alloy wheels
Driver Position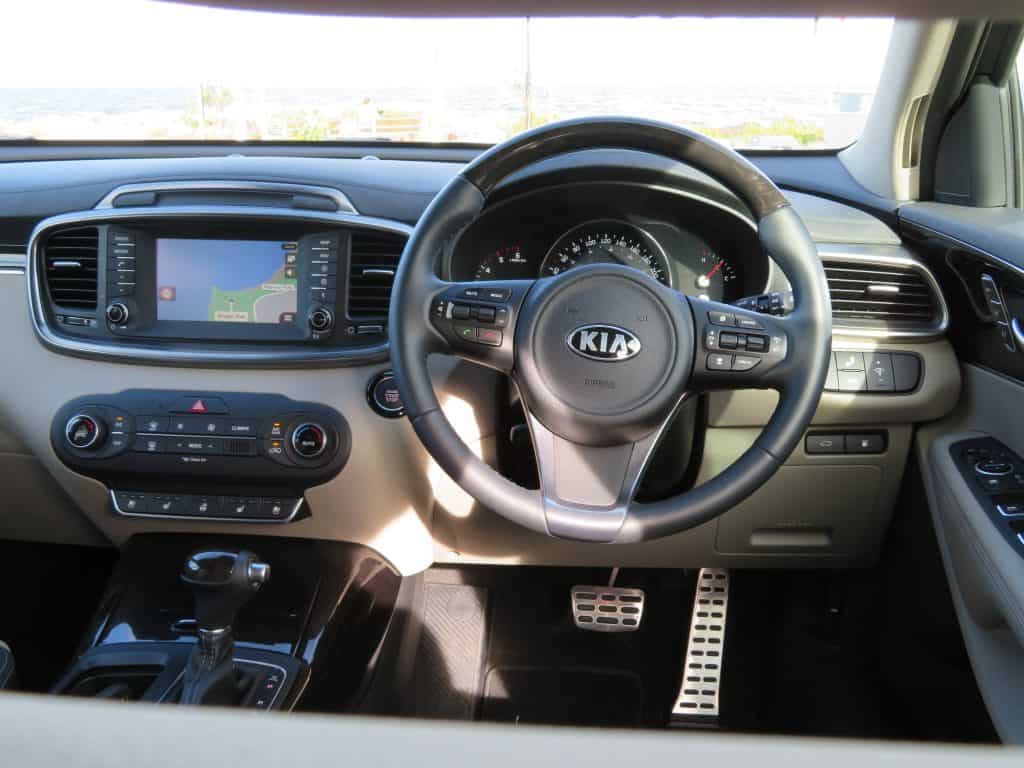 Unless you've got three arms or legs, you can't help but get comfortable in the Kia Sorento. There's enough adjustment from the seats and steering wheel for the shortest or tallest of us to achieve a comfortable driving position. And being comfortable is absolutely important for around the city driving as well as longer holiday trips. The steering wheel is multi-function, with cruise control, radio controls, and dash viewing modes.  Map lights, sun glass holder, Kia Sorento Platinum has it all
Fuel Economy:                    7.8 litres per 100 kilometres
(Combined Highway and City)
6.4 litres per 100 kilometres
(Highway Use)
10.1 litres per 100 kilometres
(Around the City)
Air Pollution Standard:     Euro 5
The 71 Litre Fuel tank will give a driving distance of approximately 1100 kilometres if you can achieve the highway economy standard. Around the city, you can expect around 700 kilometres, so if you're the average family, you're probably only filling up once a fortnight, and that's good for anyone's credit card.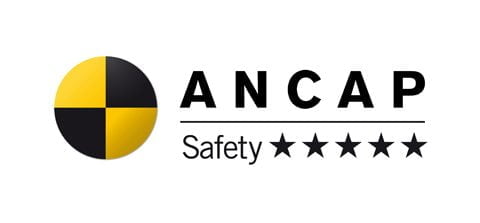 Airbags                                  Dual Frontal, Side Curtain, Head
Frontal Offset                      15.62 out of 16
Side Impact                          16 out of 16
Pole                                        2 out of 2
Whiplash Protection         Good
Pedestrian Protection       Acceptable
ESC                                         Standard
Seat Belt Reminders          3 out of 3
Overall Score                       36.62 out of 37
ANCAP Safety Rating         5 stars
Car Business uses a percentage to assess the ANCAP score – in this case, Kia Sorrento scores 98.97%, one of the highest scores I have seen from ANCAP.
Pricing
Kia Sorento Platinum Diesel Auto                             $61003.32
Price is RRP Drive Away for Queensland registered vehicles. Check with the dealer in your state for your particular price.
Warranty/Service/Capped Price Service
Kia's warranty across their range is for 7 Years or 105,000 kilometres. This 7-year program also includes roadside assistance and capped price service. Undoubtedly industry leading and displays super confidence in their vehicles. Big tick for Kia Motors where the 7-year service program costs only $3509
1 year or 15,000klm                      $403
2 Years or 30,000klm                  $471
3 years or 45,000klm                   $465
4s or 60,000klm                           $664
5 years or 75,000klm                   $454
6 Years or 90,000klm                  $570
7 Years or 105,000klm                 $482
You can check out what's covered under the capped price service program by clicking on KIA CAPPED PRICE SERVICE
Insurance
At The Car Guy, we use the RACQ online portal to estimate insurance costs. The basis for our calculation is that you're an RACQ member, Female in this case, with a rating 1 history, with no accident or poor traffic history over the last three years. You'll live in postcode 4032, and no one under 25 will be driving the car. We assume the car has been financed and that you're using it for private use and that it's parked in a garage overnight. Excess used is $750
Insurance Estimate was $744.36 per annum
Summary
I think that the Kia Sorento Platinum is an exceptional car. Seven seats, Diesel, auto with almost every feature that you'll find on luxury SUV's. If you by-pass the badge and you're considering any SUV including BMW, Mercedes, Audi let alone the 'normal' 7 seaters, including Toyota, Mitsubishi, Nissan, Hyundai, Mazda and others, do yourself a big favour and test drive the Kia Sorrento Platinum. I'm sure that you'll be impressed as I was.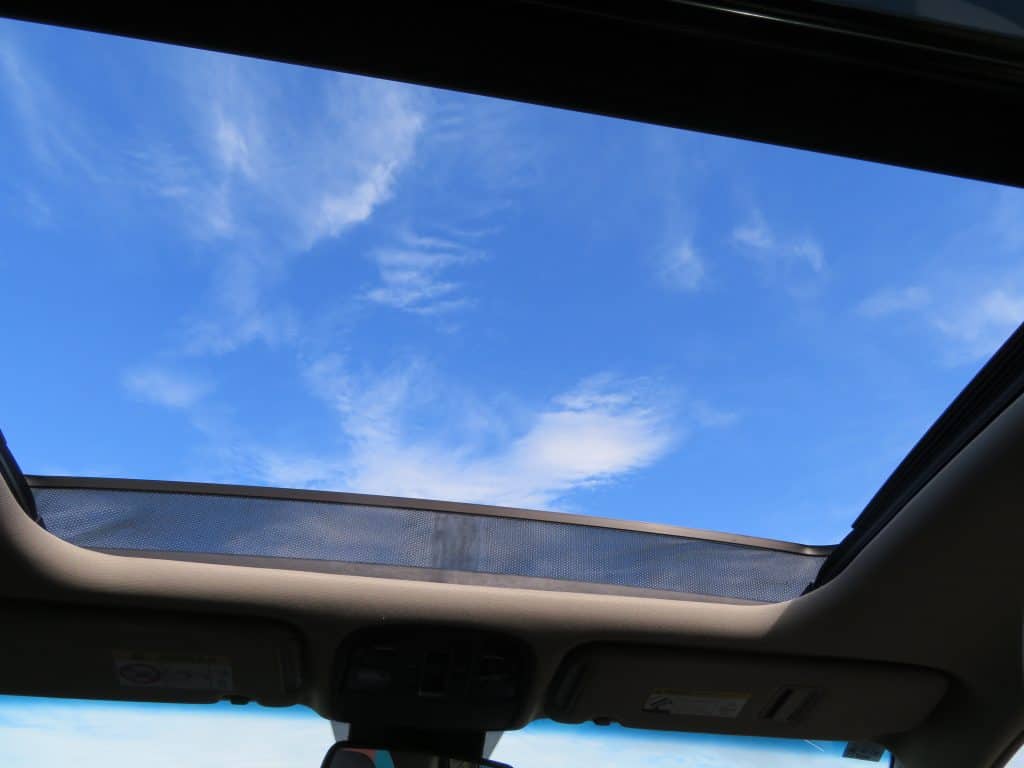 Vehicle Supplied by Kia Motors