There's been spy-shots of the exterior, rumors of new engines and transmissions, but if these renderings are any guide, "Jeepsters" should exhale slowly and consider that the 2018 Jeep Wrangler is still a Jeep.
In these pics provided by JL Jeep Wrangler Forum, we see the redesigned Jeep Wrangler in what is probably a close to finish the look. A slightly redesigned grille, air intakes behind the wheel arch flares, a bit of trim upgrade here and there (mirrors, lights, bumper) but all in all, it is still the Jeep Wrangler that purists wanted.
Thanks to the folk at autoweek.com for this story and JL Wrangler Forum for the images.
"A pair of black and white renderings purportedly showing a four-door Wrangler JL Unlimited Rubicon, shared by JL Wrangler Forums, might give us our best look yet at the new take on the classic 4×4. There are a few surprises, but on the surface, there's nothing here that will trigger a freak-out.
Since last year, we've known that Jeep's goal with the new Wrangler was to keep the same basic shape (and body-on-frame/solid axle formula) while cheating weight and wind wherever possible. Hence, more rake on the windshield, which we previously saw in spy photos; there could also be aluminum components like doors and a hood, but we'll have to wait until we can sneak close to one with a magnet in hand to find out.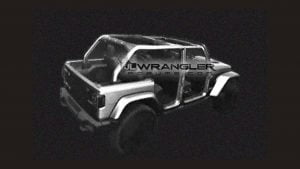 Good news for purists: Based on these renders, the top and doors of the upcoming Wrangler appear to be fully removable, and the windshield will fold forward. PHOTO BY JL WRANGLER FORUMS
The famous Jeep face, always tricky ground to navigate when on a redesign, does get a slightly different treatment this time around. The grille gains some dimension, protruding forward slightly toward the top (from certain angles, this makes it look like the slats are kinked) — a callback to YJ and TJ Wrangler grilles. The round headlights are set into the outer slats, just like on an old CJ.
Other changes are more subtle, though we doubt much (if anything) has been carried over from the current model. There's a complete analysis at the JL Wrangler Forums, but some of the quick highlights include:
– what appears to be fully removable doors and top
– a fold-down windshield (there was some doubt as to whether this feature would return)
– a well-defined character line right below the side; contrast with the slab sides of today's Wranglers
– a substantial vent behind the front fenders
– beefier tubing for the roll cage
– and more!
Using what they gleaned from the leaked renders and other information collected on the upcoming vehicle, the JLWrangler Forum folks put together a set full-color artist's conceptions of what the 2018 Wrangler might look like: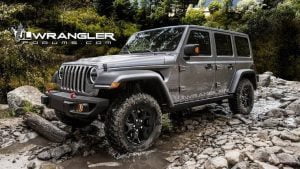 A color rendering helps bring the black and white images to life. PHOTO BY JL WRANGLER FORUMS
Of course, we're still waiting for a mechanical rundown. Spy photos showed diesel powertrain components, though whether that's still on the table in this post-Dieselgate world remains to be seen. But that won't keep us from analyzing the Wrangler's new look.
Assuming the leaked shots are legit and these renders are close to the mark, is this just the right amount of design evolution? Does it not go far enough? Let us know what you think!"
Read more: http://autoweek.com/article/rumormill/leaked-renders-may-show-2018-jeep-wrangler-jl-rubicon-unlimited#ixzz4cwSd2pVN