Back in the early 80's I had the unique pleasure to know and employ a chap named Chris Bourke. Chris was a 4WD salesperson and the creator of what I believe to be the first medium/large SUV available in Brisbane. Chris took a bunch of unwanted 2 door six cylinder manual base-model Ford Bronco's and with a bit of dress up gear, turned them into the 'Bush Bentley' limited edition
Haven't SUV's come such a long way since?
I was privileged to be invited to the next-gen Mazda CX-5 launch on the Gold Coast and Brisbane last week. As the first launch as a media person, I extend a warm thanks to Mazda Australia.
My review isn't as a motoring journo – my plan is to generally provide information to my readers that interest them. I'm not terribly concerned with  0-100klm times, or standing ¼ mile times, or tractability of a vehicle on a 12.5% speed curve at 150 kilometres per hours.
I'm about giving you information that salespeople or dealers should be giving you when you're interested in a particular car. That's the way I was taught in the car business as far back as 1978. Provide the features and benefits of a particular vehicle as it relates to the customer.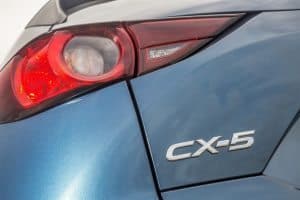 Introduction
The 'next-gen' Mazda CX-5 is the first real update to the model that launched in the category back in 2012. Since then, CX-5 has been the best-selling SUV in the small/medium category as the data below shows. In fact both Mazda entrants (CX-5 and CX-3) finished in the top 5 against some historically heavy hitters like Prado, Rav4 and Forester.
2016 SUV Sales Results
| | |
| --- | --- |
| Mazda CX-5 | 24564 |
| Hyundai Tucson | 20182 |
| Toyota Rav4 | 19526 |
| Nissan X-Trail | 18903 |
| Mazda CX-3 > | 18334 |
| Toyota Prado | 14730 |
| Subaru Forester | 13407 |
| Honda HR-V | 12403 |
| Mitsubishi Outlander | 12401 |
First Drive Impressions
Stephen Tierney from "OzRoamer" and I chose the base model automatic for our first drive in the CX-5. The Maxx is the entry model auto at $34344 on road with a 2.0 litre engine and 6 speed automatic with front wheel drive.
The car proved to be spirited in its purpose and drove seemingly without any hassle. Both of us did however find the basic suspension setting a bit too floaty and selected the sports mode for the best part of our test. And that setting was perfect for the roads we were travelling on. I'm sure at least that the basic setting would be perfect around town, at school pickups or doing the local shopping thing. That made all the difference for us on the twisty roads that Mazda had selected for the first part of the drive program.
There was plenty of room for the front seat passengers, very comfortable to boot and sufficient room in the rear seat for 3 tall passengers. Even with a full complement on board, our impression was that the 2.0 litre engine could do the job well.
Cargo room is excellent and Mazda suggests that you'd fit 4 golf bags or plenty of luggage if you're not inclined to chase that little white ball. Fuel economy for the 2.0 litre engine seems good (but not the class leader) at 6.9 litres per 100 kilometres with the 2.2 litre diesel engine in the Maxx Sport giving 6.0 litres per 100klm
Overall CX-5 is fun to drive or at least Steve and I enjoyed it.
What's it like inside?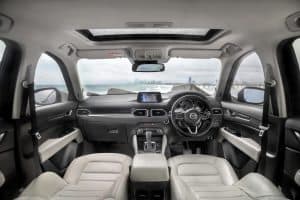 Mazda build world class cars. The fit and finish on the CX-5 is excellent. There are plenty of pockets and spaces for coffees, water bottles, keys, phones and lots of everything else.
The dark trim inside would undoubtedly be great for young families and be able to hide the odd stain, but thankfully in the higher spec model, there's a choice between dark and light trim.  I found the seating position comfortable with sufficient adjustment to the seat height and steering wheel. The infotainment system including navigation was as good as any in this class that I'd experienced. And importantly, it's quieter than the previous model as Mazda engineers worked on NVH (Noise Vibration and Harshness). NVH is one of those things that customers can really relate to. Any road noise coming into the cabin is roundly criticised by owners. So good insulation, less tyre noise is a good thing. This Mazda is one of the better and quieter cars in the segment.
From the inside looking out, there's plenty of glass so the visibility from any seat is great.
Looks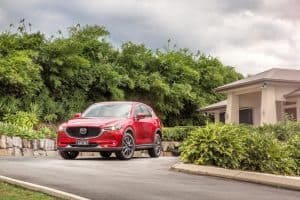 Mazda CX-5 has this family look of the CX-9 and that's a good thing. As SUV's replace passenger cars around the world and particularly in Australia, it's best to stick to the design first and the purpose second. Mazda succeeded with the original CX-5 and haven't changed the recipe other than to make this new version a better looker. The nose of the CX-5 looks sharp and it seems that the rear is a little wider giving it a bit more aggressive look.
From the rear of the car, it looks purposeful. The thought of all SUV's looking the same can't be said for the Mazda CX-5
Purchase Price, Resale, Service Costs
There are five models in the CX-5 range this time instead of four. Mazda have added a Touring version to make the step up in price reasonable from the base model to the higher spec versions, so with 12 different engine, transmission drive options, there's a CX-5 to suit everyone.
Level

Model

Specs

Price

Major Features

Entry Level

CX-5 Maxx

2.0 Litre 6 Speed Man FWD

$32284

Blind Spot Monitoring, Rear Park Sensors, Rear Cross Traffic Alert, Reverse Camera, Smart City Brake Support (front and rear)

2.0 litre 6 Speed Auto FWD

$34344

2.5 Litre 6 speed Auto AWD

$37434

Next step

CX-5 Maxx Sport

2.0 Litre 6 Speed Auto FWD

$38245

Auto Headlights, Rain Sensing Wipers, Dual Zone Climate Air Con, Satellite navigation, Rear A/C Vents, Alloy wheels

2.5 Petrol 6 Speed Auto AWD

$41245

2.2 Diesel 6 Speed Auto AWD

$44335

Mid-range

CX-5 Touring

2.5 Litre 6 Speed Auto AWD

$42893

Heated & Folding power mirrors, Active Driving Display, Keyless entry, Traffic Sign Recognition, Front parking sensors, Maztex/Suede trim

2.2 Diesel 6 Speed Auto AWD

$45983

Higher Spec

CX-5 GT

2.5 Litre Auto AWD

$48455

19" Alloys, Adaptive front lighting system, power sun roof, way power seats, Active Driving Display (windscreen), Leather trim, Premium Bose Sound System, Remote operated power tail gate

2.2 Diesel 6 Speed Auto AWD

$51545

Premium Model

CX-5 Akera

2.5 litre 6 Speed auto AWD

$51133

Radar Cruise Control with Stop and Go function, Adaptive LED headlamps, Driver Attention Alert, Lane Departure Warning, Lane keep Assist System, Side Camera, Smart Brake Support

2.2 litre Diesel Auto AWD

$54223
All prices are Queensland drive away including dealer delivery and State Government charges. Prices for other states will vary.      
One interesting aspect of Mazda pricing is that most metallic colours aren't extra cost options like most other brands. It's not unusual to see optional metallic and pearlescent paints at $700 or more in the comparison group, whereas Mazda charge $300 for the 1 new technology paint finish – Soul Red Crystal
Mazda has 'Mazda Service Select' available which covers routine services up to 50,000klm or 5 years for $1687. This includes a cabin air filter at 40,000klm and replacement of brake fluid at 2 years or 40,000klm. I'd be taking my Mazda back to a Mazda dealer at these prices – there's nothing better from a resale value than having a Mazda stamp in the service book. Improves resale value immeasurably
Whilst not the cheapest model in this competitive segment, CX-5 isn't the most expensive either. In my opinion, one of Mazda's strong points is its resale value after 3 – 5 years. Mazda dealers are always keen to trade an older version on the newer model – used car customers are really lining up for a quality used car and consequently the trade in price is strong. In my time in the industry, Mazda cars always attracted a stronger price.
Which leads to the volume of repeat business – 2nd or 3rd times that a customer will stick with the brand. I think that Mazda has one of the stronger reputations in the Australian market, perhaps only below the luxury brands of BMW and Mercedes Benz. I'm guessing that Mazda will retain about 45% of their customers at trade in time, but it wouldn't surprise me to see that percentage increase over the next few years. Mazda Japan enjoys a 50% repeat business level aiming for that elusive 60%. Mazda CEO, Masamichi Kogai is keen to see that percentage achieved around the world. And at the end of the day, that percentage of repeat customers dictates the quality of not only the cars, but their dealers as well. Mazda Australia seems to have got the formula of dealer's v customers spot on. Good work Mazda.
Summary
The medium SUV segment is crazily competitive. Mazda introduced one of the best and most rewarding with the original CX-5 in 2012. This evolutionary model is better on the road, quieter and inclusive of creature comforts that the average driver/passenger will find useful.
If you're considering CX-5 for towing, don't get too carried away. Unbraked you'll tow 750kg and with electric brakes 1800kg, so enough for a smallish caravan or camper or medium sized boat. There are enough families getting away for camping weekends and holidays to use these capacities without going the full 4WD experience, so Mazda have hit a sweet spot here too.
Once again Mazda has raised the bar and challenged others to meet the standard. The deciding factor for me is this. When I got out of the CX-5 I walked around it and smiled. The smile factor is very telling for me. Would I buy one with my own money? Heck yes.
I like: High-quality interior, very good road manners, class leading style
Not so much: Loudish engine noise at higher speeds