In a German automobile factory, a team of builders was putting the finishing touches to a 1955 Volkswagen Van – a split window type which would eventually find its way to the French Alps and disappear for 40 years. This Volkswagen could be rescued and it was by Frenchman Florian George. The 1955 Volkswagen Van is now in his driveway

Frenchman Florian George came upon this 1955 Volkswagen Van in the forest of the  French Alps. He decided that the very tired commercial van would look better in his driveway than it did in the forest. As you'll see in the video, the van had sunk into the mud and was a long way from starting, let alone being able to leave said forest under its own power. Florian found out the name of the landowner bought the Volkswagen, which had been sitting for 40 years, untouched, on the very spot.
He tapped specialists at AirMapp and Serial Kombi for help, and within a few days, the VW was rumbling through the forest once again.
I suppose it's fair to ask, why someone would attempt to rescue this vehicle – rusty, damaged, deteriorated. I suppose it's the same answer for a lot of out there things – because It's there and because he could. The 1955 Volkswagen Van was 62 years old, but in remarkable condition after spending 40 years alone.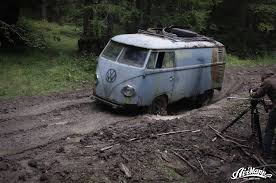 Credit to Montage & Realisation for the filming and editing using a 5D mark II, GoPro Hero4 black edition and a 3DR solo drone.
Would you rescue this van?